September 2008 -
Great Achievements, Great Expectations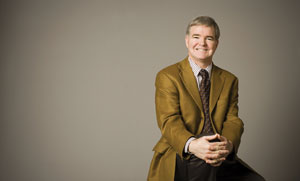 Mel Curtis photo
I have a confession to make: When I came to the University of Washington as president four years ago and learned that the fundraising goal for Campaign UW: Creating Futures was $2 billion, I felt a bit daunted. After all, $2 billion is a really big number. But then I saw the enthusiasm and dedication of all the people who were working so hard on the campaign-the deans, department chairs, program directors, volunteers and all of the staff members-and I knew we would be successful. I clearly was not the only one, because here we stand today, not only having reached that original audacious goal, but having utterly smashed it on the way to raising more than $2.68 billion.
The success of Campaign UW has been amazing to all of us. It took tremendous energy and time from many people to make it happen. Perhaps the most remarkable aspect of it all is the sheer number of donors who contributed to the campaign: nearly 300,000 of them, or enough people to fill Husky Stadium more than four times. It is an enormous vote of confidence that such a huge base of people trust in the UW and believe in the work that we do. Everyone in our UW community can take pride in knowing that so many people believe in the University's ability to create positive change.
Thanks to the incredible generosity of those nearly 300,000 donors-many of whom are our valued alumni-the UW is positioned to have an even greater transformative impact on the lives of our students and the people of Washington state and beyond. Because of the access not only to a college education, but to the excellence that distinguishes a University of Washington education. They will have more opportunities to enrich their educational experiences by participating in such activities as undergraduate research and study abroad. In short, they will have better futures.
The future also looks brighter for our faculty and staff, as well as the countless citizens who benefit from their work. Because of the tremendous generosity shown by campaign donors, the University will be better able to attract and retain world-class faculty in high-demand fields. Our researchers will have the resources they need to work on the cutting edge and discover solutions to the world's most complex challenges. Moreover, these advantages will also translate into the classroom, where our faculty will get what they need to be the most effective teachers.
Everyone in our UW community is extremely grateful for the extraordinary support we have received through Campaign UW. Likewise, we also understand that much is expected of us. As the leader of this outstanding institution, I know that everyone at the University shares my determination to make each of the nearly 300,000 campaign donors proud.


Mark A. Emmert, '75, President