September 2008 -
IN MEMORY
GERTRUDE STANDARD "SUNNY" DEWAR, '28, Seattle, age 101, May 4.
RUTH (LINGENFELTER) JURICH, '31, Federal Way, age 97, May 17.
J. KEITH CLEVELAND SR., '36, Shoreline, age 93, April 18.
BETTIE FOWLER, '36, Anderson Island, age 94, May 4.
KATHERINE ANNE (GIBSON) O'SHEA, '37, Seattle, age 95, May 11.
JACK KAPLAN, '38, Seattle, age 90, April 25.
CARL JONSON, '39, Bellevue, age 92, April 13.
STANLEY OTTO WEISS, '39, Seattle, age 94, May 13.
MICHIKO NISHISAKA KANO, '40, Seattle, age 91, May 1.
KENNETH S. STUESTALL, '40, Laredo, Texas, age 89, April 17.
DORA E. DYER, '41, Freeland, age 88, April 12.
GLENORA J. CHOUINARD, '42, '72, Seattle, age 87, May 19.
MARY HELEN MICHEL MARX, '43, Seattle, age 85, April 17.
SALLY PROCTOR LUPLOW, '44, Seattle, age 85, May 4.
MARIE L. GROSS, '45, Seattle, age 85, May 7.
HOWARD R. PYFER, '47, '49, '56, Bellevue, age 85.
JOHN H. BEDINGER, '47, Sequim, age 86, April 24.
ROBERT W. BAGSHAW, '48, Seattle, age 84, April 14.
MARGARET PROCTOR ROBINSON, '48, Bellevue, age 81, May 7.
JEANNE TORREY BROWN, '49, Edmonds, age 80, April 24.
MATTHEW H. CASE, '49, Everett, age 82, April 25.
AGNES M. DRIVER, '49, Seattle, age 81, May 5.
EDWARD J. STAIR, '49, Seattle, age 87, June 11.
WILBUR LOWELL REED, '50, Arlington, age 88, April 11.
JOSEPH J. RYAN, '50, Seattle, age 88, May 17.
JOHN C. TURNER, '50, Federal Way, age 84, May 3.
JOHN RODGERS BLACKBURN, '51, '54, Bothell, age 79, April 22.
PHILIP W. CRAGG, '51, Bellevue, age 84, April 11.
LESLIE MONROE YATES, '51, Bonney Lake, age 84, April 21.
GLENN T. STRAND, '52, Seattle, age 83, May 15.
KIRBY D. WALKER, '52, Seattle, age 90, April 29.
ROBERT E. DIXON, '53, '56, Redmond, age 78, April 26.
EDWART HART GRUGER, '53, '56, Seattle, age 78, Jan. 13, 2007.
DAVID A. KENNEDY, '53, Port Townsend, age 85, May 18.
DURMONT ARLEN LARSON, '53, Rancho Mirage, Calif., age 75, Feb. 1.
RUSSELL O. SCHLOSSTEIN, '53, '56, Bellevue, age 77, May 10.
BILL E. ALLEN, '54, Lynnwood, age 80, March 20.
ROBERT BRACHTENBACH, '54, Cottage Grove, Ore., age 77, May 2.
CAROLE CHRISTIANSON, '54, Mill Creek, age 75, May 17.
GLADYS WILLIAMS, '54, Seattle, age 96, April 12.
KATHERINE SECORD BAIN GASTON, '55, Chapel Hill, N.C., age 74, May 3.
LEON EVERETT TITUS JR., '55, Tacoma, age 78, April 21.
WILLIAM F. BROSCHE, '56, Shoreline, age 77, May 5.
ROBERT E. DIXON, '56, Redmond, age 78, April 26.
JAMES CARL HECK, '56, Renton, age 76, April 17.
RANDI ANITA (PETTERSEN) CAIRNS, '57, Edmonds, age 66, May 19.
TOM HANSEN, '57, '59, Seattle, age 78.
ARTHUR J. SNYDER, '57, '61, Mercer Island, age 72, Feb. 20.
RICHARD D. JACK, '58, Slough, U.K., age 69, July 9, 2006.
DEE MCDONALD TRAVIS, '58, Seattle, age 71, May 14.
ORVILLE DELANO ANDERSON, '59, Shelton, age 74, May 10.
BARBARA LASHER DAVIDSON, '60, Mercer Island, age 90, May 7.
CHRISTIAN J. BIRKELAND, '61, '65, Medina, age 74, April 22.
IEVA VELTA ANDREIKA, '62, '78, Seattle, age 76, May 17.
JACKSON D. NICKOLS, '62, Bothell, age 78, April 22.
JAMES W. FRENCH, '63, '71, Clyde Hill, age 70, April 12.
BRUCE ZIELSDORF, '66, Olympia, age 67, May 5.
PATRICIA BRAZEL VINJE, '67, Seattle, age 76, May 11.
SCOTT ANTHONY WEATHERWAX, '67, Westport, age 67, May 17.
JAMES PIERCE REID, '70, Bellevue, age 63, April 29.
PAT SHIVELEY, '70, Shoreline, age 71, May 1.
PAUL H. FRITZLER, '73, Bothell, age 61, May 9.
GAIL ANNE BARROS, '74, '79, Sammamish, age 56, May 5.
CHRISTOPHER ALEXANDER ROSS, '83, Shoreline, age 48, May 24.
RUTH ANN ROSS, '84, Shoreline, age 47, May 6.
JOHN BURNHAM DUBBELDE, '85, Seattle, age 73, May 3.
JOHN ANDREW FAIR, '85, Taos, N.M., age 75, May 29.
ELEANOR GRAY HANKINS, '87, '01, Seattle, age 44, April 29.
JESSE R. EISENBERG, '07, Seattle, age 23, May 4.
STUDENTS
CHASE ANDERSON, Bellevue, age 19, April 25.
KEVIN MACDONALD, Kent, age 21, June 14.
FACULTY AND FRIENDS
HAROLD L. AMOSS JR., professor emeritus of urban planning, of Leavenworth, died May 5 at the age of 89. He had been director of the UW's Bureau of Community Development and chair of urban planning. He had served the UW since 1963.
MILTON M. ASHLEY, former associate clinical professor of psychiatry, of Bellevue, died May 16 at the age of 85. He was past president of the Seattle chapter of the American Psychiatric Association. He served the UW from 1960 to 2006.
KATHLEEN JOYCE CLAYSON, professor emeritus of laboratory medicine, of Bellevue, served the UW from 1969 to 1994. She leaves behind the Paul E. Strandjord/Kathleen J. Clayson Endowed Professorship. She died April 18 at age 78.
LEONORE ROSE RUBEY, of Redmond, was a longtime UW psychology administrator. She died April 17 at the age of 95.
ROBERT A. SUTERMEISTER, '42, of Redmond, died May 12. He had been a professor of management and organization since 1940. He was 94.
ALAN R. TURNER, of Seattle, was a biomedical electronics technician at UWMC for many years. He died April 19 at the age of 68.
THOMAS H. SIMPSON, '51, '56, professor emeritus of endodontics, of Seattle, died May 22. He was 78.
JACQUELINE LEINER, former professor of Romance languages and literature and comparative literature, of Tübingen, Germany, died April 5. She had served the UW since 1963. She was 87.
CHARLES KAPLAN, professor emeritus and former adjunct faculty member at the UW School of Medicine, of Seattle, died April 18 at the age of 95. He served as president of the Seattle Pediatric Society.
AMY CLAIRE SUGURO of Seattle, a former UW student who was believed to be the first Japanese American teacher hired by the Seattle School District, died April 18 at the age of 88.
JACK DOCTER, '37, who lived up to his name as a pioneering physician at Children's Hospital in Seattle and the UW School of Medicine, died June 4 at home on Bainbridge Island. After graduating from Garfield High School, Docter became an orderly at Harborview Medical Center to raise money for his undergraduate years at the UW. Docter left Seattle for medical school in New York City, but returned in the late 1940s to join a pediatric practice and volunteer at what was then called Children's Orthopedic Hospital. In 1959 Docter was named the medical director of Children's Hospital; in that position he established an association between the hospital and the UW School of Medicine that would allow Children's to thrive. He was 92.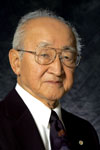 A lifelong civil rights advocate, TORU SAKAHARA, '40, '08, received an honorary law degree from the UW just weeks after his death on April 26. Sakahara, a first-generation American citizen whose parents were born in Japan, was one of 449 UW students sent to internment camps during spring quarter of 1942, when he was a third-year law student and a leader in the Japanese Students Club. His story was told as one of several profiles in "The Stolen Years" (Columns, December 2005 and March 2006). After the war, he finished law school in Utah but returned to Seattle to practice. In 1965 he co-founded Sakahara and MacArthur, a groundbreaking minority- and female-owned law firm, his family said. Sakahara helped repeal the 1921 Washington Alien Land Law that prohibited immigrants of Asian descent from owning land in Washington. In recognition of Sakahara's pioneering leadership, the emperor of Japan awarded him the Order of the Sacred Treasure, Fourth Class. He was 91.
Former Husky football star WALTER BROWN HARRISON, '43, of Redmond, died April 6. The UW's 1942 Athlete of the Year was a second-team All-American and an All-Coast team center. In 1999 he was inducted into the Husky Hall of Fame. A center and defensive lineman, Harrison received the Guy Flaherty Inspirational Award. He was later a Marine Corps captain in World War II and a fleet manager at University Chevrolet. He loved cheering for his granddaughter, Kira Harrison, '07, a UW track team member, his family told the Seattle Post-Intelligencer. Harrison was a Husky football fan to the end-his son said he had not missed a home game since 1946. He was 87.
Philanthropist SHIRLEY BRIDGE, '45, of Seattle, died June 8 after a 53-year battle with cancer. A pioneer of women's independence, she put herself through college to graduate from the UW magna cum laude and become one of Washington state's first female pharmacists. When she married Herb Bridge, co-chairman of Ben Bridge Jeweler, she changed traditional vows to promise to "cherish" rather than "obey" him. Her diverse volunteering included AIDS advocacy, grassroots political organizing and women's rights work. She served on numerous boards and was a major UW donor and a lifetime UWAA member. She was 86.
Former Husky football player GORDON HUNGAR, '48, '57, of Lake Forest Park, earned the nickname "the Last Minute Kid" when he enteredthe first post-World War II Apple Cup as an unknown freshman and scored the game's only touchdown on a 38-yard run. This surprising feat became a defining moment of his life. Hungar's sister, Dorothy, told the Seattle Post-Intelligencer, "I was there the day he made that touchdown. ... I almost landed on my head. I'll never forget it." After obtaining a dentistry degree from the UW, he became a prominent local dentist. He died April 29 at the age of 81.
JACK LYNCH, '53, the reporter-turned-mystery-writer who created the character of private eye Peter Bragg, died May 30 of a heart attack. Working as a reporter for the San Francisco Chronicle in the 1980s, he turned to literature and began writing books featuring Bragg and the mysteries he solved. Bragg was a tough gumshoe who, like Lynch, had left the Chronicle for a new career. Lynch's eight Bragg novels received many plaudits, including an Edgar Award nomination from the Mystery Writers of America for Pieces of Death. He was 78.
CATHY SALTWICK, '97, a Peace Corps volunteer in Botswana who previously worked in tissue donation, was killed in a car accident May 30 in Gabarone, Botswana. After receiving a degree in molecular biology from the UW, Saltwick worked for the Northwest Tissue Center (now Northwest Tissue Services) and Northwest Lions Eye Bank (now Sight Life), recovering corneas and helping families considering tissue donation. She was about to extend her Peace Corps assignment for a third year of AIDS prevention work when she died. She was 35.
PAULINE MARY BRUNO, a former UW professor of nursing who was the oldest woman to climb Mount Kilimanjaro, died June 7 in Boston. Bruno was a professor of bio-behavioral nursing and health systems from 1958 to 1984 and again from 2003 to 2006. In addition to making history with her climb of Mount Kilimanjaro at age 77, she also climbed Mount Rainier, Mount Baker and Mount St. Helens. The Pauline Bruno Scholarship Fund at the UW School of Nursing has been set up in her memory. She was 86.
Former UW Director of Cardiology J. WARD KENNEDY died June 8. His research focused on the heart's pumping power and treatments for heart disease. After serving as a doctor with the Peace Corps in India, Kennedy began teaching medicine at the UW as an instructor in 1966. He was director of the UW's Division of Cardiology from 1982 to 1997. During his time there, he worked on a study to quantify the amount of blood pumped by a healthy heart; this "ejection fraction" became an important cardiac diagnostic tool. He was 74.
Value Village founder BILL ELLISON, '50, died May 25 at his Bellevue home. He was 79. After earning a business degree from the UW, Ellison opened a thrift store in San Francisco in 1954. He later returned to the Northwest and started the first Value Village store in Renton in 1966. The chain now includes more than 220 stores in the U.S., Canada and Australia.