September 2008 -
Good, Better, Weller: Former Yell Leader is UWAA's Top Volunteer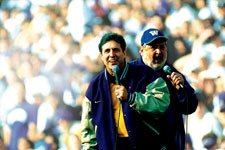 Photo courtesy Husky Media Relations

As a student, Robb Weller, '72, was considered one of the most approachable figures on campus. He emceed Coaches Tour banquets, jacked up the home crowd as a Husky yell leader and generally took part in everything purple and gold.

"I just fell in love with the place," he says of the University.

Weller went on to make his name in show business, hosting such TV programs as Entertainment Tonight and Win, Lose or Draw, and, later, founding the highly successful production company Weller/Grossman.

But he always found time for his alma mater-serving on the A&S Board and the UW Foundation Board, providing voiceovers for the first wave of Campaign UW ads and emceeing some of the UW's biggest fundraisers. This year, the UW Alumni Association decided to salute Weller with its Distinguished Service Award, the highest honor bestowed upon UWAA volunteers and members.

"It was a complete surprise and a total thrill," Weller says of the award. "What the University of Washington did for me was just stunning. They've been more helpful to me than I have been to them."