September 2008 -
New UWAA President Has a Husky Pedigree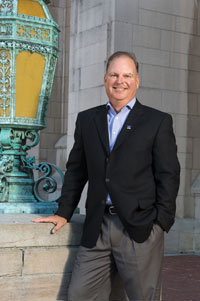 Karen Orders photo

Rick Osterhout, '76, '78, is a walking advertisement for the University of Washington. And it's no wonder: Osterhout comes from a family of Huskies and is a third-generation UW grad. His father, Fred, was on the Husky football team and served as student body vice president in the 1940s. His daughter, Andrea, is a sophomore transfer to the UW and his partner, Amy, earned a degree in accounting.

Pretty good credentials for the president of the UW Alumni Association for 2008-09.

A Seattle commercial real estate broker, Osterhout wants to cover a lot of ground in his year heading up the alumni organization, which with 52,000 members is one of the nation's largest.

"I believe it is important to find new ways to engage alums, increasing the connectivity between students, graduates and the University," he says.

When it comes to business, Osterhout knows his stuff. He is well-known throughout Puget Sound area business circles as a senior vice president at GVA Kidder Mathews, having spent the past 24 years advising business and property owners on commercial real estate matters.

For the past eight years, he has served as a volunteer at the UWAA, as treasurer, a member of the finance committee, and a board member.

"I love the University of Washington, and I am so excited to lead the alumni association," he says. "The UWAA has really grown the past few years. We want to keep our momentum and get more alumni involved."