September 2008 -
Hello Huskies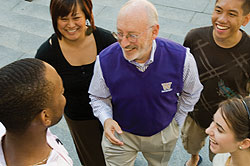 Karen Orders photo

Our alumni community is amazing! You are a big part of the reason we are celebrating the stunning success of Campaign UW: Creating Futures. Not only did the campaign raise $2.68 billion to support University programs, but nearly 300,000 individuals contributed.

Your generosity and thoughtfulness have ensured a bright future for the University and the people it serves. Thousands of students from all over Washington who never could have afforded college will now be able to get an outstanding education here. You have embodied one of the UWAA's core values-Huskies helping Huskies.

But you provided far more than money. Your actions inspire us. And that's what fall is all about: inspiration and hope as we begin a new school year, a new chance for students, faculty, alumni and staff of this University to help make our world a better place-and, yes, a new football season!

Fall marks the start of the UWAA's major event season, and I know that our many lectures, social gatherings, Washington Warm Ups and other programs will inspire you and offer wonderful opportunities to reconnect with the UW.

We continue to partner with academic units at all three UW campuses to offer you unrivaled educational opportunities. On Oct. 7, for example, we will bring you the Fall 2008 Provost Distinguished Lecture. This program, which is entering its third year, gives you the chance to hear from the best of our superb faculty.

Later in October and in early November, we are teaming up with the College of Arts and Sciences to present the Centennial Lecture Series as the college marks its 100th year.

I urge you to go to to check out the wide variety of fields and topics. There's something for everyone, and I promise you will come away inspired.

Of course, fall also means Homecoming. Homecoming arrives a bit early this year, in mid-October, and features the same exciting programs and events that draw thousands of Huskies to reconnect with one another, come back to campus, and celebrate the purple and gold.

On Friday, Oct. 17, the big Homecoming Rally will turn "Red Square" purple with the Husky Marching Band, an appearance by Husky Football Coach Tyrone Willingham, the "Pride in 5" video-contest winners and great Husky camaraderie. And that's just to warm you up before Homecoming Saturday, which will feature the 14th annual Multicultural Alumni Partnership Bridging the Gap Breakfast, recognition of UWAA past presidents at the football game and other activities to keep your purple blood pumping.

Fall is an exciting time. The energy of the students combined with the crisp weather and the fall colors make it a wonderful time to come back to campus and be inspired. I look forward to seeing you at many UWAA events.


Chuck Blumenfeld, '66, '69
Executive Director, UW Alumni Association