September 2008 -
Market > Share: Chris Curtis, '73
by Leslie Kelly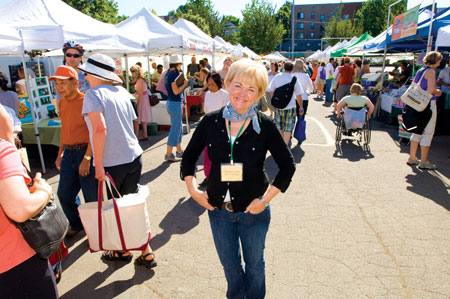 Chris Curtis, '73, launched a delicious revolution in Seattle 15 years ago, planting the seed that's grown into the flourishing Neighborhood Farmers Market Alliance with seven markets. Those markets-and the offshoots they have inspired-transformed the city's culinary landscape. That's no small (organically grown heirloom variety) potatoes! Curtis' initial effort in a parking lot in the U-District drew about a dozen local farmers, but these Saturdays at the year-round market, as many as 60 growers, artisan cheese makers, fishermen, ranchers, rustic bread bakers, fine pastry chefs and foragers turn the slab of asphalt next to the University Heights Community Center into a scene one shopper half-jokingly called Seattle's own Calcutta.
Curtis is often in the middle of the mix, clipboard in hand, eyes on the big picture. While walking through the crowd, she'll direct traffic, pick up trash, answer questions, hug market regulars and graciously accept a bag of sugar snap peas offered by a longtime vendor.
This multitasking troubleshooter was inspired to get the neighborhood farmers markets project off the ground after visiting similar operations in California. "I saw how markets added value to the community on so many different levels," Curtis says. "They're such a great way to support local farmers, a place to go see your neighbors. To slow down a little bit."
Not that Curtis takes her own advice, working 50-plus hours during the busy summer months. "Sometimes, my family teases me that it's like I'm back in VISTA." Curtis signed on for a two-year term with VISTA, the domestic version of the Peace Corps, before she finished her studies in anthropology and sociology at the UW.
Those disciplines likely played a role in fueling Curtis' civic activism after a stint in retail (she owned an ice cream store in the U-District). Seattle City Council President Richard Conlin calls Curtis a tremendous force for her work helping to craft a Fresh Food Initiative that supports sustainability, and for recognizing the importance of building bridges between rural and urban communities.
"When we pulled together leadership to address issues surrounding food, Chris was very important to that effort because of the work she has done with the farmers markets," Conlin says.
Early on, she worked on a task force with the Seattle-King County Health Department to develop the best practices to get dairy, meats, eggs, chicken, beef, salmon and other perishables into farmers markets without mechanical refrigeration, a move that made for a more diverse range of products at the market.
On a savory note, Curtis has been key in facilitating collaboration between farmers and chefs. "Chris has a lot to do with the growth of Seattle's culinary scene," says Tamara Murphy, chef/owner of Brasa, one of Seattle's most renowned restaurants. "When I first moved here 23 years ago, the city was mostly corporate restaurants, and there were no markets. We had farmers coming to our door to peddle these amazing greens. By starting the markets, Chris helped chefs and farmers build relationships that fuel creativity that comes from working with fresh, local, sustainable products."
Still, challenges remain. The markets throughout the city do not have permanent homes. The 10-year-old Columbia City market is being displaced by a condo project, though Curtis is working with concerned citizens and the developer to try to find a space for the popular Wednesday market.
"It's funny because having the market there is one of the reasons that neighborhood has become a place people want to live-what has made it attractive to developers," she says. Ensuring the markets plant permanent roots in the community and continue to fl ourish remains at the top of Curtis' wish list. And those who know her have little doubt she can accomplish such a feat. "Without Chris' calm persistence, the system of farmers markets in Seattle would have achieved neither the presence nor the recognition," says former Seattle Post-Intelligencer food editor Hsiao-Ching Chou, who worked with Curtis to introduce a resident chef at the U-District market to make suggestions on how to cook shoppers' bounties.
Despite her hectic schedule, Curtis regularly visits her 98-year-old mother in Burlington (stopping at Sakuma Brothers for strawberries in the summer) and travels as often as she can. "I love visiting the markets in Europe, seeing the result of hundreds of years of tradition," she says.
It might still be young in comparison, but Seattle's neighborhood market tradition already has some pretty deep roots. And the city has Curtis to thank for that.
LESLIE KELLY WRITES ABOUT DINING AND FOOD FOR THE SEATTLE POST-INTELLIGENCER.