| | |
| --- | --- |
| Search for the Treasure, Discover the Dead Sea Scrolls | |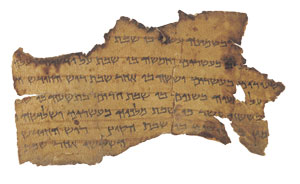 According to legend, the greatest archaeological discovery of the 20th century was made by a shepherd, who threw a stone into a cave and heard pottery shatter. Inside, he found the Dead Sea Scrolls.

In other words, you don't have to be an archaeologist to find hidden treasure. So why not take part in Emerald City Search: A Community Quest? It's a community-wide treasure hunt held in conjunction with the Pacific Science Center's fall exhibition of the Dead Sea Scrolls. Conceived by Hillel Executive Director Will Berkovitz and developed by the College of Arts and Sciences and the UWAA, Emerald City Search celebrates this once-in-a-lifetime exhibition and the spirit of discovery.

Hit the streets in search of a medallion, which will be placed in plain sight on public property within the Seattle city limits. In October, 10 clues to its location will begin appearing in a local newspaper. They'll also be available online.

"Discovering the Dead Sea Scrolls," an exhibition featuring portions of each of the original 10 scrolls will be on display at the Pacific Science Center Sept. 23 through Jan. 7, 2007. For more information, visit <www.pacsci.org/dss>. For more information about the search, visit UWalum.com.