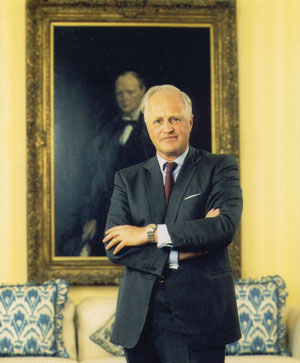 The Evans School of Public Affairs has booked a bona fide authority on Winston Churchill to give the 6th Annual Winston Churchill Centre Lecture … Winston S. Churchill. The grandson of the former British prime minister will speak about "Public Leadership in Times of Crisis—The Legacy of Prime Minister Winston Churchill" at 6:30 p.m. Thursday, Oct. 26 in Kane 120. Tickets are available to meet Churchill at a special reception beforehand. It's part of an extraordinary season of lectures at the UW, in which some of the world's most interesting and influential thinkers will discuss the past, present and future of their fields. Here are a few highlights:


• Focusing on global health, the UWAA/Global Affairs Fall Lecture Series will include presentations on health systems, pandemics, and human rights and health inequities by UW faculty experts. Capping off that series will be the inaugural Provost's Distinguished Lecture, featuring King Holmes, director of the Center for AIDS & STD at the UW and affiliated hospitals and research institutions. Lectures will be held at 7 p.m. October 3, 10, 17 and 25 in Kane 130 and Benaroya Hall, Seattle.

• The College of Engineering's annual lecture series, dedicated to "Engineering Our Quality of Life," will look at novel solutions to profound problems. Topics include the ways technology can help victims of paralysis take control of their physical surroundings, the ways our daily choices affect the environment, and the ways research done at the UW allows us to detect contamination in food, in the human body and in the air.

Lectures will take place at 7 p.m. Oct. 12 and 26 and Nov. 9 in Kane 110. Free.

• Ron Krabill, assistant professor of interdisciplinary arts and sciences, will present the UW Bothell "Choice Words" Lecture at 6 p.m. Tuesday, Oct. 10 at North Creek Café, UW Bothell.

• The University of Washington Press and the Jackson School of International Studies will present "Boris Yeltsin and Russia's Democratic Transformation," featuring Professor Herbert J. Ellison, at 7 p.m. Wednesday, Nov. 1 in Kane 130.

• Newbery Award-winning novelist Richard Peck will give the iSchool's annual Spencer G. Shaw Lecture, "Voices in an Empty Room: Five Apologies for the Narrative," at 7 p.m. Wednesday, Nov. 15 in Kane 220.

Visit UWalum.com for complete information on all of these lectures and to register.