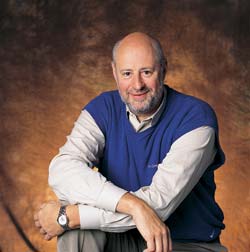 Small Things Make a Big Difference
When I reflect on my experience at the University of Washington, I feel most connected to the small things that made a difference in my life: my fraternity, my department, my basketball team.

Sure, being on the Quad in the spring with the cherry trees blossoming or hearing the roar from Husky Stadium stirs me, but when you get right down to it, it was the relationships with my friends, classmates, house brothers, professors and teammates that forged the strong bond for this place that I continue to feel nearly 40 years after I arrived here as a kid from the Midwest.

When I came here from Nebraska in the 1960s, I didn't know a soul except for the basketball coach I was going to play for. I was far from home, not exactly feeling at ease, and a bit awed by this place.

But it was my fraternity brothers who took me in and made me feel right at home as I adjusted to life thousands of miles from home. It was the nightly study tables we had that prepared me to earn the grades I needed to go to graduate school, where I got my M.B.A.

The beauty of this place is that this kind of experience happens all over campus—in the dorms, among study groups, service clubs, intramural sports, you name it.

The Birth of Husky Pride
These small parts of the University—the ones that created your bond to the UW, the ones you feel loyal to—deserve your support. These experiences birthed the Husky Pride I like to talk about.

We at the UW Alumni Association are here for one major reason—to help you keep and build upon the bonds you have with the areas of the UW that made a difference in your life. It's why we put on lectures for you, class reunions, alumni receptions and so forth.

Did you play in the Husky Marching Band? Have a great experience as a communication student or as a member of the ROTC? Belong to a fraternity or sorority? Then find a way to support it. Attend one of their events. Volunteer as a mentor. Support it financially. Get involved.


Great Events for Great Alumni
The arrival of fall means another year of blockbuster programming.

We've got some terrific new events, such as Winston S. Churchill, grandson of the British prime minister, coming in October to present the 6th Annual Churchill Centre Lecture in Seattle as part of the Evans School Public Leadership Lecture Series. Our Fall Lecture Series this year focuses on global health and will feature faculty who are leading the way in research into such hot topics as HIV/AIDS, pandemics and the delivery of health care in areas of the world that need it most.

A Book for Everyone
We also are taking part in the first UW Common Book experience. This year, all freshmen are being given Tracy Kidder's book Mountains Beyond Mountains to read and discuss (see "Spreading the Word").

We are inviting alumni to get involved with book clubs and to attend the Nov. 13 lecture by Paul Farmer, the renowned Harvard professor and public health expert who is the subject of Mountains Beyond Mountains. (Visit UWalum.com for all the details.)

Then there are our classic Endless Campus programs. (Endless Campus, as you probably know, is our collection of lifelong learning programs which range from lectures and career-building programs to the expeditions offered through our UW Alumni Tours department.)

Expanded Homecoming
And what would fall be without Homecoming Week (Oct. 22-29) We will have our big Homecoming Rally, the 21st running of the Dawg Dash and a host of activities where you can pull on your purple sweatshirt and show off your Husky Pride with thousands of like-minded Huskies.

So grab your jacket and come on by campus. Whether you drop by your old fraternity or sorority, attend a lecture, contribute to a scholarship fund-raiser or spread the word about this great University, we'd love to have you. After all, what would this place be without you?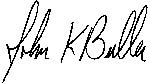 JOHN K. BULLER, '69, '71
Executive Director, UW Alumni Association
EDITOR'S NOTE: As Columns went to press in mid-August, UWAA Executive Director John Buller announced that he is leaving the alumni association this month to become President and CEO of Tully's Coffee, Inc., in Seattle. The board and staff of the UW Alumni Association wish him the best and thank him for five years of service. Watch for the December Columns for more details about his legacy at the UW and the UWAA.