| | |
| --- | --- |
| From The President | |


Universal Facts
Over the summer, I had the great pleasure to travel to China to meet with dignitaries, alumni, business and government leaders, and friends of the UW. Having visited there first in 1989, I expected major changes. I was not disappointed. I found Beijing hardly recognizable, having become a wonderfully vibrant and modern city. As for Shanghai, I was fully unprepared for the explosion of urban energy I encountered. What was literally a pasture and farmland on my last visit has transformed into an eclectic, futuristic cityscape. It is truly amazing, to say the least.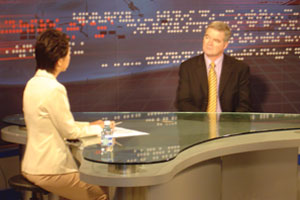 From my discussions with leaders from Chinese universities and education ministry officials, it was clear that the incredible rate and scale of change occurring in their country pose formidable challenges. Essentially, they are trying to compress generations of development into only a handful of years. Beyond this striking difference, however, I found that the hopes and concerns of our two nations and our universities are actually very similar. We are both highly interested in how to provide affordable, accessible education for all our people; how to address the growing gap between rich and poor; how to ensure high-quality health care; how to conserve and protect our environment. We have much in common and much to share, with our colleagues in China as well as with others from around the globe.

The UW is a global university. We have numerous international student and faculty exchanges, educational programs and activities that prepare students for life in the 21st century and research efforts that have a worldwide impact. Yet, my travels have shown me repeatedly that too few people truly understand the UW's strengths or our position among the world's greatest research universities. We have to work hard to gain the international recognition that we have earned, but even more importantly, we need to maintain and strengthen our international ties because it is best for our students, our region and the world.

Our graduates enter a much different world today than many of us did when we left the UW. In our present global, knowledge-based economy, working with and within groups from other cultures is vital to achieving success. Our students must have opportunities to experience the complexities of international exchange if they are to achieve their goals, such as following in the footsteps of their fellow Huskies who have made it to the CEO's office (see "Business Class," page 24). In turn, their knowledge and skills will benefit our region, helping us in our role as the state of Washington's champion in the intellectual competition being played out on an international playing field.

Our newly formed Department of Global Health, a joint venture of the UW Schools of Medicine and Public Health and Community Medicine, is an obvious and exciting example of how our research interests and outreach efforts can help us change the world. It will provide substantial opportunities to deploy educational and research programs to improve the health of underserved populations around the globe. Dr. Paul Farmer exemplifies exceptionally well the difference that a single individual can make to the health of the world's people (see "Spreading the Word," page 34). Imagine what an entire cadre of dedicated professionals from a world-class university can do.

Some issues are simply universal—affordable and accessible education, the sustainability of our planet, quality health care. To succeed in the new millennium, we must support our existing international programs and initiatives while adding and modifying others to meet emerging needs. Such a global focus is necessary not only for the UW's well-being, but for our students, our region and the world.