Written by Tina Mankowski
Page 1 of 4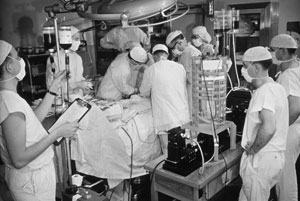 Thirteen-year-old Tommy Fangboner had a broken heart. The freckle-faced Ellensburg boy with the engaging grin and buzz cut wasn't pining away after a pigtailed classmate. Tommy's heart was literally broken. He suffered from an inoperable condition that blocked the delivery of oxygen to his blood.

If -- and it was a big if -- Tommy made it into adulthood, his quality of life would be marginal. His heart was already ballooning as it strained against the blockage.

The best course of treatment would be to surgically reduce the blockage, but back in Tommy's day -- the 1950s -- such a feat was nearly impossible.

Across the country, surgeons were operating on the heart, but procedures were limited. It was nearly impossible to do surgery on a beating heart, but if you stopped the heart, the patient would die.

To repair a defect like Tommy's, a surgical team would have to re-route the circulatory system while the surgeon cut into the heart to make repairs—what we now call open-heart surgery. If blood could be detoured around the heart, get oxygen and then return to the body, the heartbeat could be slowed or completely stopped for surgery.

As early as the 1930s, researchers were working on the prototype of the modern day heart-lung or bypass machine. In the 1950s, a University of Minnesota physician had begun a series of open-heart procedures using "living" heart-lung machines -- the patient's own mother or father.

Surgeons would attach vessels to the parent's groin area and re-route the child's blood through the parent's circulatory system before pumping it back into the child undergoing the cardiac repair.

Elsewhere in Minnesota, physicians at the Mayo Clinic were perfecting a mechanical pump to take over oxygenation of the blood during open-heart surgery. Early attempts had problems, but a team in 1955 had the first successful open-heart surgery in the world, heralding a new era. The "bypass machine" promised to revolutionize cardiac surgery.

• • •

Ellensburg of the 1950s was a rugged cattle town, best known for its annual rodeo. When the Fangboner family traveled to Seattle in June 1956, the UW School of Medicine was only 10 years old. But the family held out hope. UW Cardiologist Robert Bruce believed that Tommy would be a good candidate for an open-heart procedure but no such surgeries had been tried outside of Minnesota.

Bruce knew that his UW colleagues were working on a new version of a bypass machine and looking for a potential first patient. Experimental Surgery Director K. Alvin Merendino, a young surgeon who had come to the UW from Minnesota, was leading a bypass machine team of surgeons, anesthesiologists, physiologists and bioengineers.