| | |
| --- | --- |
| Spreading The Word | |
Written by Eric McHenry
Page 1 of 4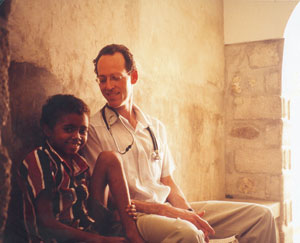 Lesley Everett, '06, had no shortage of assigned reading as she worked toward her B.A. in biochemistry at the UW. Yet somehow, in the past two years, she managed to read the book Mountains Beyond Mountains three times. It's the true story of Paul Farmer, a doctor who has devoted himself single-mindedly (and, in the beginning, single-handedly) to bringing modern medicine to the worst parts of the world -- something he decided to do when he was still an undergraduate. Everett, who this month arrives in England to begin graduate work at Cambridge University, says the book is the perfect companion to a college education because it helps students "really think about how they want to use these four years." She regrets only one thing: "I wish I'd read it when I first got here."

The UW Class of 2010 will graduate with no such regrets. This fall, every new student will arrive at the UW owning a copy of Mountains Beyond Mountains, courtesy of the Office of Undergraduate Education. It's the University's first ever "Common Book" -- assigned reading for all freshmen and transfer students, and recommended reading for the rest of the UW community.

"We're trying to create a kind of a syllabus -- a short syllabus -- for the entire University," says Christine Ingebritsen, professor of Scandinavian Studies, who came up with the common book idea while serving as acting dean of undergraduate education. She and her staff put together a yearlong program of activities around the book, including visits from Tracy Kidder, its Pulitzer Prize-winning author, and Paul Farmer himself (see sidebar). It's an ambitious effort to give students the kind of shared experience they could easily miss at a huge, heterogeneous research university. It's also -- perhaps even more ambitiously -- an attempt to get thousands of 18-year-olds thinking about the world beyond the Ave. and Facebook.com.

"I think that college kids, at least some subset of them, are just hungry for something that resembles meaning in this incredible age of consumerism," Kidder says. "And honestly, I can't think of anything more meaningful than people's health, particularly the health of people who live in countries where the average life expectancy is now falling into the high twenties."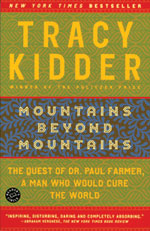 There is no country in the Western Hemisphere poorer or sicker than Haiti, and no region of Haiti more miserable than its central plateau. Yet this is where Farmer -- a Harvard-educated doctor and MacArthur "genius grant" winner -- has chosen to spend much of his adult life. When Kidder first meets him, Farmer is living eight months of the year in a tiny house without hot water, working 18-hour days and making house calls that require 10-mile hikes through the mountains.

Kidder, like his subject, is a dispenser of strong medicine. Mountains Beyond Mountains moves briskly from the shocking to the grimly humorous to the heart-rending. In an early chapter, Kidder describes Farmer giving a spinal tap to a 13-year-old girl with meningitis: "The veins stand up on Farmer's thin neck as he eases the needle in. Wild cries erupt from the child: "Li fe-m mal, mwen grangou!" Farmer looks up, and for a moment he's narrating Haiti again. 'She's crying, "It hurts, I'm hungry." Can you believe it? Only in Haiti would a child cry out that she's hungry during a spinal tap.' "

Yet for all its bleak realism, Mountains Beyond Mountains is a profoundly hopeful book. Kidder chronicles the growth of the Zanmi Lasante clinic from a dream in Farmer's 23-year-old head to a network of hospitals providing free medical care to millions of Haitians. It has become such a model of effective medicine, in fact, that treatments developed there and workers trained there are now being exported to other parts of the world. Partners in Health, the Boston-based medical charity founded by Farmer in 1987, has built facilities on four continents -- in rural Rwanda, many of the doctors are Haitian. Kidder also follows Farmer to places like Peru and Russia, where he and his colleagues have helped get drug-resistant tuberculosis under control (proving a number of pessimists wrong in the process).