Page 1 of 6
When the New York Times asked "Who's in the Corner Office?" for an article on top CEOs, it found one of the answers was "UW alumni." The UW has six alumni who are currently CEOs of Fortune 1000 corporations. According to the Times, that's more than any other public university in the nation except the University of Texas and the University of Wisconsin. These Husky CEOs are leaders in energy, airlines, retail, financial services and forest products. While several are alumni of the UW Business School, they also come from engineering and law. To find out more about their achievements, Columns asked business writer Brad Broberg to write brief profiles of the six. Here's what he discovered.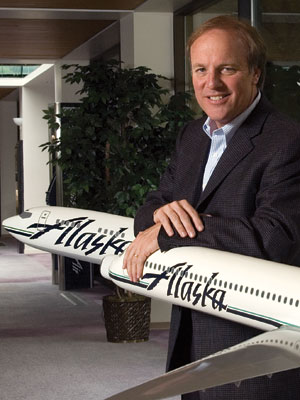 The Sky's the Limit
William Ayer, '78
Alaska Air Group

The first airline Bill Ayer ran didn't stay airborne very long.

"We operated for two years," he says. "We didn't go broke, but we probably would have if we'd stuck with it."

While Air Olympia vanished from the radar screen quickly, its founder didn't. After joining Horizon Air in 1982, Ayer steadily ascended the corporate ladder at the Alaska Air Group, the parent company of Horizon Air and Alaska Airlines, where he is now president, chairman and chief executive officer.

Throughout his climb, Ayer never forgot some "sage advice" he received while earning his M.B.A. at the University of Washington: "Get yourself a job that gives you exposure to the information flow … where people need you and you need them."

Even after reaching the top rung, Ayer rubs elbows more than he crunches numbers. "I spend very little time looking at details," says Ayer. "My time is spent meeting with people."

Aviation is more than a business to Ayer. It's a passion. His father, a private pilot, introduced him to flying when he was a boy. Ayer, 52, continues to fly on a regular basis. He owns a Piper Malibu and is a volunteer with Angel Flights, which arranges for private pilots such as Ayer to provide free air transportation to people with medical needs. "It's an opportunity to constantly improve and learn new things," says Ayer about his love of flying. "In terms of the job, it helps me stay current with our operations. And it's a heck of a lot of fun."

Ayer, who grew up in the Bay Area, attended Stanford, where he earned degrees in human biology and economics. Originally on a pre-med track, Ayer decided instead to pursue a career combining business and general aviation, which led him to seek an M.B.A. degree, which led him to the UW.

"I was looking for a good program and I was looking for a little change in geography and Seattle seemed like a great place," he says. Ayer enjoyed roaming the city and exploring the outdoors, but his priority was school. "I was pretty serious about it, so it was a lot of time with the books," he says.

All in all, says Ayer, his two years at the UW provided a broad runway from which to launch a career. "Any experience like that is a combination of the classroom learning and the time you spend with your fellow students," he says. "And team project work is very important."

After graduating from the M.B.A. program in 1978, Ayer joined the Piper Aircraft Co. as its West Coast sales rep -- a dream job. "They gave me my own plane to fly around and make sales calls," Ayer says with a grin.

That's how Ayer discovered Olympia lacked air service. Recalling his M.B.A. studies -- where he'd written a business plan for a mock airline and been urged to take risks in an entrepreneurship class -- Ayer quit Piper to start Air Olympia.

Ayer's smile brightens at the memory. "It was fun," he says. "It was pretty cool." He compares it to the old television sit-com, "Wings." The airline, which operated two eight-seaters, flew from Olympia to Yakima and Spokane. One day Ayer would be in the cockpit and the next day he'd be behind the counter.

"You couldn't afford any overhead in a little business like that," says Ayer, "so you got to do everything, and the upside is you learned everything. I could never replace that experience with anything else."

Besides learning a lot, Ayer got to laugh a lot. "We didn't have that many passengers, so you really got to know them," he says. "There were some quirks about our passengers that provided comic relief."

Given the turbulence Ayer has faced lately at Alaska Airlines, there must be times when he misses those days. Like virtually every other airline, Alaska suffered a plunge in traffic following 9/11 and now faces surging fuel prices. Alaska also angered its pilots when contract negotiations stalled and an arbitrator imposed a pay cut. And the transition from a company ground crew at Sea-Tac to a contract crew caused numerous problems. Alaska's on-time performance at one point was among the worst at major U.S. airlines.

Ayer acknowledges the last few years have been tough on Alaska employees, passengers and investors, but says the moves the company has made -- including painful layoffs -- are paying off.
Alaska Air Group was one of only two domestic airline companies to turn a profit last year with an adjusted net income of $55 million on operating revenues of nearly $3 billion. Most importantly, says Ayer, the company's recent problems did not exhaust decades of customer loyalty forged by a reputation for superior customer service.

"People are sticking with us," he says.