September 2005 -
We Did the Math

"Mathematics is the door and key to the sciences." That assertion, which sounds so contemporary, is in fact more than 700 years old. It was made by a 13th-century scholar, natural scientist, and Franciscan monk named Roger Bacon. (What he really wrote, of course, was Et harum scientiarum porta et clavis est Mathematica.) Bacon, an extraordinary man, foresaw steam engines, flying machines and telescopes, and he knew, even before the invention of calculus, that mathematics would be central to human progress and enlightenment.
Fast forward to the early 1990s. That was when the UW math department decided that too many of its students were finding the mathematical door locked and the key lost. For those students, mathematics was serving, not as an entry to science and engineering, but as a roadblock. So the faculty embarked on a broad program of reform and innovation.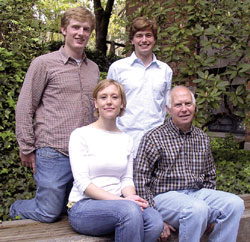 UW Math Professor Jim Morrow, right front, and members of the UW's winning team in the 2005 Mathematical Contest in Modeling. Next to Morrow is Christina Polwarth. In the back are Ryan Bressler, left, and Braxton Osting. Photo by Rob Harrill.
First came creation of the Mathematics Study Center, where students could gather for informal tutoring and communal problem-solving. (The center, still flourishing today, was an early model for CLUE; see article on page 36.) Then, over a period of years, came careful restructuring of the pre-calculus and calculus sequences. Class size was dramatically reduced (the faculty voted itself an increased teaching load to help make this possible). Professors developed new texts and teaching methods. They created a new (highly popular) course in mathematical reasoning, a new calculus sequence for the life sciences, a new set of courses for senior math majors, and, in collaboration with three other departments, a whole new degree program: Applied and Computational Mathematical Sciences (ACMS).
Meanwhile, the department worked equally hard on bringing mathematics to a broader community. The Math 100 sequence has for years been the "door and key" for students who enter the UW with weak math preparation; it continues to put these students, many of them disadvantaged, on the road to success in many fields, including science and engineering. The department strengthened and deepened its courses for aspiring K–12 math teachers. Several imaginative new programs, funded by competitive national grants, send UW math students out to work and learn in local schools. Once a year, Math Day brings swarms of young people to campus to see for themselves all the "cool" fields to which math today is the "door and key." And for advanced high-school students, the Summer Institute for Mathematics is an exciting introduction to the beauty and power of higher mathematics.
The department's hard work has paid off. Some key indicators: Since 1999, three professors of mathematics—David Collingwood, Ron Irving and Jim Morrow—have won Distinguished Teaching Awards. Since 2002, the number of math majors has doubled and it's still growing. In the last four years, five teams of UW math students have been named Outstanding Winners in the international Mathematical Contest in Modeling (this year, just 13 of the 828 teams competing won that distinction). A recent outside review found the department's K–12 outreach program unique among research universities. And this past June, the department received a Brotman Award for Instructional Excellence.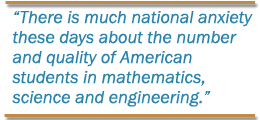 There is much national anxiety these days about the number and quality of American students in mathematics, science and engineering, as well there should be. The United States is falling far behind other nations in producing the next generation of scientists and engineers. At the UW we are trying to do something about this crisis. The outstanding performance of the UW math department, on a broad range of measures, should be a source of great pride for all of us. With 15,000 student enrollments every year, the department contributes hugely to the University's educational mission and, ultimately, to the strength of the state and the nation. Somewhere, Roger Bacon is smiling.
Mark Emmert, '75
President