September 2005 -
Tsunamis, 9/11, Battlefield Casualties
Lecture Series Explores 'Engineering the Unexpected'
Not long after the Dec. 26, 2004 tsunami wiped out tens of thousands in Aceh, Indonesia, the province was hit by a second wave—about 200 relief organizations. However welcome it may have been, that glut of goodwill was more than the region's shattered infrastructure could support.
"You can imagine 200 organizations suddenly descending on one small place that has no roads, trees knocked down, houses knocked down," says Mark Haselkorn, UW professor of technical communication and co-founder of the new Interdisciplinary Program in Humanitarian Relief. "Most of them never even talked to each other. … I mean, it was a mess."
When disaster strikes, Haselkorn says, the most common problem with the global response is not a lack of compassion but a lack of coordination. On Nov. 1, he and former student Kate Hulpke, '05, will talk about more effective ways of "Engineering Disaster Relief" in the first installment of the College of Engineering's annual lecture series. Dedicated to "Engineering the Unexpected," the series will also include presentations by a failure analyst and a pair of professors who are building a robo-medic. The lectures are held at 7 p.m. Tuesdays in Kane 110.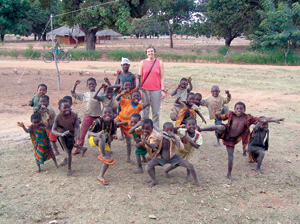 Hulpke, who finished her master's in technical communication this spring, saw firsthand the consequences of poorly planned relief efforts when she spent a summer working in the Cabo Delgado province of Mozambique: vaccine shortages, mothers and babies being turned away from understocked clinics, and dwindling public confidence in the health-care system. So she created a comprehensive database to track the shipment and storage of vaccines. It's now being used by the country's health ministry.
On Nov. 8, Larry Anderson '61, '66, will deliver the second lecture of the series, discussing the science behind such engineering failures as the World Trade Center towers' collapse and the Bellingham pipeline fire.
The series wraps up Nov. 15 with a talk by Electrical Engineering Professor Blake Hannaford and Surgery Professor Mika Sinanan, who recently received $12 million from the Pentagon to further their work on the trauma pod. A surgical bay with robotic components, housed in an armored vehicle, the pod will allow doctors to operate on wounded soldiers without actually being present.
For more information on the series, or to register, visit the website or call the UWAA at 206-543-0540.
Around the World in 90 Minutes
One in 10 U.S. residents is now foreign-born. Current and former communist countries are among our largest trading partners. Nigerian kids listen to hip-hop and Texans build Toyotas. Yet as the terrorist attacks of 9/11 and in Madrid and London reveal, contact between cultures does not always yield tolerance. Indeed, the paradox of globalization is that it can deepen divisions even as it erases borders. The ability to respect different worldviews and entertain multiple perspectives is an increasingly precious commodity.
It's appropriate, then, that the UWAA/College of Arts and Sciences Fall Lecture Series, "No Boundaries: The Ripple Effect of Globalization," will include no lectures—only panel discussions, in which each topic will be viewed from multiple perspectives. Over the course of four Tuesdays, 17 distinguished UW scholars will look at such issues as religion, the environment, human rights and the geopolitical power balance through the lens of globalization. Moderators include former Gov. Gary Locke and KUOW Host Steve Scher. After the panelists speak, the floor will be opened to questions from the moderator and the audience—introducing even more perspectives to the conversation.
The lectures start at 7 p.m. in Kane 130. The topics are Oct. 11, "Shifting World Powers"; Oct. 18, "Human Rights in Changing Contexts"; Oct. 25, "Sustainable Development—Who's Responsible?"; and Nov. 1, "Religions Across Borders and Time." See the website for more information and to register.