September 2005 -
2005 Homecoming
Dawg Dash, Rally Will Be Highlights of Homecoming Week
Start the week in your running shoes and finish it in your "Rally" cap. Homecoming Week 2005 (Oct. 30–Nov. 5) will kick off with a modern tradition, the Dawg Dash, and culminate with a classic, the Homecoming Rally.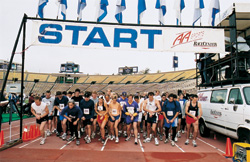 Dawg Dash
If you want to see more running Huskies, you'll have to go to the Iditarod. The 20th Annual Dawg Dash, which attracted 1,000 runners in its first year and now routinely draws twice that many, will depart Husky Stadium at 9:30 a.m. on Sunday, Oct. 30. Participants in both the 10K run and the 5K run/walk will wend their way along scenic trails and roads, getting some musical encouragement from a Husky pep band as they pass Drumheller Fountain.

Homecoming Rally
"Red Square" will be awash in purple starting at 8 p.m. Nov. 4, as Husky fans of all ages converge for the annual Homecoming Rally. Radio personalities from KJR-AM and Husky legend Greg Lewis, '91, will serve as emcees, introducing the Homecoming royalty, the Dawg Dash winners, other alumni celebrities and the Cheer Squad. The evening's highlight will be a special Homecoming performance by the Husky Marching Band. Other attractions include free food for students and fun giveaways. Prior to the rally, the UWAA will host its first-ever Homecoming Kick Off—a chance to socialize with the Class of 1955 and the Purple & Gold Society, and to honor the winners of the alumni association's Volunteer Appreciation Awards. The reception will begin at 6 p.m. in the Walker-Ames Room of Kane Hall. To register, visit the website or call 206-543-0540.

Homecoming Breakfast Honors Multicultural Students and Alumni
The University of Washington Alumni Association and the Multicultural Alumni Partnership (MAP) will honor distinguished alumni, community leaders and MAP scholarship recipients at the 11th Annual Bridging the Gap Breakfast on Saturday, Nov. 5. This celebration of diversity includes breakfast, entertainment, a live auction and the presentation of MAP's annual awards and UW student scholarships. Proceeds from the live auction will go toward future scholarships. This year, Vice President and Vice Provost of Diversity and Minority Affairs Nancy "Rusty" Barceló will also present the first Diversity Award for Community Building, honoring a UW faculty member, staff member or student who has made a significant contribution to campus diversity efforts. The event begins at 8 a.m. in the HUB Ballroom. For information or to register, visit the website or call 206-543-0540.