September 2005 -
All in the Family: Blumenfeld Follows Tradition as Alumni President
Growing up, the only thing that Charles R. "Chuck" Blumenfeld wanted for his 10th birthday was a Husky football season ticket—and he got one.
It was only natural that Blumenfeld was a Husky fan. Not only did both parents attend the UW, but his dad, Irwin Blumenfeld, '30, was the UW's chief spokesman from 1947 to 1974.
Yet the younger Blumenfeld almost rejected his parents' legacy when he graduated from Lakeside High School in 1962. "I applied to a lot of schools and was accepted to Anitoch and Lawrence," he says.
But his dad was adamant that his son attend the UW. "We have an outstanding university six blocks from your home. Why should I pay for anywhere else?" he said to his son.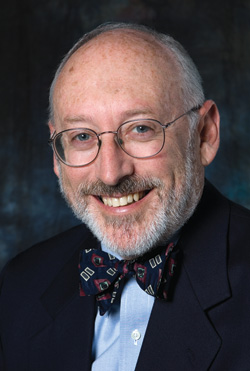 ---
UWAA President Charles R. Blumenfeld, '66, '69. Photo by Mary Levin.
---
While some might hold a grudge, Blumenfeld says, "It was the best decision in my life." He feels his student experience prepared him for a fascinating career in politics, law and environmental policy. Over thee years, his ties to the UW have remained strong. Six years ago, Blumenfeld, '66, '69, joined the UWAA Board of Trustees, and this July he became the __ president of the 116-year-old organization.
The new alumni leader has many memorable links to his alma mater. Through his dad, he has met every UW president since Raymond Allen served in the late 1940s. Blumenfeld has watched the many ups and downs of university life—especially when the UW made headlines—and headaches—for his father.
He remembers two crises that affected his dad strongly. One was a nude photography scandal. In 1950, freshmen women were "asked" to pose nude for an anatomical study when they registered for classes (see "Nude Coed Research Exposed," Dec. 1995). When word leaked out to the press, the negatives were burned in the campus boiler. The other memorable crisis came in 1954, when President Henry Schmitz, '15, '16, vetoed a plan to offer a visiting lectureship to J. Robert Oppenheimer. The physicist had led the Manhattan Project during World War II but later lost his security clearance for supporting leftist causes prior to the war. Oppenheimer eventually came to the UW two years later as a guest speaker.
As an undergraduate and a law student during the 1960s, Chuck Blumenfeld saw his own share of campus uproar. Two Vietnam War protests are particularly vivid—the day the SDS chained the doors to the law school shut, and the "bee" incident, where conservative activists released thousands of bees to harass anti-war protesters (see "The Way We Were," Dec. 2004).
Blumenfeld's involvement in student politics took a more traditional route. He was president of the Interfraternity Council as an undergraduate and the UW Student Bar Association as a law student.
Politics have been a passion since he was a page for Sen. Warren Magnuson, '29, in 1960. During that year, he watched Southern senators filibuster a civil rights bill and Democrats contend for the presidential nomination. ("We were all LJB supporters," he recalls.) He spent two college summers in political internships—one in Olympia and one in Washington, D.C., with Sen. Henry Jackson, '32.
After graduating from law school, Blumenfeld went back to Washington, D.C., to join Sen. Jackson's staff. He spent four years working for the senator, which included Jackson's first run at the presidency in 1972. Seeing a presidential campaign from the inside is "not a pleasant experience," Blumenfeld recalls, but he stayed out of the crossfire. "My job was to run the office while Jackson was on the road campaigning," he says.
Immersed in politics, Blumenfeld at first thought that he would never actually practice law. But some of his mentors, including Gerald Grinstein, who was then Sen. Magnuson's chief of staff and later became a UW regent, urged him to get a few years of practice under his belt.
In 1973, Blumenfeld moved back to Seattle and took a position with Bogle and Gates as an environmental law specialist. "I was one of the first lawyers in Seattle to specialize in the field, and probably the first on the corporate side of the issue," he says.
Over the years Blumenfeld has advised the Port of Seattle, Todd Shipyards, the Port of Bellingham and other clients on environmental law. When Bogle and Gates dissolved in 1999, Blumenfeld moved to Perkins Coie, where he leads the national environmental and natural resources practice for the law firm.
At home, Blumenfeld has kept his Husky connections strong. His wife, Karla Axell, is a 1983 graduate in biochemistry, and his daughter, Lisa, is a 1999 graduate in speech communication. Blumenfeld's son, David, broke family tradition by attending UCLA, but the UWAA president has hopes for his step-son Matt, who is still in high school.
With a busy family life and a full-time law practice, why does he devote so much time volunteering at the alumni association? "There is no greater asset to this community than the University of Washington," he says, "and the alumni association is one of the best mechanisms for keeping alumni connected to the University."
As president, Blumenfeld leads the volunteer board of the 52,000-member organization. "The University has so much to offer," he says. "At the UWAA, I'm proud of the broadening of program offerings to all sorts of alumni. This is a significant and positive change."
With the passage of a healthy state budget and the growing success of the UW's $2-billion Campaign Washington, Blumenfeld is optimistic about the future of his alma mater. "What a perfect time to connect people with the University," he says.
As alumni president, he will be a spokesperson at alumni events throughout the nation and serve as the voice of the alumni at regents' meetings. It's a role that should come easy. Speaking out for the University of Washington has been a tradition in the Blumenfeld family for 58 years.