Finally, in early 1990, foreign epidemiologists, most notably Davis and colleagues from "the Hutch," won the Soviet Union's approval to collaborate with its scientists to organize modern epidemiological studies—and along the way build lasting trust, respect and friendship between scientists from rival superpowers.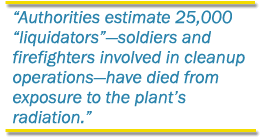 "That, besides actually getting some epidemiology done, is one of the best things we've been able to accomplish," says Ken Kopecky, a biostatistician at the Hutch and affiliate professor of biostatistics at the UW, who has worked side by side with Davis from the beginning. "There were a lot of barriers to overcome. Scott's ability to keep this all going ... is a tribute to his drive and adaptability."
So far, Davis and his collaborators have definitively linked radiation from Chernobyl to an ongoing outbreak of thyroid cancer among people who were exposed as children, primarily by consuming contaminated dairy products but also through external exposure. More importantly, for the first time they have determined the doses most likely to lead to thyroid cancer. Ahead lies a study of thyroid cancer in people who were exposed as adults and a search for the genetic signature of radiation-associated thyroid cancer.
Anywhere from 5 to 8 million people have been exposed—and some of them remain exposed—to potentially dangerous levels of radiation from Chernobyl. Estimates of the number of people who will ultimately develop thyroid cancer as a result of the disaster vary. According to Chernobyl.info, a United Nations-sponsored Web site, at least 1,800 children and adolescents exposed to fallout from Chernobyl contracted the disease—which normally strikes only adults. Meanwhile, various sources predict anywhere from 8,000 to 50,000 to 100,000 people ultimately will develop the disease, which generally is not fatal if detected and treated, as the years go by.
"Projecting the number of expected thyroid cancers is very difficult to do because of the uncertainties regarding doses and number of people exposed and the risk associated with radiation dose—a long way of saying we really don't have answers," notes Davis. Even so, knowing there is a definite link between Chernobyl and thyroid cancer will help authorities anticipate future, if as-yet-undetermined, demands for care.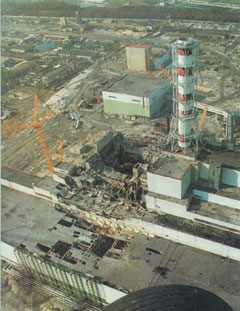 ---

Image of Chernobyl.

---
Increases in all sorts of other medical problems—everything from leukemia to stomach cancer to birth defects—have also been reported. Davis and his team hope soon to explore Chernobyl's link to breast cancer. So far, however, an increase in thyroid cancer is the only scientifically proven health consequence of the disaster. "No other health effects have been consistently or convincingly linked to Chernobyl," says Davis.
Thyroid cancer is a relatively rare disease, accounting for only 1 percent of all cancers. According to the American Cancer Society, 25,690 new cases of thyroid cancer will be diagnosed in the U.S. this year. Although an estimated 1,490 Americans will die of thyroid cancer in 2005, most forms of the disease are highly treatable.
Today, reactor number four is entombed within a steel and concrete sarcophagus surrounded by two exclusion zones—a 10-kilometer zone that requires special permission to enter and a 30-kilometer zone in which nobody is supposed to live, although some still do. "Everything looks normal, but there's nobody there," says Davis. "Towns and villages and houses and all vestiges of life are just abandoned. You think, 'What if something like this happened in the United States?' Can you imagine that?"
As chair of the UW Department of Epidemiology, Davis leads one of the top programs in the country. He also graduated from the unit, earning his doctorate in 1980. "My time there shaped my interest in radiation epidemiology and really launched my career," he says, citing professors Robert Day, David Thomas and Noel Weiss as mentors.

Much of what scientists know about the health effects of radiation exposure is a byproduct of two horrific events. One is the explosion at Chernobyl. The other is the bombing of Hiroshima and Nagasaki. As a freshly minted UW assistant professor, Davis traveled to Hiroshima to work as a research associate at the Radiation Effects Research Foundation. The foundation has been tracking bombing survivors for years and is "the most comprehensive and probably the most important source of information we have about the effects of radiation in humans," Davis says.
Davis did not set out to focus his career on radiation, but his stint at the foundation from 1983 to 1985 made a deep impression. "Just being in the cities ... and then being part of the effort to describe and document what has happened to the people that survived is a very sobering experience and pretty compelling in terms of doing something that's meaningful," he says. "The image that immediately comes to mind is my first visit to the A-bomb museum and peace park—the pictures and displays were very sobering and being there among all the Japanese citizens and school children made it a difficult experience."
Go To: Page 1 | Page 2 | Page 3
Sidebar
: A Curable Caner—If Caught In Time