To give a sense of what the students were still up against, even after they'd secured their money, their site and their class, Friedman offers the following suggestion: "Take a blank piece of paper and draw a monument to diversity. Go ahead. Draw it."
Compounding this challenge was the fact that the class, traditionally an upper-level studio course for artists deep into their majors, was half-full of students with no art experience at all. Young had made an exception to allow Gardner, Das Gupta, and other interested non-majors into the course. The learning curve for these students was steep, says Das Gupta, a senior majoring in biochemistry, "although I think we kind of brought a new flavor to the class, a new language."
---

The students conceived, design and built Blocked Out—under budget—in 10 weeks time.

---
Given these obstacles, it's all the more impressive that the class managed to produce such a sophisticated piece. Young split the students into five design teams and put together a professional advisory committee to review their proposals. From the five rough drafts that came back, the committee members identified two concepts they found particularly compelling. One was the block, which had begun as a doodle on Gardner's sketch pad. The other was the ear. But it was the students who took these two elements and combined them so seamlessly.
By itself, the block is already full of implications. It's a base without a statue, for all those whose lives have gone uncommemorated. It's an auction block from which slaves have been sold. It's a platform from which people have been displayed —Gardner recalls seeing a photo of a Filipino man on a block at the 1909 Alaska-Yukon-Pacific Exposition. But the curving wall complicates it even further, turning the whole piece, potentially, into a sort of amphitheatre. At the dedication ceremony on June 11, just before graduation, no one needed to be told where to stand. The audience assembled in and around the ear, and the speakers assumed the pedestal. "As you can see," Young said from the block, "it's been turned into a podium, a speaker's box to celebrate free speech. It has been turned into something positive. The waves in the earth are shock waves that you're standing on. Shock waves or sound waves, emanating from the story of this block, or from the voice of the speaker on the block."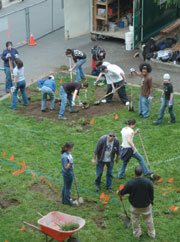 ---

"One learns by sharing sweat," says Professor John Young, "by lifting heavy bags of mortar, by setting stones."

---
Yet the unity of the final composition is not necessarily a reflection of the class that produced it. There was real tension for much of the term, particularly between majors and non-majors. The activists worried that the finished piece would be abstract and toothless. The artists feared it would be so heavy-handed and bleak that students would alter their walking routes to avoid passing it.
"In the beginning of the class, you could see a complete segregation between art students and non-art students," says Das Gupta. "During breaks, who hung out with who. Who was comfortable with who. Who was siding with who. It was a very segregated class, which is ironic, because that's what we're trying to combat, and the class can't even figure that out." Those barriers didn't totally break down, she says, until the actual, physical site work began—six weeks of pouring concrete, slathering mortar and hoisting stones. Only then did the class really bond. "At that point, everyone's on an equal playing field," she says. "No one has more experience. It doesn't matter who you are. Everyone can put a shovel in dirt and dig."
* * * * * * * *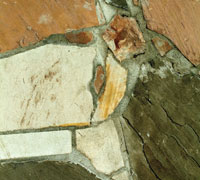 ---

The ear-shaped wall and flagstone floor are multicolored, like the class that built them.

---
The tension is still palpable in footage of the April 27 class session, shot by a crew from UWTV that's producing a documentary on the project for broadcast this month. A boom mike bounces between students as they argue over possible titles. Several are concerned that the word "Auction," which has been forwarded, will limit the number of ways the block can be read. "Do you think 'The Sale' deals with auction, sufficiently?" asks Young.
"It makes me think of the Bon Marché," says a student.
Eventually, the mounting frustration of a couple of students comes to the surface. "Okay, all right," says an Asian American student, Michio Imanaka. "You know, I was going to talk to you privately about this, John, but I can't stand it anymore. I was turned on to this class because it's a cultural diversity class, okay? . . . It's not just a racism class. You're working on a black and white issue. Where's some gray in this? We're the unrepresented. You guys keep thinking only about the black and white. There's no gray."
A classmate asks him to clarify. Gray?
"Asians!" Imanaka says.
"Railroads," someone responds. "Garment workers. That's also being sold. That's labor being sold."
"I don't see myself in it," Imanaka says. "Where are the Japanese Americans who were interned? I don't see it."
"I'm with you, bro. I'm here with you, man! I'm just saying that it's completely the same thing. We've all been sold."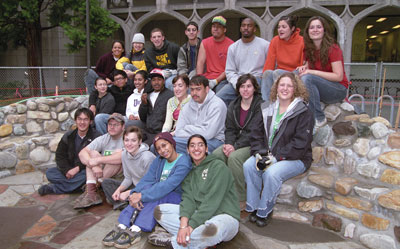 ---

The class convenes one last time, sitting in the finished monument. Photo by Kathy Sauber.

---
Imanaka is unpersuaded. "I like the 'sale' idea," he says. "I like the 'sold' idea. I don't like the 'auctioned off' idea."
Young dismisses the class, asking them to continue the discussion over e-mail. Everyone slowly rises to leave. Mike Magrath, an affiliate instructor, seems bothered by the lingering uneasiness. "You guys," he announces as the students disperse, "we've got a project. We're just looking for a title. We win. We're already there."
* * * * * * * *
Several weeks later, the students still hadn't come up with a name that satisfied all of them. Fittingly, perhaps, the selection process that ultimately yielded "Blocked Out" included a coin toss. Friedman helped facilitate one of the final conversations on the subject, in which every student was asked to speak his or her mind. In that moment, she says, the full value of the class—including its tensions and resentments and hard-won friendships—came home to her.
"The thing that just astonished me," she says, "was that those students really listened to each other. One would speak, and much later another would say, 'I originally thought X. But now, after she spoke, I think Y.' And I thought to myself, 'My God. I have been in ten thousand meetings as an administrator, and I don't think I have ever heard someone so explicitly say, 'I have learned from what you said.' These students really learned to listen to one another, even in the heat of the moment. We created for them a remarkable educational experience, and then they took it and made absolutely the most out of it that any of us could have imagined."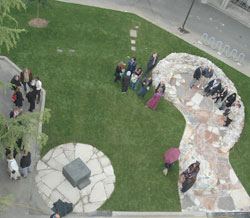 ---

On commencement day, students and their families gather at the campus's newest landmark. Photo by Gail Dubrow.

---
That's certainly true in the case of Erin Williams, who according to Young was always half an hour early for class. Williams says that the frictions between students had less to do with conflicting philosophies or clashing personalities than with the emotional investment everyone had in the project —in being part of something that had never happened before, and might not again.
"This project means so much to the people who made it," she explains. "There's so much pressure, not just from the University, but from yourself— you kind of feel like you're representing your race, or underrepresented and unheard people everywhere. I think that's why it got so intense for so many people. Because if not now, when? You always hope that there's going to be another circumstance where you can make your voice heard. But if this is the only time, then, wow, we need to do this right."
A new collection of striking photographs and prints hanging in Kane Hall is also, indirectly, the handiwork of Gardner and Das Gupta. They used a grant from the Washington State Arts Commission to buy works by nine nationally recognized artists of color for permanent display.
— Eric McHenry is the associate editor of Columns.
Go To: Page 1 | Page 2 | Page 3