James J. Hill, the "Empire Builder," glowers from atop his pedestal outside More Hall. Across the street, Jaebadiah Gardner, '05, a 22-year-old of African and Mexican descent, glowers back at him.
"He looks like a plantation owner," Gardner says.
In fact, Hill was a Minnesotan and a devoted Unionist, and his Great Northern Railroad helped put Seattle on the map in the late 19th century. But he was also an old-fashioned, tight-fisted tycoon. His Northern Securities Company was an early target of Teddy Roosevelt's trust-busting efforts, and his labor practices were typical of his time—pay immigrants the lowest possible rate for the most punishing work.
The bronze bust looks to be about three times as large as an actual human head and shoulders, and the whole statue, pedestal included, is as tall as a person with a head that big would be. "He's elevated," Gardner says, strolling off down Stevens Way. "We're being told to admire him."
It's not so much the presence of such statues on the UW campus that bothers Gardner. It's their ubiquity, which, he feels, comes at the expense of more diverse artwork and contributes to a sense of invisibility among students of color.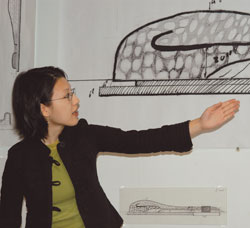 ---

Student Amanda Goodsell discusses a drawing of the monument cross-section.

---
"It's a struggle, going to class every day," he says. "Nobody looks like you. You're talking about European history. You're talking, basically, about everything that's not you." Gardner is a builder, too, but not of empires. On the median that divides the walkway between Mary Gates Hall and Suzzallo Library, there's a new public monument to diversity. It's also a monument to the dedication of Gardner and his good friend Sumona Das Gupta, who spent more than a year getting the administration's attention, getting a special design-build class created, getting the money, getting the site and getting the thing made.
Entitled "Blocked Out," it, too, has a pedestal. But this one is unoccupied—a granite block with bare footprints carved on top. The stone circle at its base appears to be shattered, as though the block has fallen on it. From the circle's perimeter, the grass ripples over a series of concentric wave-like berms. A few yards away, these waves meet a flagstone path and a semi-circular wall of rounded, multi-colored rocks. The wall, which resembles an ear when seen from above, has a bench-like shelf cut into its interior. Under a nearby cedar tree, a plaque reads "BLOCKED OUT—Dedicated to those who are excluded from the house they were exploited to create."
It's a complex collection of symbols, inviting participation and interpretation. But according to Erin Williams, '05, a student in the class that produced it, the value of Blocked Out is more than merely symbolic. Williams wrote her senior thesis on recruitment and retention of African Americans at universities. "Basically, the numbers reflect the fact that if your campus has a better climate for people of color, they're more likely to come and more likely to stay," she says.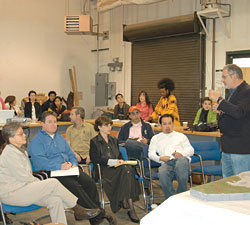 ---

John Young, far right, addresses the design-build class and members of the advisory committee.

---
How can one piece of artwork help create such a climate? By being prominent and permanent, Williams says. "It means that the University is stepping up and saying, 'Hey, we're not going to put students of color on the back burner anymore.' The more centrally, on a campus, that diversity efforts are made, the better the percentages of recruitment and retention. One of the largest African American student populations in the country is at Michigan, and their ethnic cultural center is right smack dab in the middle of campus. You can't go across campus without passing it. That definitely makes it known that we're here and we're here to stay."
Gardner recalls several of his friends from freshman year decamping for other schools after only a quarter or two. "I'm telling them, 'Hang in there,' " he says, starting up the path between Drumheller Fountain and "Red Square." "And they're like, 'No, man, you hang in there.' "
He stops in the middle of the square and gestures toward Suzzallo's imposing façade, with its 18 terra-cotta figures standing saint-like in their niches: Plato, Gutenberg, Shakespeare, Benjamin Franklin. "All men," Gardner says. "Virtually all European. All people who have been canonized within academia. The style is very Gothic, which is cool, but when it's everywhere… And this is what everybody sees when they come to campus for the first time. Every tour stops in front of Suzzallo —'Here it is. What do you think?' And I think, 'I'm not in here. Or my family, or my friends.' "
Go To: Page 1 | Page 2 | Page 3