September 2005 -
Briefings
With New Coach, Itís a Whole New Ballgame for the Huskies
The Husky football team is looking for a fresh start this season after a 1-10 record last year—its first losing season since 1976. The changes start at the top, with former Notre Dame Coach Tyrone Willingham taking over as head coach (see "Playmaker," March 2005). And even with a total of 62 lettermen and 19 starters returning, there are fresh changes at many positions—especially quarterback.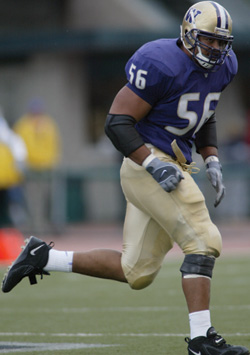 ---

UW Defensive Tackle Manase Hopoi. Photo courtesy of Husky Media Relations.

---
Last year the team completed only 40 percent of its pass attempts and had 24 interceptions while recording just eight touchdown passes. Willingham says he intends to choose a single player to be the Huskies' starting quarterback this year. The candidates include the three returning players—senior Casey Paus, junior Isaiah Stanback and sophomore Carl Bonnell—plus a wild card in Oregon transfer Johnny Durocher, who is eligible to play after sitting out the 2004 season. With nine starters returning, the defense may be the anchor for the 2005 team, especially All America candidate Manase Hopoi at defensive tackle.
The season beings Sept. 3 with an "away" game in Qwest Field in downtown Seattle, as Air Force decided to move the contest from Colorado Springs. Early home games include a match against the highly ranked California Bears on Sept. 10 and what could be a grudge match with Willingham's old team, the Fighting Irish of Notre Dame, on Sept. 24. For Husky fans outside of Seattle, the good news is that ABC will televise all three of these September contests.
Members of UW Alumni Association qualify for special discounts on tickets to both the Air Force and the California games. See Uwalum.com for details. All UW away games—including the Air Force game at Qwest Field—will include a Washington Warm Up pre-game rally sponsored by the UW Alumni Association. Warm Ups are held three hours prior to kickoff at a location convenient to the stadium. See Uwalum.com for more information.
2005 Husky Football Schedule
Sept. 3
at Air Force
(Qwest Field)
Sept. 10
California
Sept. 17
Idaho
Sept. 24
Notre Dame
Oct. 1
at UCLA
Oct. 8
bye
Oct. 15
at Oregon
Oct. 22
USC
Oct. 29
at Arizona State
Nov. 5
Oregon State
Nov. 12
at Arizona
Nov. 19
Washington State