September 2005 -
ALUMNOTES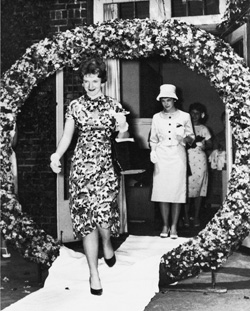 Senior women and their mothers were honored at the Tri Delta sorority's annual Pansy Ring breakfast in this 1960's photo. File photo.
Barbara Erickson London, '42
Seal Beach, Calif., recently had a street in Long Beach named after her (Barbara London Drive) in honor of both her military service and her service to her community.
Marjorie Gracey Clefton, '43
Jensen Beach, Fla., is back home "on the 'infamous' Indian River Drive" after the 2004 Florida hurricane season devastated her neighborhood.
Margaret Foreman Cohn, '53
Athens, Ohio, retired as dean emerita from Ohio Univ. She had three exhibitions of her photography this spring.
Marilyn Covey, '53
Seattle, was presented with the Dr. S. Maimon Samuels Founders' Award, one of the Puget Sound Blood Ctr.'s highest honors, on May 12.
Paul Demitriades, '55, '75
Medina, recently published his first international book review in the Spring 2005 issue of the Journal of the Inst. of Public Administration of Canada. He is a member of the UW Evans School Visiting Committee.
Gary Gayton, '55
Seattle, received the 2005 Distinguished Alumni Award from the UW political science department. His legal career began with an appointment by Robert Kennedy as an assistant U.S. attorney. He now works in the financial services industry.
Marie Jackson Sanders, '55
Minneapolis, is relocating with her husband, Richard T. Saunders Jr., to Seattle after teaching and raising four children in Minnesota. She writes, "It is time to return to the sea and spruce of our native state."
Michael H. Doyle, '56
Fairport, N.Y., retired after 30 years with Lightnin Mixers, which makes chemical processing mixing equipment. He spends his time playing golf and watching his grandkids play baseball.
Herbert Smetheram, '56
Orlando, Fla., was appointed to the Diocese Commission on Ministry after completing a three-year term on the board of directors of the Episcopal Diocese of Central Florida.
Gerry Alexander, '58, '64
Olympia, was recently awarded an honorary doctorate by Gonzaga Univ. School of Law. He is the longest-serving chief justice in the history of Washington State Supreme Court.
Reed M. Phillips, '61
Solana Beach, Calif., is vice president of the Distinguished Flying Cross National Society.
Jim Brain, '63
Walla Walla, retired after 34 years with the U.S. Forest Service. His wife, Suzanne Meredith, '82, is a silviculturist for the Umatilla National Forest.
Darleen Fitzpatrick, '64, '86
Seattle, is working as a consultant for Tulalip Tribes. She recently published a book with University Press of America, We Are Cowlitz: A Contemporary Native American Ethnicity.
Dorothy Sotnik Ackels, '65
Port Orchard, is retiring next year after teaching French and Spanish at South Kitsap High School. She and her husband, Vern Ackels, '66, have two daughters, Kristi and Kathy, and two grandsons.
Michael Adams, '66, '85
Seattle, retired after more than 30 years of teaching, including stints in the Peace Corps and the Seattle public school system. He is now teaching at Leaders in Learning, an alternative school in Monroe.
Tulin Ideman, '66, '89
Seattle, is working as a school psychologist for the Everett School Dist. She spent the summer in Kusadasi, Turkey.
Margaret W. Squires, '67
Des Moines, taught for 15 years in the Highline School Dist. before retiring in 1983. Her husband, Martin Squires, '47, passed away in February 2000. Margaret continues to play badminton twice weekly at age 78.
John Buller, '69, '71
Seattle, had a busy April, traveling to Omaha, Neb., for induction into Westside High School's Athletic Hall of Fame, and receiving the Legion of Honor Award from the Seattle Center. Buller is associate vice president and executive director of the UW Alumni Assoc.
Jim McGraw, '69
Bellevue, is on the board of directors at the Woodland Park Zoo and the UW School of Dentistry admissions committee. Recently, his nature images were published in Scientific American and Alaska Magazine.
William Bruce Kitts, '70
Bothell, co-authored Longshot: The Story of the Buchan Bakers (Classic Day Publishing), about Seattle's first national amateur basketball champions. The team included many Husky stars from the 1950s.
Ginny Etter Sturtevant, '70
Bedford, N.Y., moved to New York and became a commercial casting director. She married a producer, and they have two children. Ginny currently works with ADD and autistic children.
Curtis C. Deane, '73
Miami Beach, Fla., is president of the Assoc. of Fundraising Professionals Foundation for Philanthropy, which promotes and strengthens the philanthropic community throughout North America.
Lorraine McConaghy, '73, '93
Seattle, was presented with the Governor's Award for Teaching History from the Washington State Historical Society. She is a historian at the Museum of History and Industry.
Sharon Prieve, '73
Everson, has worked as a newspaper editor, motel owner and paralegal. Now retired, she volunteers as an advocate for residents of long-term care facilities.
Carol Stelmack Tensen, '73
Burbank, Calif., received her master of arts degree in elementary education from Cal State-Northridge. She recently completed her seventh year of teaching in Glendale, Calif.
Chuck Clegern, '74
Bellevue, has been married 27 years, has four children and has been a foster parent to several others. He is a management consultant.
Michael Nutt, '74
Cordova, Tenn., is now general manager of Aesculap II, a supplier of medical devices. His wife, Dorothy, is retired from International Paper and often visits family in Kentucky, Florida and New Mexico.
Jill V. Tokarczyk, '75
Olympia, worked as a journalist for eight years and now is a first vice president at Smith Barney. Sadly, her husband, Nicholas Adams, '74, '78, passed away last October from acute leukemia. Their son studies at the U.S. Air Force Academy.
Patrick Anthony Jones, '77
Carlow, Ireland, has published two books, Makroscopia et Microscopia and Haiku by Jones. At present, he is preparing for a research expedition to Madagascar.
Tom Kundig, '77, '81
Seattle, is a finalist for the Cooper-Hewitt, National Design Museum's sixth annual National Design Awards in the category of architecture design. He is a partner of the architecture firm Olson Sundberg Kundig Allen Architects.
Steve Pool, '77
Seattle, has been KOMO-TV's weeknight weatherman since 1984, winning seven Emmys. He recently published a book, Somewhere, I Was Right: Why Northwest Weather Is So Predictably Unpredictable.
Dean G. Jamieson, '79
Shoreline, has been installed as dean of the Seattle chapter of the American Guild of Organists. He recently retired from the Edmonds School Dist., but continues to teach for Western Washington Univ.'s off-campus programs.
Sanford Leffler, '79
Seattle, spent eight years as a youth worker, then 16 years as a Department of Children and Family Services social worker. He has gone on trips to Europe, South America and Africa every year since 1995, and published 32 scientific papers.
Assunta Ng, '79
Seattle, was named a Distinguished Alumna for 2005 by the Department of Communication. Ng founded the Chinese Post and the Northwest Asian Weekly and serves on the UWAA Board of Trustees.
Tsuyoshi Hasegawa, '80
Santa Barbara, Calif., recently published Racing the Enemy: Stalin, Truman and the Surrender of Japan (Harvard Univ. Press), which questions the necessity of the atom bomb to end World War II. Hasegawa is professor of history and director of the Center for Cold War Studies at UC-Santa Barbara.
Dorothea Lintz, '80
Port Orchard, received the Kitsap Bar Assoc.'s annual Liberty Bell Award, honoring outstanding community and public service by a non-lawyer. She was recognized for her volunteer leadership and assistance with mediation services to the courts and local youth.
Lisa Dahlquist Stephens, '80
Stafford, Va., recently retired from the U.S. Navy Nurse Corps, and is a certified nurse practitioner. Her husband, Lieutenant Doug Stephens MSC, USN, remains on active duty in Okinawa, Japan.
Eric Fletcher, '81, '83
Edmonds, has practiced physical therapy for 22 years. He owns Olympia Physical Therapy in the University District. He and his wife, Jennifer, have two children, Breanna, 13 and Dylan, 12.
Gilberto Hedges-Blanquez, '82
Seattle, is still happily married to Sally Hedges, and is still a librarian at B.F. Day Elementary. Their son, William, graduated from high school this past spring.
James W. Harrington Jr., '83
Seattle, recently ended a five-year term chairing the UW Department of Geography. He writes, "one of the most enjoyable parts of my time as chair has been hearing from and meeting geography alumni of all ages." He encourages them to contact him at jwh-uw@comcast.net.
Jeanne Egan Binder, '85
Lorten, Va., retired from the U.S. Navy on Sept. 1.
Jeffrey Eaton, '86
Seattle, graduated from Northwestern Psychoanalytic Society in 2004. He is a fellow of the Intl. Psychoanalytic Assoc. and a clinical faculty member in the UW Department of Psychiatry.
Aviva Sernaker Buschbaum, '87
Coconut Grove, Fla., is an active member of the Coconut Grove Village West Homeowners and Tenants Assoc.
Candace Tutt Gudmundson, '87
Bainbridge Island, and husband Rob Gudmundson, '87, announce the birth of their son, Robert Clark, on Nov. 2, 2004. He joins their daughter Emma Grace, 2.
Michael West, '89
Arlington, Va., has been working as a spectral imaging scientist for the MITRE Corp. for five years.
Linda Elliott Farmer, '90
Tacoma, recently began as communications director for the Puget Sound Action Team, a state agency that coordinates and implements the governor's environmental agenda.
Lisa Wanttaja, '90
Auburn, recently published her second and third novels. Lace and Shadows is an electronic book and The Baby Season was published by Harlequin American Romance.
John F. Walenta, '92, '99
Seattle, is now a licensed independent clinical social worker and a psychotherapy associate with the American Psychoanalytic Assoc.
Phil Yerkes, '94, '03
Seattle, and his wife, Jennifer Minkove Yerkes, '94, welcomed a second daughter, Ella Lorraine, on March 11. She joins big sister Kate, 3, who loves to attend Husky games with her mom and dad.
Diana Stewart, '95
Tacoma, retired from the City of Seattle personnel department in the spring, and is now working in private practice as a risk consultant.
Elizabeth McKinnis, '96, '99
Fairfield, Conn., is a busy stay-at-home mom for a 4-year-old daughter and 16-month-old twin boys. She recently transferred her medical licensure to Connecticut.
Chad Stevens, '96
Seattle, started Signature Destinations Club, a regionally focused luxury residence club. He first dreamed up the idea while on an alumni ski trip.
Kimberly Deuchar Mularoni, '97
Atlanta, is living with her husband, Patrick, and working as a pediatrician in Marietta, Ga.
Margaret Newbury, '97
Grapeview, is a substitute teacher in the Shelton School Dist. and is soon to have a permanent teaching position.
Grady N. Taylor, '97
Tacoma, received a master's in mental health in 2000. He is currently a drug addiction counselor at the Tacoma-Pierce County Health Dept. He enjoys watching a "new campus emerge in downtown Tacoma."
Allison Marquardt George, '99
Bellingham, received her master's in mental health counseling from Western Washington Univ. in 2004, and is currently working as a counselor at Northwest Youth Services. She and husband Edd, '99, welcomed a daughter, McKenna Camille, on Aug. 5, 2004.
Jamie C. Cobb, '00
Seattle, has left Ernst & Young and now works at Cascade Investment, LLC.
Kate Maloney, '01
New Haven, Conn., a 2000 Olympian for the U.S. women's-eight rowing team, is now freshman women's crew coach at Yale.
Maureen Ongoco, '01
Seattle, worked for various non-profits for a year before continuing her studies in clinical psychology. She is now working toward a doctorate and hopes to have her own practice.
Victoria M. Troisi, '02
Renton, received the Seattle Department of Transportation Award for Sustained Excellence. She has been an employee of the city for 15 years.
Layne Bashor, '03
Oak Harbor, owns a bridal boutique in La Conner called Something Blue. She studies fashion design at the Art Inst. of Seattle and hopes to design couture wedding and special-occasion gowns.
Jesse Froehling, '03
San Jose, Costa Rica, is a reporter with A.M. Costa Rica, an English-language online daily. During his senior year at the UW, he was at intern at Columns.
Leanne Stogsdill, '03
Washington, D.C., is attending George Washington Univ. Law School and interning in the juvenile division of the Baltimore public defender's office.
Phillip Belenky, '04
Seattle, is a real estate agent with Coldwell Banker Bain.
Derek Belt, '04
Foley, Ala., covers high school sports for the Mobile Register. He misses Seattle and plans on returning soon, ideally to cover Husky football. Belt was a Columns intern in the spring of 2003.
Rhonda Borton, '04
Puyallup, is participating in a three-day, 135-mile bike ride for the American Lung Assoc. this month. She would appreciate any donations, which can be made through www.alaw.org/support_alaw/trek_tri_island/riders/RhondaBorton.
Nate Davis, '04
Renton, has launched Juice Works Intl. Research Ctr., a provider of dietary supplements with healing properties.
Mara Jeffress, '04
Orinda, Calif., hiked 1,000 miles on the Pacific Crest Trail to raise money for international medical aid, and is hoping to complete the entire 2,650-mile trail by late fall. Track her progress.
Katherine E. Oleson, '04
Des Moines, accepted a tenure-track teaching position in the speech department at Bellevue Community College.
Christina Marie Peters, '04
Bellevue, will be studying applied behavior analysis at Temple Univ. in Philadelphia beginning in the fall.
Aaron Rugg, '04
Denver, is a construction engineer for Kiewit Pacific's NW district, and is currently working on the $1.6 billion T-REX Project along I-25 and I-225 in Denver.
Keegan M. Stone, '04
Columbus, Ga., married 1st Lt. Tony Keller, and is currently a second lieutenant. Both are stationed at Ft. Benning, Ga. "We bought our first home here," Keegan writes, "and are proud to serve our country."
Ana Valverde, '04
Bellevue, completed the LLM and Certificate in Accounting programs in the summer of 2004, then spent some time with family in Spain. She is now working with Deloitte in their international tax practice.
Ted Weinberg, '04
Mercer Island, began as senior project manager at Avanade headquarters in July.
You must be a member of the UW Alumni Association to be listed in the Alumnotes section. To join, call (206) 543-0540 or 1-800-AUW-ALUM, or visit UWalum.com on the Web.
---
Submit a Class Note
Tell us what major events have happened in your life: a new job, marriage, children, retirement, advanced degrees, you name it.

Submit an Obituary
Please let us know if a UW alumnus has died. Be sure to include date of death, place of death and age along with the UW class year (if known).

Update Your Records
Moving soon or know someone else who has? Let us know so that we can keep Columns coming to you.



Contact Information


Columns Magazine
1415 N.E. 45th Street
Seattle, WA 98105
Phone: (206) 543-0540
Fax: (206) 685-0611.
E-Mail: columns@u.washington.edu