September 2004 -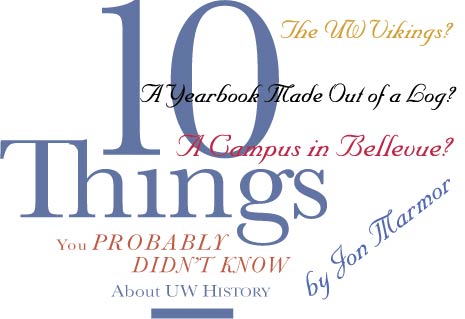 The University of Washington has a glorious history as a world-renowned educational institution. But there are many things you probably don't know about the University of a Thousand Years. Like how it almost ended up in Lewis County. Or that the UW sports teams were called the Vikings. Or that the UW's first yearbook was carved out of a log. The UWAA/Arts and Sciences Fall Lecture Series will cover UW history in a five-part series beginning Sept. 30. But you won't find out about these historical tidbits. Thanks to the help of History Professor Emeritus Jon Bridgman; History Chair John Findlay; Architecture Professor Emeritus Norman Johnston; and UW librarians Carla Richardson, Gary Lundell and Sandra Kroupa; Columns presents 10 things you probably didn't know about UW history.


---
Photo by Kathy Sauber. Digital Imaging by jeff Berterfield.
---
In the mid-1980s, state higher education officials began to consider opening "branch campuses" of the University of Washington to accommodate growing numbers of college students in Western Washington. Initially, planners contemplated three sites - in Tacoma, Everett and Bellevue. Due to political reasons, adding three UW campuses was ruled out, and after much wrangling, Bothell and Tacoma were awarded campuses. For a politically active community, Bellevue officials didn't protest being dropped as a campus site and instead threw their support behind Bothell.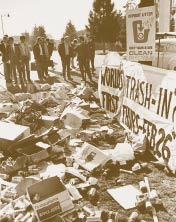 ---

Would you believe the accumulation of trash near the HUB in 1970 sparked this area's recycling fervor? It did. Photo from UW Libraries, Special Collections, Neg. #UW20804z.

---
What was billed as the "World's First Trash-In" was held Feb. 26, 1970 on the UW campus. Students were invited to bring trash from home as well as from the University area to special bins in front of the HUB that day. The items were then separated into different categories (paper, plastic, glass and metal) and returned to the original producers with the request that they be reprocessed. The trash-in emphasized the waste associated with American life. It also helped boost Seattle into becoming a leader in recycling.



---

Though no photo of Mary Thayer is believed to exist, this photo of UW faculty in 1883 shows that women were a prominent part of the UW's teaching corps in its early years. Photo from UW Libraries, Special Collections, Neg. #Peiser 184Bz.

---
For six months in 1874, the University of Washington had a female president. Mary "May" Thayer, who was born in 1838 either in New York, Massachusetts or Michigan (the record is unclear), graduated from the State Normal School in Ypsilanti, Mich. In March 1874, she was named temporary president of the Territorial University of Washington and served in that post until August.

---

Illustration by Ken Shafer

---
The first nickname for the University of Washington was Sun Dodgers, but that name was quite unpopular. So, in 1921, a committee of students, coaches, faculty, alumni and businessmen met to decide on a new moniker. The group considered such possibilities as Eagles, Vikings, Indians, Huskies, Malamutes, Tyees, Olympics and Northmen. The decision came down between Huskies and Malamutes, and on Feb. 3, 1922, the UW officially adopted the name Huskies. However, for a very short time in 1922, Washington's athletic teams were nicknamed the Vikings. That came about when students wanted to dump Sun Dodgers but couldn't come up with something else. So, during semester break in December 1921, athletic officials adopted Vikings. When students returned to campus, they immediately protested the name change.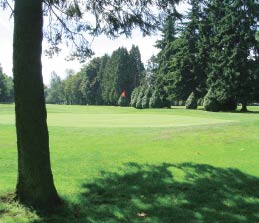 ---

Had different decisions been made in the 1890s, the UW campus could have been located where the Jefferson Park Municipal Golf Course stands in Beacon Hill. Photo courtesy Jefferson Park Golf Course.

---
When the UW was moving from its original downtown location in the 1890s, the Legislature specified that its new home had to be for exclusive university use and be situated on at least 100 acres. Several potential sites were considered that met those criteria: Fort Lawton (in Discovery Park), Interlaken (its current site) and what is now Jefferson Park Golf Course on Beacon Hill. At the time, Jefferson Park was owned by the city of Seattle and contained a reservoir along with vacant property that would have provided the land the UW needed. Leaders opted for Interlaken, and Jefferson Park became Seattle's first public golf course in 1915.




Go To: Page 1 | Page 2