September 2004 -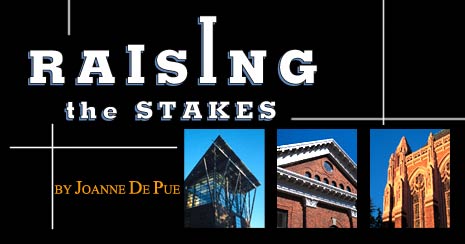 THE UW LAUNCHES A $2 BILLION EFFORT TO CREATE A BETTER UNIVERSITY AND A BETTER WORLD.
If Mike McGavick,'83, stepped into a time machine, you might think he'd want to go back to Elizabethan England, the Battle of Gettysburg or Florence in the Renaissance. But no-if he had it to do over again, the chief executive officer of Safeco Insurance says he'd go back to his student days at the University of Washington, where he earned a degree in political science.;
"As you grow older you really would almost give anything to be able to go back and do it again, because you realize you did not take full advantage of that environment," he says. "That's a sad realization, at least for me. I thought it was about getting the grades to get out of there. I would love to go back and just swim in all of those ideas and all of that rich opportunity to learn."
McGavick is back at the UW this fall, but not as a student. He is the incoming president of the UW Foundation, a volunteer organization promoting private giving at the University. He may be slightly nostalgic about the past, but he's working toward the future, as he helps to set into motion a public effort to ensure the health and prosperity of the University.
The foundation, under the leadership of Chairman William H. Gates Sr., will unveil this fall the public phase of "Campaign UW, Creating Futures," a $2 billion, eight-year fund-raising drive that involves every area of the University and its three campuses. It is the largest fund-raising effort ever attempted in the Pacific Northwest.
University leaders say that by increasing private support from individuals, foundations and corporations, Campaign UW will propel the UW into the top tier of the world's research universities and enable it to compete with its peers for the best students and faculty.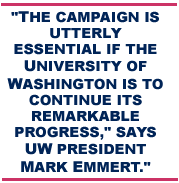 "The campaign is utterly essential if the University of Washington is to continue its remarkable progress," says UW President Mark Emmert, '75. "It will have a profound impact on the University of Washington both immediately and well into the future. By allowing us to build and renovate facilities, acquire state-of-the-art equipment and instrumentation, support faculty recruitment and retention, and provide students with scholarships and access to the finest teaching facilities, the campaign will place the UW on a sound footing for competing at the very highest levels, nationally and internationally.
The campaign's ambitious, $2 billion goal strengthens four key priorities-students, faculty, programs and facilities. It also aims to add $400 million to the UW's Consolidated Endowment Fund, the pool of individual endowments established by private donors to benefit UW areas of their choosing. In addition to enhancing the fund, which provides dependable income that supports UW programs even in volatile economic times, the campaign seeks to increase the number of faculty chairs and professorships as well as student scholarships and fellowships. Its goals also include $350 million for facility renovations and new buildings.
Campaign UW began in June 2000 with a four-year "silent phase," during which the University focused on leadership gifts and commitments. So far the progress has been steady; the campaign reached its midway mark at the end of June, with more than $1.14 billion secured.
The UW began its campaign just as the "dot-com bubble" was bursting. Even in the face of economic uncertainty, the University had to follow trends in higher education toward more private funding. The University of Michigan at Ann Arbor is running a $2.5 billion campaign; UCLA is near the end of its $2.4 billion campaign; and Duke University already raised $2.36 billion in its campaign, which concluded last year.
While $2 billion is an ambitious goal, the campaign leadership says it is not only doable, but also essential. "It's very understandable to me how a number like two billion is heard," says Connie Kravas, UW vice president for development and alumni relations. "My knees were shaking when I first heard that number. It's big. But we need this campaign for a lot more than $2 billion. We need it for what $2 billion will accomplish."
"Everybody knows how under-funded this university is," says David Hodge, dean of the College of Arts and Sciences. "By any measure, relative to our peers, we fell horribly over the last 15 years with respect to the funding we have available, which means that our students, staff, and faculty just don't have the same resources to succeed. It's really just that simple."
Comparison after comparison shows the UW falling behind its peers in the level of state funding. UCLA receives 23 percent of its support from state general funds and Cal-Berkeley receives 35 percent, yet the UW receives just 15 percent.
Under-funding prevents the University from competing at the level of its peers and forging a better future for the citizens of the state and the nation. By adding to the UW's endowment, Campaign UW will permanently shore up private support the UW uses to supplement funding from the state. Kravas says that while private support is essential, it is not meant to replace state funding.
The average state funding per full-time UW undergraduate has dropped from $9,093 in 1991-93 to $8,866 in 2003-05. State funding per-student is $3,177 less than the average of our peer institutions. That translates into lower salaries for faculty, fewer resources to launch innovative programs, a smaller pool of dollars to renovate old buildings and construct needed new ones, fewer scholarships and fellowships for worthy students, and ultimately, higher tuition.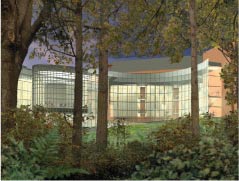 ---

A $100 million facility designed to house much of the business school is a key part of the facilities goals in Campaign UW. Architectural rendering courtesy UW Business School.

---
Add together tuition, room and board, books, and other living expenses, says Eric Godfrey, and you have an annual cost of about $16,000 for resident undergraduates. "We're not suggesting that work or taking out loans are inherently bad," says the assistant vice president for UW scholarships and student programs, but "it's no longer the case where a student can work her way through school.
"In many instances, because of a lack of financial support, our students at the undergraduate level are working too much. We're striving, through expanded scholarship support, to bring more of a balance, which frees them up to more fully engage in the University," he says.
Privately funded scholarships can provide a make-it-or-break-it difference for UW students like Jennifer Devine, '04, a geography and international studies major and one of 40 recipients nationwide of the 2004 Marshall Scholarship. The Yakima native grew up in a single parent household of limited financial means and was the first person in her family to go to college. Funding from a private scholarship enabled her to transfer from Yakima Community College to the UW. Private funds also financed Devine's academic year at the University of Seville in Spain and supported her undergraduate research with faculty mentors. This fall, Devine enters the London School of Economics, where she plans to study gender and development issues. Sadly, neither of her parents survived to witness her accomplishments. The private scholarhips Devine received allowed her to take full advantage of her UW experience and contribute to a better future-for herself and for others.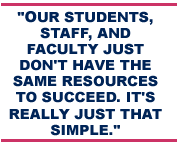 Godfrey says the University wants to ensure that promising students like Devine continue to have the means to pursue the full range of educational opportunities.
"In many respects there are two UWs," he says. The more affluent students have opportunities to live in the residence halls or the Greek system, study abroad, participate in student government, engage in service learning, and do undergraduate research. Others don't have the same opportunities. "You'll sit and talk with a student and ask, 'Why aren't you doing undergraduate research for 10 or 15 hours a week with a senior faculty member?' " Godfrey says. "The response is predictable: 'If I do undergraduate research I have to quit my job. If I have to quit my job, I can't go to school.' "
In addition to increasing support for UW students at both the undergraduate and graduate levels, Campaign UW will help recruit and retain star faculty members.
In 2004, UW faculty pay ranked 16th out of 25 peer institutions, according to the state's Higher Education Coordinating Board. According to UW budget officials, that same year the pay gap between UW full professors and the average at eight peer institutions was 19.2 percent.
Tenured faculty positions are also shrinking. In the business school, the number of tenure track faculty has gone from 119 in 1983 to just 74 in 2002. To stop the losses, the school is asking for $50 million for faculty support. "Faculty endowments are an essential supplement to state salaries and virtually the only means we have to offer compensation that is competitive with peer institutions," says Business School Campaign Co-Chair Mike Garvey, '61, '64.
The "brain drain" remains a concern, as brought to light with the recent departure of Bioengineering Professor Viola Vogel, founding director of the UW's Center for Nanotechnology, who left the UW after eight years for the Swiss Federal Institute of Technology in Zurich. High level departures are a blow to faculty morale, disrupt the education of undergraduates and graduates, and even affect research funding levels.
Engineering Dean Denice Denton says private endowments can help stave off a dean's worst fear: losing a star faculty member to a rival university. "The greatest concern for a dean is that you're going to get 'cherry picked.' And if you could offer those individuals an endowed chair or professorship, it lets them know we recognize that they're world class, and we want to keep them here."
Private support is making some headway in fighting the brain drain. Endowed chairs and professorships have allowed the UW to hire superstars such as Jeffrey Chamberlain in the Department of Neurology, a pioneer in muscular dystrophy research; Quintard Taylor in the Department of History, a leading expert on the African American experience in the western U.S.; and Lee Eggert in the School of Nursing, internationally known for her work with adolescents and their families.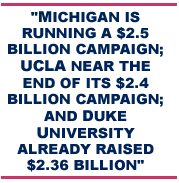 But once the UW attracts stars who are on the way to finding a cure for Alzheimer's or won a National Book Award for fiction, where to house them? "If you have a really dumpy old building," Denton says, "that's not going to cut it."


Denton faced the problem with computer science and engineering, a top-10 department housed in a bottom-10 building-Sieg Hall. With its outside supports literally crumbling, Sieg Hall was called "the least admired building on campus" in one architectural guide.

A year ago the UW celebrated the opening of the Paul Allen Center for Computer Science & Engineering, the new home of the computer science department. "It's a $72 million building; $42 million needed to be raised privately," says Denton. "It's the classic public-private partnership, the direction that we're headed these days. Many of the buildings that will be built on campus will have little or no state money, at least for the foreseeable future."

At the business school, the future is displayed in the form of a blueprint on the wall of an office in Ballmer Hall. It shows a new facility to be funded largely through donations to the school's $106 million facilities campaign. Like other recent new additions to the UW landscape, such as the law school's William H. Gates Hall or the Allen Center, the new business school complex will boast interactive lecture halls, up-to-the minute technology, and common areas that stimulate interactions between faculty, students and the professional community. Business School Campaign Co-Chair Garvey says the new building, along with other enhancements for students and faculty, will help the school move into the upper tier of schools of business nationwide.

Go To: Page 1 | Page 2

Sidebar - Campaign UW Unit Working Goals
Sidebar - Campaigns at Peer Institutions