September 2004 -
Prelude
The Election Returns
The ASUW student election of 1949 was without a doubt the most important contest ever held on the UW campus. The outcome of that election meant that the UW would be a stronger university, that the economy of the Puget Sound region would be transformed and that the world would enter a new age of information.

At the time, student voters had no idea that by casting their ballots, they would change the world. And it would take several decades before the decisions they made in that April election would have such an amazing impact.

It wasn't even the race at the top of the ballot that had such a profound effect. Instead, among the candidates for ASUW secretary that year were two women, Helen Langer of Kitsap County and Mary Maxwell of Seattle. Also hailing from Kitsap County was one of Langer's election managers-Bill Gates.

Fortunately, Gates' candidate lost and Maxwell won the post instead. Gates continued his work with ASUW that year, even as he was completing his law degree, and he happened to see a lot of the new ASUW secretary. One thing led to another, and in 1950 the two married.

Bill Gates Sr. told me this story when I interviewed him for our cover article about his UW experiences, "Gates' Way." This couple has made historic contributions to our community through their public service and philanthropy. Mary Gates, who died in 1993, gave thousands of hours of service to United Way and eventually served as the national chair of the organization. Her 18 years as a UW regent-one of the longest terms in history-saw the UW rise to the top tier of public research universities. Her special interest in undergraduate education sparked reforms that echo through UW classrooms today.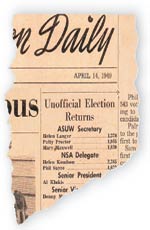 Gates Sr. is perhaps our region's most distinguished volunteer. While practicing at one of the region's top law firms-Preston Gates & Ellis-he was a leader or trustee of many civic organizations, such as United Way, Municipal League, Seattle Repertory Theatre, Greater Seattle Chamber of Commerce, Seattle Foundation, Technology Alliance and Planned Parenthood. He was president of the Washington State Bar Association, a founding director of the Washington Research Foundation and serves as co-chair of the Bill and Melinda Gates Foundation.

He's not sitting on his laurels, however. A UW regent since 1997, he is also the chair of "Campaign UW: Creating Futures," the University's $2 billion fund drive, the largest philanthropic effort ever attempted in the Pacific Northwest.

Although I interviewed Gates Sr. extensively about his and Mary Gates' service to the UW, the region and the nation, there was one subject every journalist asks about when interviewing Bill Gates Sr.-his son. Gates Sr. sighed softly when I brought up the subject of his family. He has suffered through hundreds of interviews that invariably touch on the co-founder and chairman of Microsoft.

I surprised him by asking about his daughters first. There was a sparkle in his eyes as he talked about Kristi and Libby. One telling comment he made about their public service was that "they're definitely daughters of their mother." Of course, there was plenty of pride in his son's achievements as well, and still some astonishment at how it all turned out.

The pride and astonishment go both ways. The UW community is proud and grateful for this family and its contributions to our campus and our region. And, I think, we are also a little astonished that the outcome of a student election in 1949 could one day lead to a new future for our community and the world.