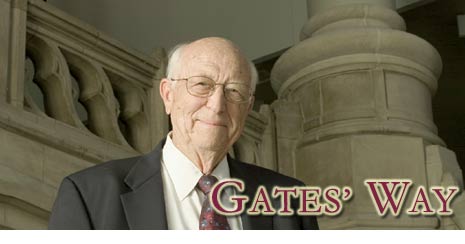 That's the initiative that would add one cent to the sales tax to fund public education, including preschool, K-12 and higher ed. But if it isn't passed?

GATES: It's hard to look forward and see the day when things are going to get better.
And is that part of the reason why you're so active in Campaign UW? Because you see the public side of the funding failing?

GATES: You could say that. The private contributions are sort of the jewels on the crown. It's an analogy I've made many times in talking about the campaign. Chairs, professorships, scholarships, those kind of things make a lot of the difference between being an ordinary institution and being a first-class institution. It has everything to do with the quality of the place-not keeping it alive or sustaining it-keeping it pre-eminent.
Two billion dollars over eight years, why is it necessary at this point?

GATES: In order to try and maintain the special quality of the place, maintain the quality of the faculty, try to enhance the diversity of the student body.
Why this particular number?

GATES: Well, arguably, it's just a number. It's a stretch. There's certainly no assurance that we're going to get there. But I think that in anything of this kind, you need to set your goals high. That's part of making it happen.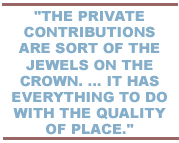 What are some of the major obstacles you see to reaching it?
GATES: The state of the economy is probably the principal obstacle. People had a lot more money by and large in 1999 and 2000 than they do today.
Are there other obstacles?

GATES: Yes, to some extent, the general diminishing in public funding has generated increased activity in philanthropic fund raising and that has some impact. And, you know, we've had this spate of very negative publicity, which, I think, has some impact. But that kind of thing, and the search for a president for a period of time, that kind of thing is temporary. I don't think of that as really affecting our ability to make the goal.
You've been on the prowl, so to speak, for so many years, raising money for all sorts of different organizations.

GATES: Quite a lot of experience at that.
You've had to ask your son for gifts too.
GATES: Sure.
Is he harder on you than he is on other people just because of your relationship?

GATES: Oh, no, no, no. He wants to be helpful.
So he doesn't make you fill out every last detail on a grant application form?

GATES: No, he doesn't.
I don't think our readers know that you and Mimi together have made many gifts to the University. You've contributed, for example, to the Mary Gates Endowment and diversity scholarships. And then recently you and Mimi gave to the founder's pool for the UW Matching Initiative. Why do you think that's so important?

GATES: To some extent it's not intellect, it's emotion. I find diversity scholarships particularly attractive and am glad to be able to do something that may stimulate other people to make gifts.
How about your average alumnus who doesn't have a lot of money and isn't able to make a major gift. Why should he or she care about Campaign UW?

GATES: There are a lot of reasons. There's the principle that maybe they owe something for whatever's happened to them since they've left here. It's probable that the UW has something to do with some degree of their prosperity-that it's better than it would have been otherwise. Another reason is that the UW is an incredibly important institution to the state. If you live here, it's in your interest to keep it pre-eminent. And it's important to give something, even if it isn't a lot. Numbers count: 100,000 people giving $1,000 is a lot of money.
When this campaign is over, what do you see that will be different here at the University of Washington?

GATES: It's a whole lot of specific things. There will be more faculty chairs. There's already a new computer science and engineering building. Hopefully, there will be a business school building and huge additions to chairs and scholarships at the medical school. You know things are going to be better in every department. There'll be more students of color-quite a lot.
Why are you giving all this time to the University of Washington? What do you get back in return from all the effort?

GATES: It's not very complicated-we take pride in the things we're associated with. I take pride in the law firm I worked for; it did well. I take pride in my family. I take pride in the University. I think it's just a matter of getting some joy from having done something to improve an institution you had some connection with.
—Tom Griffin has been editor of Columns since it was launched in 1989.
Go To: Page 1 | Page 2 | Page 3