September 2004 -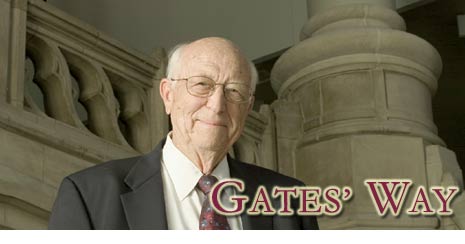 Today the law faculty and students are housed in a building named in your honor.

GATES: It's exciting. I don't know whether I have any reason to be proud of it particularly but I am.
After law school you went back to Bremerton for a year and worked in a law firm.

GATES: I was married during that time and Mary moved over to Bremerton with me. And then we had the urge to get back into Seattle life, where we had more friends. So I found a job in Seattle at Skeel McKelvy. I left it in '64. I was a partner. I joined a fellow by the name of Roger Shidler and George McBroom and the firm became Shidler, McBroom & Gates.
Everybody knows it as Preston Gates & Ellis. You're a founding partner.

GATES: Arguably, yes.
And corporate law was what you worked in mostly?

GATES: I like to say business law. Corporate law, defining it carefully, there'd be an emphasis on corporate organization and securities and things of that kind. There wasn't a whole lot of that going on in Seattle in the early days.
At the same time you're building your law career and starting a family, you're also incredibly involved in a lot of civic organizations. How did you find time to do all that?

GATES: The law business generally does encourage members of the firm to do that sort of thing. I guess there's no avoiding the fact, to some extent, it's looked upon as having some rainmaking implications. So I was given a fair amount of latitude. I won't deny I was busy.
Can you tell me about Mary being appointed to the Board of Regents in 1975?

GATES: She was appointed by Dan Evans. She had already generated a very respectable reputation for civic activity. But it came to Mary as a complete surprise. It wasn't something that she asked for or that she expected. It was just a phone call one day-'Would you like to?' and of course her answer was, 'Would I ever.' And the rest is history.
She spent 18 years on the Board of Regents. Can you tell me about some of the things that made her proudest to be a regent and some of the things that troubled her?

GATES: A very troubling episode was the whole business of investments in South Africa, a huge debate. They finally resolved it in the direction of instructing their investment people not to invest.
---

During a 2002 tour of Africa to investigate health care, Bill Gates Sr. and former President Jimmy Carter met with former South African President Nelson Mandela. Above the three are holding healthy babies whose mothers were treated with an inexpensive drug that helps prevent the transmission of the AIDS virus. Gates is co-chair of the Bill & Melinda Gates Foundation, which has committed more than $3 billion to global health. Photo courtesy the Bill & Melinda Gates Foundation.

---
One of her proudest moments?

GATES: I think she would regard one of the principal things as selecting Bill Gerberding to be president. He came along kind of late in the process. There were a couple of other candidates. But Gerberding, you know, made the best impression. It was a great choice. He was a great president.

One thing that happened soon after he came here was a lot of financial distress. At one point he had to close down 24 degree programs and lay off staff and non-tenured faculty.

GATES: I recall that. The number 24 sort of blows me away. If somebody had asked me what happened, I would never have guessed that the number was that high. But there were a lot of programs that were shut down. And one in particular, kinesthesiology, our mailbox was stuffed full almost daily with letters from graduates of that particular program.

One of your wife's special interests was undergraduate education. And we have our Mary Gates Scholars as a result of her interest and the undergraduate center that carries her name. Why was she so interested in that part of higher education?

GATES: That was her experience at the University basically. And I think, to some extent, it was just a function of logic, there were more of them than anything else and some focus on that particular cohort was more than justified. And I think there may have been a little sense that there was disproportionate attention to the graduate realm.

We're talking about your family and of course I have to ask these questions, so...

GATES: You don't really have to.

Well, I don't have to, but my readers want to hear it. But I want to talk about your daughters first.

GATES: OK. You fooled me.

Kristianne Gates Blake, who is a 1975 UW grad, lives in Spokane. Libby Gates Armintrout is here in Seattle. Could you give me a quick rundown on their accomplishments?

GATES: They're definitely daughters of their mother. Kristi is chair of the YMCA, chair of the United Way, chair of her school's board of trustees, very active in the Junior League. It's a list of things that you could almost just cut and paste from Mary's resume. Same with Libby; chair of her kids' school's board of trustees; involved in University things. She was on the search committee for the athletic director.

And Kristi was on the search committee for the new UW president. She's the only one of your three children who has a UW degree. Was this a disappointment to you and Mary? Did you try to get all of them to become Huskies?

GATES: No. I couldn't say we were disappointed that our son went to Harvard or that Libby went to Pomona.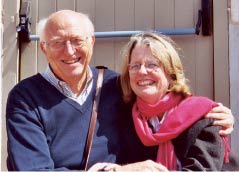 ---

Gates Sr. still has time to enjoy family moments with his wife, Mimi Gardner Gates, who is director of the Seattle Art Museum. Photo courtesy Bill Gates Sr.

---
Well, your son does have his own personal UW connection. When he was in high school, he and Paul Allen used to sneak out of the house at night and come down here on a bus to use UW computers.

GATES: I'm not sure about the bus. I think they walked.
OK, they walked. And you didn't know this was happening did you?

GATES: That's true. We knew they were doing things on the campus. We didn't know about the nighttime business. And there was another destination over here, which was a time-sharing operation over on Roosevelt Way. But they spent a lot of time in a computer lab, which was down by the heating plant above Montlake. I think they were sort of here inappropriately at the outset, and then later somebody made a deal with them, particularly Bill, to do helpful things. The people that ran the lab were more liberal about their use of the facility. I don't remember what the deal was.
They looked for flaws in the computer operating system?

GATES: Well, it was so typical of their situation. Later on they did exactly the same thing with an organization in Portland. Wonderful experiences. He left high school very, very computer competent.
And what did you and your wife Mary think about all this? Did you think it was going to be as successful as it turned out?

GATES: No, no, no. We never had, in our wildest dreams, expectations about things turning out the way they have. There was apprehension, particularly from Mary, at the time he started to take time away from college. But it wasn't terribly dramatic because he told us he wasn't quitting. He was going to take a semester off and go to Albuquerque and do this software business. Then he went back for a semester. Then he left again. At that point the apprehension was starting to build a bit that maybe he wasn't going to go back. But it wasn't ours to say. He was beyond our telling him what he could and couldn't do.
And when did you realize that this was going to really be something revolutionary, that Microsoft was going to change the world?

GATES: I remember an occasion when Mary and I and her mother, for the first time, drove over to the campus, the Microsoft campus, and saw the first building going up and another one being started. Somehow that made a particular impression on us. It was even more palpable, I guess, than business results or a name on the business pages. Anyway that would have been in the early '80s.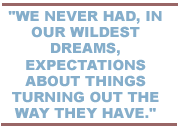 Now, of course, you take a lot of pride in your son's achievements but you also have a drawback. Whenever you make a phone call, people either think it's a hoax or think it's your son.

GATES: Well, you know, it just depends. Sometimes it's funny; sometimes I say something funny back. And sometimes there's obviously some questioning on the other end of the line but just not well articulated. And truth of the matter is it's really diminished a lot from what it was, even 10 years ago.

I think you're more famous in your own right now than you were 10 years ago.

GATES: Well, I don't know about that. I think there's an increasing familiarity that there are two of us.

Let's move to the present. You lost your wife to cancer in 1993, after 44 years of marriage. It was a loss for the whole community and I'm sure it was very hard on you and your family. Afterward you took up two new opportunities: co-chair of the Bill and Melinda Gates Foundation and regent of the University of Washington. This is the time when a lot of people would retire and play golf and you are taking on the equivalent of two full-time jobs. Why would you do that?

GATES: The business of the foundation was something that started with helping Trey [Bill] and Melinda with their charitable activities. And then it turned into a foundation, then it turned into two foundations, then it turned into one very big foundation. It is very different from when I started, but I wouldn't go back and change my mind about it. Being a regent is a manageable thing. The thing that really has squeezed my schedule is the business of the campaign.

Another chapter in your life began when you met Mimi Gardner, who is the director of the Seattle Art Museum.

GATES: I met her in '94.

And you married her in '96?

GATES: Yes. It's been terrific. She has a son of her own who's in the general age range of my children. She's enjoyed the children. She has eight Gates grandchildren now, which is great fun for her. She enjoys it immensely. She loves seeing their classes come down to the art museum; she goes and sees them when they're there with their classes. It's very gratifying, so it's all been very good.

What surprises you the most about the University of Washington now that you are a regent?

GATES: The incredible quantity of things happening on the campus. I was aware there were important things happening here that I probably didn't know about. But the number of exciting projects, exciting research activities that are going on-I've been a regent for seven years now and it doesn't stop.

One central issue is funding. Do you have hope that the University and higher education in general will get adequate funding from the state?

GATES: I don't have any real hopes that that's going to happen permanently. Initiative 884, if it were passed, would be a wonderful shot in the arm.

Go To: Page 1 | Page 2 | Page 3