September 2004 -
FIRST TAKE
UW News from Across the Campus and Around the World
Going Dry
Once upon a time, Frosh Pond was a happening site for student activities. For many years, the College of Forest Resources conducted log-rolling contests on Garb Day (see photo right from 1964), for example. Last year, during a stretch of hot temperatures, many students cooled off by taking a dip.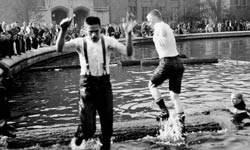 But that is a thing of the past. The UW Police Dept. will cite people who enter the body of water that surrounds Drumheller Fountain for trespassing – and malicious mischief if they harm the fountain. Police are worried that people could get hurt and damage something in the fountain. First-time offenders will be warned. If you get caught a second time, the ticket books come out. "The purpose of the fountain is decorative," Annette Spicuzza, the UW's assistant police chief, says. "The fountain itself is not a swimming pool."
---
Bye-Bye Betty
| | |
| --- | --- |
| Two days after she graduated from the UW library school on June 9, 1951, Betty Wagner took her first job as head of the UW Architecture Library. She loved it so much, she stayed for 53 years, serving the UW longer than any other employee. Wagner, who retired on June 11, came a long way from her days growing up in eastern Montana. When she started her UW career, Harry Truman was president and a computer was a science fiction idea. | |
---
Eyeing Another Record
Known worldwide for its programs in medicine, nursing, computer science, mathematics, engineering, crew and football, just to name a few,
the University of Washington on May 23 was the site of another crowning achievement. On that day, 1,126 students gathered in Husky Stadium and earned a spot in the Guinness Book of World Record as the largest group of people in history wearing Groucho Marx glasses at one time. (The previous mark was 938, set by a high school.) The record-breaking event occurred during Operation Husky Stadium, an annual gathering that celebrates the campus residence hall community.
---
The Wind Beneath Lance's Wheels
Lance Armstrong can thank the UW for his record sixth consecutive Tour de France victory in July. Amid secrecy, Armstrong and several of his sponsors stopped by the UW's Kirsten Wind Tunnel last December to test things out during his yearlong preparations.

Nike was there to test its aerodynamic Swift Spin suit. Trek Bicycles was there with its Equinox 11 time frame, looking to redesign a bike for Armstrong. Helmet-maker Giro Sport Design was there, trying to modify Armstrong's helmet because new rules require helmets to have padding. (Giro brought 10 helmets that could be tested in 18 configurations.) There was also a camera crew from the Outdoor Life Network, which filmed the testing for "The Lance Chronicles," a series on Armstrong's Tour preparations.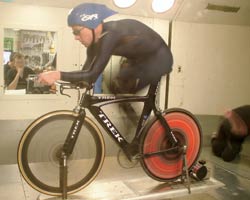 ---

Lance Armstrong tests out his bike, racing suit and new helmet at the UW's Kirsten Wind Tunnel during a secret visit to campus in December. Photo courtesy UW Aeronautical Laboratory.

---
The Wind Tunnel folks went to great lengths to keep everything quiet, not even telling some employees what was going on. Armstrong came in on a weekend to minimize the number of people around. (When he wasn't there, a body double—Canadian triathlete John Litherland—filled in.)

"It was quite a hush-hush operation," says Len Brownlie, a Nike consultant.

The wind tunnel testing resulted in a different braking system, and a change in handlebars so Armstrong could hold his hands lower, making them more aerodynamic. One of the keys to the design improvements was the unique data display system—designed by Will DeJong, '95, the wind tunnel manager—that is projected onto the wind tunnel floor in front of the bike. That gave Armstrong immediate feedback about how small changes in position could change his performance.

Oh yeah, and the other result is that he won.
---