September 2004 -
EXTRAS
Eugene Pizzuto
1925-2004
Eugene Pizzuto, a longtime UW painting professor who was well known for his abstract landscape paintings, died March 17. He was 79.

Born and raised in the Connecticut woods, Pizzuto was passionate about the natural world. A lover of fishing, hiking and camping, he created many abstract series about such landmarks as Mount Rainier and Mount Baker. Even near the end of his life, when he was stricken with cancer, he frequently visited the Washington Park Arboretum for inspiration. His paintings were often on exhibit at the Henry Art Gallery and galleries throughout the world.

Pizzuto,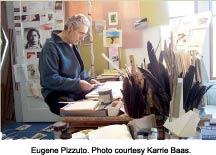 who joined the UW art school faculty in 1957 and taught painting and drawing until his retirement in 1993, was also known for refusing to sign the loyalty oath that required Washington state employees to swear they were not "subversive persons." In 1964, the oath was ruled unconstitutionally vague and violated due process by the U.S. Supreme Court.

A lifelong model airplane builder, Pizzuto joined the Air Force during World War II. He trained to fly B-25 bombers, but left when the war ended and never flew in combat.

After the war, Pizzuto turned to art education and received his art degree from the University of Wisconsin and a master's degree in fine arts from the Cranbrook Academy of Art in Michigan.

Former UW colleague Michael Spafford said Pizzuto knew more about materials and techniques than anyone else on the faculty. "He had students making their own charcoal and grinding their own paints," he says.

Pizzuto is survived by his wife of 54 years, Laura; his daughter, Lucy Kat Phillips, of Sitka, Alaska; son James Eugene Pizzuto, of Newark, Del.; and three grandchildren.
—Erin Driscoll