September 2004 -
EXTRAS
Howard Nostrand
1910-2004
As a UW professor for 42 years and a lover of the French way of living, Howard Nostrand spent his life working to create awareness among cultures until his death on March 13. He was 93.

Nostrand chaired the UW Department of Romance Languages and Literature from 1939 to 1964 and taught until his retirement in 1981. He created a national model for teaching the French language that is often applied to other languages and cultures. The language curriculum includes culture as well as literature. UW French majors, for example, are required to take classes such as Contemporary French Civilization.

Nostrand, who earned his doctorate from the University of Paris, believed that learning other languages and about cultures is crucial to business, diplomacy and even tourism. In business, for example, he pointed out that misunderstanding could turn into economic loss-which could cause further problems and conflict. He hoped to create peace through cross-cultural communication.

For his work, he received numerous honors from the French government, including the Palme Academique; Chevalier, Legion d'Honneur; and the Officier dans l'Ordre Artes et des Lettres.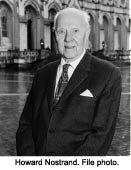 In 1980, Nostrand became the first recipient of the University of Washington Outstanding Public Service Award for creating such programs as "Bonjour Seattle," which provided cultural exchanges between Seattle and the French-speaking world. He also helped develop a trade development committee, monthly French conversation groups at city libraries and a sister-city relationship with Nantes, France.

Nostrand also was a prime figure in the fight against the state-mandated loyalty oath. In the 1950s, the Legislature made all state employees swear they were not "subversive persons" and respected government institutions. Nostrand refused to sign the oath. He pursued the cause, acting as a voluntary complainant until it was struck down by the state Supreme Court in 1959 and the U.S. Supreme Court in 1964 for being unconstitutionally vague and violating due process.

A prolific author, Nostrand had his most recent book, From the Polarizing Mind-Set to Productive Discussion of Public Policy and Intercultural and Interfaith Relations Finding Common Ground, published in the spring.

Nostrand and his wife, Frances, who taught French at the UW, gave $500,000 to the University, creating the Howard and Frances Nostrand Endowed Professorship in the Department of Linguistics.

The professorship promotes the growth of language and culture as a new discipline and hopes to stimulate public awareness of the need for cultural competence. For more information, contact Antoinette Wills at 206-616-6553 or awills@u.washington.edu
—Erin Driscoll