September 2004 -
EXTRAS
Lincoln Kennedy
One of the biggest reasons the 1991 Husky football team went 12-0 and captured a share of the national championship was the play of 6-foot-6, 335-pound offensive tackle Lincoln Kennedy.

Kennedy, one of the best linemen ever to come out of the UW, went on to become a first-round draft pick of the Atlanta Falcons in 1993. He spent 11 years in the NFL, retiring last December following the 2003 season with the Oakland Raiders.

A UW speech and drama major, Kennedy was the top offensive tackle in the nation his senior year and the only unanimous first team All-America pick among Pac-10 players. The Morris Award winner as the best offensive lineman in the Pac-10, he was a finalist for the Lombardi Award and a semifinalist for the Outland Trophy. His play helped the Husky offense average 471.9 yards in total offense during the UW's national championship season. During his four years at Washington, he only allowed two sacks.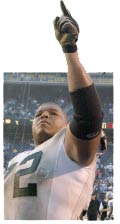 In the NFL, Kennedy, 32, spent three seasons with the Falcons before joining the Raiders in 1996. He was the definition of dependability, starting all but three games during his first seven seasons with the Raiders. He was a key reason the Raiders won three division titles and made it to the 2003 Super Bowl.

But the injuries piled up-two concussions in two years, numerous calf and shoulder injuries, groin injuries, and his final impairment, a torn triceps muscle that kept him out of the final game of last season.

"It just gets harder and harder to come back," says the San Diego native, who first came to the UW in 1989. "I think my body's made my mind up for me."

So after the painful 2003 season-in which the Raiders endured the embarrassment of falling from a Super Bowl season to a 4-12 disaster-Kennedy decided to hang it up even though he might have still been in demand around the league.

"I cannot see myself on any other team," he says. "With the Raiders going through a rebuilding process, it is definitely time for me to step aside."
—Julie Granahan