Briefings
Sports Management Veteran Tapped to Lead UW Athletics
The Huskies have found a new athletic director in Todd Turner, a 28-year veteran of college athletic administration. Turner, the 15th athletic director to serve at the UW, assumed the helm of Intercollegiate Athletic in August.

UW President Mark Emmert introduced Turner, 53, as his choice for athletic director at a press conference in June. "I wanted somebody who fit in with the culture here, who fit into my leadership style and someone I knew would contribute to the overall progress of the whole university," he said. "And that's what we got with Todd."

Turner came to the UW after seven years as athletic director at Vanderbilt University in Tennessee. He chose to leave Vanderbilt a year ago, after his position was eliminated during a reorganization of the athletic department.

Despite recent controversies surrounding the Husky program, Turner cited the UW's commitment to athletics as the reason he decided to come to the University. "When I walked on the campus, the passion to be-not just good-but to be the very best, was shared by everyone that I met," he said. "That convinced me that we could [do] something very special."

Before working at Vanderbilt, Turner served as athletic director at North Carolina State University and the University of Connecticut.

Turner's appointment at the UW was the culmination of a nationwide search. Turner replaces Barbara Hedges, who served as the athletic director for 13 years before taking an early retirement last January. He will inherit from Hedges an athletic program ranked eighth in the 2003-04 U.S. Sports Academy's Directors' Cup. However, the department is also haunted by NCAA investigations into gambling, recruiting violations and a state probe into improper drug prescriptions in softball.

"There have been some things that happened," Turner said in June. "But I am convinced that this is not an environment that is broken horribly. It just needs a little focus."

Turner brings to the table experience with the NCAA. After leaving Vanderbilt, he remained active in college athletics as the chair of the NCAA Management Council's Working Group on Incentives and Disincentives tied to academic performance. No athletic department has faced an NCAA inquiry while Turner was director.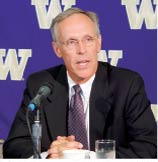 ---

UW Athletic Director Todd Turner. Photo by Jeff Bechthold, UW Athletics Media Relations.

---
Turner's wife Sara and most of his four children-ages 14 to 24-are expected to join him in Seattle within the next year. The five-year contract Turner signed makes him the highest paid athletic director in the Pac-10. The contract specifies a base salary of $325,000 per year but with incentives and deferred compensation, he could make as much as $420,000 per year. "This man will earn every penny of it, I promise you," said Emmert.

At Vanderbilt, Turner had a reputation for being a talented fund-raiser and was responsible for some of the largest facility renovations in the history of that university. Twice during Turner's time, the football program earned special recognition by the American Football Coaches Association for 100 percent graduation rates.

Turner is a native of Raleigh, N.C., and a 1973 graduate of the University of North Carolina at Chapel Hill, where he studied religion. He received a second degree from the Ohio University sports administration program in 1976.

A golf enthusiast, one of the ventures Turner pursued after leaving Vanderbilt was golf club manufacturing. "But that's not what I was trained to do," said Turner. "My heart is with the student athletes."