September 2004 -

Our Back Pages
Tales of the Forest
Ever since Charles Lanthrop Pack gave the UW $9,222 to create a demonstration forest in 1926, there has been a steady stream of work boots traipsing through the underbrush southwest of Eatonville. The site near Mount Rainier has seen its share of work parties from undergraduate and graduate students, to Peace Corps volunteers, to professional researchers.

A conservationist and East Coast lumberman, Pack believed there was a need to educate the public about forest management practices through demonstration. He decided to create "showcase" forests-one in Washington state and one in Albany, N.Y.

During the Great Depression, the forest changed and grew, thanks to President Franklin Roosevelt's Civilian Conservation Corps (CCC). Its main recreational facility, Pack Hall, stands as a reminder of the work of 160 men, mostly from Illinois, who labored in the forest. Once the hall was completed, these men left a secret behind to ensure that their work would be remembered long after they were gone.

In 1988, after 55 years of wear and tear, the hall had to be rebuilt. Workers restoring the front wall discovered an old whiskey bottle with a typewritten note inside. The note listed the names of 17 men who had worked on the building, as well as their hometowns-six in Illinois and one in Washington.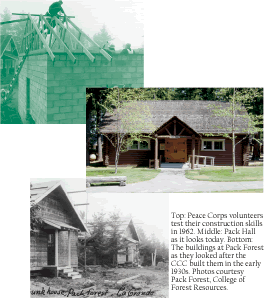 "A crew of seventeen men all labored hard on the 2nd of August 1933 to lay the cornerstone of [the] new recreation hall for Company 1622, Camp Pack Forest," the note read. Following the letter's instructions, UW officials contacted the mayors of each town and the note was printed in numerous newspapers. One former CCC worker Steve Bucherich, saw the letter in his hometown newspaper in Madison, Ill.

Bucherich was one of 73,300 men who worked in Washington state as part of the Civilian Conservation Corps. The CCC put the unemployed back to work by improving U.S. lands and waterways. In Washington, CCC workers built living and recreation facilities, roads and telephone lines. They fought forest fires, planted millions of trees and salvaged timber.

Since its conception in 1926, Pack Forest has expanded from a mere 334 acres to 4,374 acres. Mostly self-sufficient, the forest only gets 10 percent of its $1.5 million biennial operating budget from the University. The Pack Forest derives its revenue primarily from the sale of timber; this amount is supplemented by funds from research grants.

Undergraduate majors in forestry management and engineering must take a quarter of their residency field studies at Pack Forest. Experimental projects-such as thinning forest stands, pruning, plot assessments, trail building for recreational use and forest stand management-allow students to collect data and prepare written and oral presentations about their findings.

The forest is also home to research projects such as a multi-million dollar biosolids utilization project, supported by King County METRO and the state Department of Ecology. The project recycles high-quality biosolids from sewage, improving soils and increasing the growth rate of trees.

The land has also had international impact. In the fall of 1962 and winter of 1963, Peace Corps volunteers used the forest as a training base. One group built a "firehouse" as part of their training to work on projects in the Dominican Republic. Every Saturday, volunteers used shovels, trowels and hammers in usually foggy and rainy weather to build what is known today as the "paint shop" at Pack Forest. Last winter, in honor of these first Peace Corps volunteers, the Pack Forest staff and a former trainee donated a plaque listing the names of those who labored to build what is now the paint shop.

Whether it is a message in a bottle or a plaque on the side of a building, each generation leaves its mark on this unique UW resource.
—Erin Driscoll
---
Home / Current Issue / Archives / Talk Back / Advertising / Columns FAQ / Alumni Website / Search