ALUMNOTES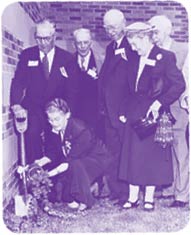 ---

Members of the Class of 1903 use a special spade to plant a symbolic sprig of ivy as part of their 50th year reunion in 1953. File photo.

---
J.J. Lindsey, '29
Bellingham, has been retired for 32 years. He was a member of the Boy Scouts and Girl Scouts for 40 years and the Garden Street United Methodist Church for 50 years. "Still working at home," he writes, "trying to garden and keep ahead of the brush."
Isaac Ovadia, '37
Bellevue, celebrated his 90th birthday on Nov. 1. He spends half the year in Palm Springs. He was in the jewelry business for 56 years.
Vernon C. Hallin, '38
Eureka, Calif., is retired from the U.S. Forest Service. He worked for 32 years in the Siuslaw, Lassen, Trinity and Six Rivers national forests, and taught photogrammetry at Humboldt State Univ.
John M. Davis, '40
Bothell, spent several years after graduation with the Army Air Corps and United Airlines before getting back into his original field, chemistry. He has three children: Nancy, who attended the UW and whose two children are UW students; Larry and Suzy.
Mildred E. Bradley-Harris, '42
Corvallis, Ore., reports that her son, Theron M. Bradley Jr., is chief engineer of NASA. Her daughter, Alice L. Reinheimer, works as a laser physicist for a British firm.
Richard M. Kennedy, '48
Seattle, and his wife, Arlene Marie Howden, have two sons: Kraig, '69, and Kris, '72. They have four grandchildren.
Carin B. Steckler, '48
Seattle, is the new president of the Purple and Gold Society, a group of alumni who graduated 50 years ago.
Arthur A. Hart, '48
Boise, Idaho, is director emeritus of the Idaho State Historical Society. He received the 2003 Esto Perpetua Award for his contributions to the preservation of Idaho history. His book Chinatown: Boise, Idaho, 1870-1970 was published in 2002. He and his wife, Novella, celebrated their 60th wedding anniversary in February.
Carl E. Johnson, '49, '53
Oceano, Calif., suffered a stroke last year. His daughter, Sara Johnson Saffo, wants to know if any classmates remember Carl and would like to get in touch with him. You can reach Sara by e-mail at saffoized@earthlink.net.
J. Gordon Prakken, '49
Canby, Ore., spent a pleasant winter in Gold Canyon, Ariz., with his wife, Betty. "We really didn't miss the 8-inch icicles hanging from the leaves in Canby, Ore.!" he writes.
Judy Reams Moloney, '50
Bellevue, is a retired regional VP for United Van Lines. She volunteers in developing countries, setting up micro-financing foundations to lend money to women in small businesses.
Ruth Allyn, '51
Seattle, loves being back in Washington, near her hometown of Everett. She has been living at the Ida Culver House since she moved from Santa Barbara, Calif., four years ago.
Bob Smith, '52
Palm Springs, Calif., was elected to the California Wrestling Hall of Fame in May. He established the wrestling program at San Bernardino Valley Comm. College and guided the team to seven state, 14 regional and 14 conference titles. Now retired, he is promoting a video series on amateur wrestling titled The Defensive Edge.
Jay Sullivan, '52
Seattle, and his wife, Betty, '63, went to Normandy, France, for the 60th anniversary of the D-Day invasion. Jay was a member of Seattle's 50th General Hospital Unit that landed at Utah Beach on June 6, 1944. His unit set up tent hospitals close to the front lines so wounded soldiers could receive medical care quickly. "It is difficult to describe my feelings as the memories began flooding back to that long ago," he writes.
James G. Newbill, '53, '60
Yakima, has taught history for 51 years at Yakima Valley Comm. College and now teaches on an emeritus/part-time basis. He donated his collection of 49 oral history interviews about a violent 1933 strike in the Yakima Valley orchards to the UW Libraries.
Attention, Class of 1954:
Your 50-year class reunion will be held at 10 a.m., Friday, Nov. 5, at the Center for Urban Horticulture in Seattle. There will be a short program with a speaker to be announced and the presentation of the class gift to President Mark Emmert.
Philip McCracken, '54
Anacortes, had a retrospective exhibition of his sculpture at the Museum of Northwest Art in La Conner in July. The UW Press recently published 600 Moons-Fifty Years of Philip McCracken's Art.
Attention, Class of 1955:
Your 50th class reunion will be held during the weekend of April 22, 2005, the same weekend the UW is hosting its first "Homecoming for the Mind" extravaganza. There will be various activities throughout the weekend as well as a special event for the class of 1955 on Saturday evening. If you are interested in serving on the Class of 1955 reunion committee, please contact Andrea Fleming at 1-800-AUW-ALUM.
Fred Jessett, '56
Sammamish, won second place in the Maryland Writers' Assoc. Short Stuff Writers Contest for his non-fiction story, Death on the Rez, which is based on his years as an Episcopal priest on the Rosebud Sioux Reservation in South Dakota.
Merle Dunsmore Bond, '58
Kirkland, participates in dance competitions on the West Coast, in Reno and Las Vegas. She is also a grandmother of four.
Attention, Class of 1959:
Your 45th class reunion will be held immediately following the Nov. 6 UW-Arizona Homecoming football game at the Ctr. for Urban Horticulture, 3501 N.E. 41st Street, Seattle. Advance registration is required. Go to UWalum.com or call Yuki Koga at the UWAA at 206-616-3837 to register or for more information. Invitations will be mailed to class members in September. The cost is $25 UWAA members, $32 non-members.
Umberto Benedetti, '59
Missoula, Mont., is a painter, writer and photographer and continues to work at the age of 92.
You must be a member of the UW Alumni Association to be listed in the Alumnotes section. To join, call (206) 543-0540 or 1-800-AUW-ALUM, or visit UWalum.com on the Web.
Attention, Class of 1961:
A 1961 UW class ring was found in June near Sloan Square in London, England. The owner's initials are engraved in the side of the ring, which is a male's ring. Contact Columns at columns@u.washington.edu and we will put you in touch with the finder.
Lloyd H. Furman, '61
Bangkok, Thailand, completed his second year as U.S. Ambassador to Thailand. When he retires from the U.S. Foreign Service later this year, he and his wife expect to settle in the Seattle area, "which has always been home," he writes.
Frank Jenes, '61
Newport Beach, Calif., retired in March 2000 from CH2M Hill. He and his wife, Bobbie, travel, read, cook, walk and enjoy life near the ocean.
Clark D. Silliman, '61
Seattle, was granted tenure at Edmonds Comm. College, where he is a full-time instructor in the school's paralegal program.
Dean P. VanTrease, '61, '62
Tulsa, Okla., retired July 1 as president and CEO of Tulsa Comm. College. He helped found the school, which is the largest community college in Oklahoma with more than 27,000 students on four campuses. In 2001, the Assoc. of Comm. College Trustees named him the Western Region CEO of the Year.
Terry French, '64
Chicago, is a portfolio manager at Fiduciary Management Assoc. in Chicago.
Jack Grantham, '65
Port Angeles, retired after teaching German for 37 years at Port Angeles High School.
Diane Rolfe, '65, '71
Palo Alto, Calif., writes that she received her master's degree in history from UW in 1971.
Donald Adams, '66
Plattsburgh, N.Y., received the SUNY Chancellor's Award for Excellence in Scholarship and Creative Activities. A professor of earth and environmental science at the State Univ. of New York at Plattsburgh, he is an internationally recognized researcher on greenhouse gases and global climate change.
Kathleen O'Connor, '66, '70
Seattle, founded a new nonprofit organization, Code Blue Now! Last year, she published The Buck Stops Nowhere: Why America's Health Care is All Dollars and No Sense.
Steven C. Galbraith, '67
Tacoma, has served on Tacoma's Civil Services Board for 10 years. He was recently elected chairman.
Marian L. Osterby, '67
Centralia, published her own cookbook in 2004. It contains popular family and Grange recipes from the past 50 years.
Steve DeLue, '69, '71
Oxford, Ohio, received the Benjamin Harrison Medallion from Miami Univ. for his national contributions to education. Now serving as the acting dean of the school's College of Arts and Sciences, he has gained international recognition for his scholarship on democracy and globalization, particularly in the Middle East.
Shirley Malcom, '69
Clarksville, Md., was named the 2003 Technical Achiever of the Year by the National Technical Assoc. She is the education and human resource program director for the American Assoc. for the Advancement of Science. She received the Alumna Summa Laude Dignata Award as the UW's alumnus of the year in 2000.
Tim Clark, '70
Kent, retired from teaching high school social studies in 1999. He also served on the faculty of Green River and Highline community colleges and is now in his 11th year as a member of the Kent City Council.
Lawrence J. Downey, '70
Bremerton, retired in July after a 37-year career in government service. His last job was quality assurance director at Puget Sound Naval Shipyard. He is now an engineering program manager with AMSEC LLC, an engineering consultant firm.
Richard Adatto, '71
Seattle, reports that his new book, From Passion to Perfection: The Story of French Streamlined Styling 1930-1939, received the 2003 Grand Prize for an automobile book in Europe.
Chris Britton, '71, '01
Bellevue, was promoted to CEO of Doyle Technology Consultants, a consulting, design and system integration company. He previously worked in leadership roles for several start-up and development businesses and founded Parallax Management Group, a consulting firm.
John Hayhurst, '71
Bellevue, retired in April after 33 years at Boeing. He was a corporate senior VP and president of Boeing Air Traffic Management.
Stephen Holt, '72
Bellevue, retired in April after 33 years at Boeing. He was a corporate senior VP and president of Boeing Air Traffic Management.
Margaret May Legowik, '71
University Place, finished her first year as a financial adviser at Columbia Bank after a long career at Piper Jaffray. She is president of Soroptimist Intl. of Tacoma and president-elect of the City Club of Tacoma.
James A. Hyatt, '72, '76
Blacksburg, Va., was named executive VP and chief operating officer at Virginia Tech after serving as an administrator at the Univ. of California, Berkeley.
Terry Timm Moos, '72
Kirkland, is a marketing writer for Attachmate Corp. in Bellevue and a contributing writer for Cisco Systems in San Jose, Calif. She also serves as VP/recording secretary for the Seattle chapter of the Assoc. of Women in Communications.
Laurie Hutchison Dolan, '73
Spokane, is running for the 6th Dist. State Senate seat. Her daughter, Anne Sackville-West, '03, works at Boeing, and her son won a contest to produce a TV series about his life in Seattle.
Terry R. Reid, '74
Tacoma, manages the State Dept. of Health's Tobacco Prevention and Control Program. He is married with two grown children and three grandchildren.
Art Wolfe, '75
Seattle, was honored when his latest book, Edge of the Earth-Corner of the Sky, received the Benjamin Franklin Award from the Publishers Marketing Assoc. The book also garnered honors from the Independent Publisher Book Awards in the Coffee Table Books category. A renowned wildlife photographer, Wolfe recently addressed Congress in defense of protecting national parks.
Pat Hansen, '77
Seattle, is president of Hansen Design Co. as well as the board of directors of Rotary Boys and Girls Clubs of King County. Her company designed the Boys and Girls Clubs' 2003 Annual Report and materials for the 2004 Kids Breakfast.
Eric Larson, '77, '78
Shoreline, received the highest award given by the Society of General Internal Medicine, the Robert J. Glaser Award. He chairs the board of regents of the American College of Physicians, and is a professor of medicine and adjunct professor of health services at UW.
Ricardo S. Martinez, '77, '80
Redmond, was sworn in June 25 as the first Latino judge to serve on the U.S. District Court for the Western District of Washington. He previously served as a U.S. Magistrate Judge, King County prosecutor and King County Superior Court Judge.
James Diedrick, '78
Albion, Mich., is associate dean of the faculty at Albion College, where he has been an English professor since 1981. In January, USC Press published the second edition of his book Understanding Martin Amis.
Frank Spear, '79, '85
Seattle, received the Distinguished Alumnus Award from Pacific Lutheran Univ. for his work in dentistry and dental education. He has lectured all over the world and has been an affiliate professor of dentistry at UW since 1984. He also developed the Seattle Inst. for Advanced Dental Education.
Debra R. Sullivan, '79
Seattle, is president and co-founder of the Praxis Inst. For Early Childhood Education, a new college offering B.A. and M.A. degrees in early childhood education, elementary education, bilingual/bicultural development, leadership development and family development/support in addition to an Ed.D. in leadership in social change. She is a past member of the UWAA Board of Trustees and the Columns Advisory Committee.
You must be a member of the UW Alumni Association to be listed in the Alumnotes section. To join, call (206) 543-0540 or 1-800-AUW-ALUM, or visit UWalum.com on the Web.
James Robert Daniels, '80
Port Hadlock, is a free-lance writer and author. His book How To Become an Inventor is in the Smithsonian Inst. and was released on interactive CD on the Internet in the United Kingdom. He's now working on a book about Modest Needs, an online community. His daughter, Jenny Jane Daniels Freese, '98, graduated from the UW with a degree in interdisciplinary arts.
Brigitte Grossrieder-Tennis, '81, '82
Redmond, received a 2004 DisneyHand Teacher Award for her work as a seventh-grade teacher at Stella Schola Middle School in the Lake Washington School Dist.
Christopher P. Harris, '82
Des Moines, Iowa, serves as pastor and head of staff at the Highland Park Presbyterian Church in Des Moines, Iowa.
Gilberto Hedges-Blanquez, '82
Seattle, is head librarian at B.F. Day Elementary School in Seattle. His wife, Sally, teaches second grade at Beacon Hill Elementary in Seattle. Their son, William, will begin his senior year at Garfield High School in Seattle.
Richard Destin, '83
Venice, Calif., is a project manager at Moore Ruble Yudell, Architects and Planners, in Santa Monica. He and his wife of 10 years, Esther Marguiles, have two children.
Bruce A. Monroe, '83
Seattle, conducted the world premiere of the musical Yankee Doodle Dandy for the 5th Avenue Theatre and on tour.
Karen Rosenzweig, '83
Bothell, left the field of public relations after 20 years to start her own business as a personal chef. Her company, The Incredible Chef, provides a convenient, affordable service for busy working professionals and families who appreciate good food, and love a home-cooked meal, but lack the time or energy to prepare dinner on a daily basis. Her Web site is www.incrediblechef.com.
Greg Simon, '83
Bethesda, Md., received the 2004 Sharon Nelson Leadership Award from the Shidler Ctr. for Law Commerce & Technology for his contributions to law and technology. He is the former White House chief domestic policy adviser and is now president of FasterCures, a nonprofit firm examining the research and development process to accelerate the discovery and promotion of new treatments for deadly diseases.
Alexander R. Ginzburg, '86
Los Angeles, continues to practice business, bankruptcy and family law as one of the founding partners with Ginzburg & Bronshteyn. He resides in the Los Angeles area with his wife and two sons, ages 16 and 12.
John Hedgcock, '84, '86
Monterey, Calif., received the Allen Griffin Award for Excellence in Teaching from the Community Foundation for Monterey County. He is a professor at the Monterey Inst. of Intl. Studies.
Amy L. Sommers, '86, '91
Beijing, joined Squire, Sanders and Dempsey as a national partner after eight years at Garvey Schubert Barer. Her practice includes cross-border client representation ranging from business transactions such as distribution, manufacturing or investments to resolving conflicts.
Susan Thompson Walker, '86
SMill Creek, moved back to the Pacific Northwest after nearly 20 years in San Diego. "Wildfires and the 'Governator' sealed my decision. I am glad to be home," she writes.
Barbara Wilson, '85
Boise, Idaho, was re-elected to a three-year term on the board of directors of the Federal Reserve Bank of San Francisco. She also sits on the boards of St. Luke's Regional Medical Center and the Boise Airport. In spring 2003, she was named one of the "50 Most Influential People in Idaho" by Boise Journal magazine.
Erik Zommers, '86
Foothill Ranch, Calif., was promoted to VP of the elevator and escalator division of Mitsubishi Electric and Electronics USA.
Peter Donahue, '87
Birmingham, Ala., is co-editor of Reading Seattle: The City in Prose, published by UW Press. It is an anthology of 42 fictional and nonfiction writings about Seattle. He is an assistant professor of English at Birmingham-Southern College.
Theresa Knox Evans, '87
Seattle, is program director for radio station KGHP in Gig Harbor. She is married to Keith Evans and is the proud mother of 5-year-old Elise and 1-year-old Jack.
Rob Gudmundson, '87
Bainbridge Island, is a labor relations manager for Kitsap County. He previously spent five years as staff attorney for the Washington Employers Assoc. He continues to volunteer for the American Red Cross King County/West Sound Chapter.
Doug Kallerson, '87
Las Vegas, is an electrician working on the construction of Steve Wynn's $2.4 billion Las Vegas resort, the Wynn Las Vegas.
T. Michael Nguyen, '87
Seattle, received the 2003 Focus Award from the Community Services for the Blind and Partially Sighted for his commitment to vision rehabilitation for people whose sight can no longer be improved through medicine or surgery. He also volunteered as a surgeon and group leader on the Surgical Eye Expedition Intl. in Vietnam in January.
Anette Olney, '88
Bellevue, and her husband, Patrick, welcomed their second son, Nickolas, in December. Anette continues to work part-time at AT&T Wireless as a senior technical editor.
You must be a member of the UW Alumni Association to be listed in the Alumnotes section. To join, call (206) 543-0540 or 1-800-AUW-ALUM, or visit UWalum.com on the Web.
Marisa Digiacomo, '90
Seattle, recently left KeyBank, where she had worked since she was a UW freshman, to join McAdams Wright Rager as senior VP of capital management. She is also a board member for the Boys and Girls Clubs of King County and a trustee for the Seattle Rep. Theater.
Jeff Newell, '90
Seattle, has been serving in Iraq with the Washington Army National Guard since March. Joining him at a recent visit were Maj. Gen. Peter Chiarelli, '80, commander of the 1st Cavalry Div., and U.S. Rep. Adam Smith. "There are several Dawgs here in Baghdad and in my unit," he writes. "Consider this an official request to open the Baghdad Chapter of the UWAA."
Mikko Mannisto, '91, '99
Bellevue, and Amy Lenox, '92, welcomed son Antti Sameli on April 19. He joins sister Johanna and brother Tuomas.
Carmela Rivera Minaya, '91
Wahiawa, Hawaii, will be featured as an author of the Natl. Science Teachers Assoc.'s book The Best Science Teaching Practices for High School. She wrote one of nine chapters selected from more than 100 submissions. In 2003, she received a $10,000 Shell Science Teaching Award from the NSTA to pursue her master's of natural science in physics at Arizona State Univ. She expects to graduate in 2006.
Honey Rand, '91
Tampa, Fla., published the book Water Wars: A Story of the People, Politics and Power. She founded the Environmental PR Group, Inc., which deals with the public side of environmental communications, conflict and advocacy.
Jody Andress, '94, '03
New York, is an associate in the Venture Services Group at Lehman Brothers, a New York investment bank.
Carol Bolt, '94
Seattle, recently published Mom's Book of Answers, the sixth in her series, The Book of Answers.
Behzad Khamneian, '94
Kirkland, has been an airline pilot with SkyWest Airlines since January 2001. He received his Airline Transport Pilot certificate and will now serve as a captain. He is married to Kimberly Taylor, '93.
Kristine A. Kalbfleisch, '95
Marquette, Mich., earned her M.D. from the Medical College of Wisconsin. She will begin an emergency medicine residency at the Univ. of Massachusetts in Worcester.
Brian Killgore, '95
Sun Lakes, Ariz., relocated from the Bay Area to become PR manager for the Harlem Globetrotters. His wife, Terry, '92, was business manager for the City of Fremont, Calif., Fire Dept
Sherry Lynn Lay, '95
Redmond, is currently teaching and volunteering.
Judith A. Malmgren, '95
Seattle, was appointed associate affiliate professor of epidemiology at the UW. She just marked her seventh year as president of HealthStat Consulting.
Brian Hemann, '96
Washington, D.C., moved to the East Coast with his wife Jennifer and son Samuel to begin a fellowship in cardiology. In June, he completed his chief resident year at Madigan Army Med. Ctr. in Tacoma.
Elizabeth McKinnis, '96, '99
Fairfield, Conn., and her husband, David, left Seattle after 15 years to return to the East Coast to be closer to their families. She is a stay-at-home mom to Sarah, 3 1/2, and twins Andrew and Alexander, born on March 19.
Scott K. Isenhart, '99
Norfolk, Va., graduated with honors from the U.S. Coast Guard Recruit Training Center in Cape May, N.J.
Yvonne McCord, '99
Kirkland, earned her master's degree in education in 2004.
Robert Chaffeur, '00
Ruston, has accepted an assignment with the Peace Corps to serve as a health-education volunteer in Malawi, Africa. He will work to promote HIV/AIDS education and prevention.
James Dickson, '00
Kenmore, works as an agency technology representative at Safeco Insurance. He purchased his first house with his fiancÚ, Laura Trajick. His daughter just started fourth grade at Kenmore Elementary. He writes, "Life is great and a big part of my success is due to being a UW grad!"
Cas Heilman, '00
Tucson, Ariz., is a licensed real estate agent with Long Realty, southern Arizona's largest real estate company.
Cheri Warner-Friend, '00
Edmonds, is a registered nurse telephone triage counselor for Carewise.
Elaina S. Foley, '01
Coupeville, works for the U.S. Forest Service in the Wenatchee Natl. Forest.
Shirley A. Aguilera, '02
Seattle, serves on the city of Seattle's Human Rights Commission. She works as a senior property manager for the Port of Seattle Aviation Properties.
Sarah Imholt Barci, '02
Mount Vernon, was married to Ryan Barci of Arlington on March 5.
Lisa K. Holm, '03
Miami, completed her master's degree in TV broadcast journalism at the Univ. of Miami in August. She currently works as a production intern at the CBS affiliate in Miami.
Robin Hoff, '03
Seattle, is a senior project coordinator for PRR, a social marketing and communications firm.
Lisa M. Lurie, '03
Bainbridge Island, was awarded a Fulbright Scholarship and has been working in Ecuador this year.
Jan Satterthwaite, '03
Seattle, works as a project manager and landscape architect.
Lisa Seguin, '03
Westminster, Colo., moved home to Colorado to look for a teaching position in first, second or third grade.
Leanne Stogsdill, '03
Everett, plans to attend George Washington Univ. Law School this fall.
Kristen Kiser Wyrick, '03
Alexandria, Va., completed her internship in family practice in June. She is married to Brian K. Wyrick, '92, and both are on active duty in the Air Force. Brian works for the Office of the Air Force Surgeon General as a health-care administrator. Kristen will complete her residency in family practice in June 2006.
Sarah Zimmerman, '03
San Diego, gives advice to clients on nutrition and diet. She writes, "If you want to be happy and healthy, share with me and I will listen." Her e-mail is szimi3@hotmail.com.
You must be a member of the UW Alumni Association to be listed in the Alumnotes section. To join, call (206) 543-0540 or 1-800-AUW-ALUM, or visit UWalum.com on the Web.
---
Submit a Class Note
Tell us what major events have happened in your life: a new job, marriage, children, retirement, advanced degrees, you name it.

Submit an Obituary
Please let us know if a UW alumnus has died. Be sure to include date of death, place of death and age along with the UW class year (if known).

Update Your Records
Moving soon or know someone else who has? Let us know so that we can keep Columns coming to you.

Contact Information
Columns Magazine
1415 N.E. 45th Street
Seattle, WA 98105
Phone: (206) 543-0540
Fax: (206) 685-0611.
E-Mail: columns@u.washington.edu