Herb Robert takes the high reproductivity approach. Unaffectionately known as Stinky Bob due to its musky aroma, it produces up to 3,100 seeds per square meter. Stinky Bob, which many people are allergic to, doesn't just drop these seeds, it shoots them up to 20 feet away, where they can find new terrain or latch onto an animal and travel even farther. Unlike most natives, plants can also germinate in the fall. In full shade, this fecundity can result in as many as 250 plants per square meter, each multibranched and topped by 1/2-inch wide, five-petaled flowers.

No one knows exactly how or when herb Robert arrived in Washington state, in part because it has long been used in herbal medicine in its native habitat of Europe. Specimens probably arrived as garden ornamentals in several locations over many years and took decades to become a problem. Known as lag time, it is a typical behavior in invasives; a plant arrives, grows where it should for years to decades, and then explodes uncontrollably.

Reichard hypothesizes several reasons for Stinky Bob's sudden change from benign little garden plant to native-killing invasive. The plants may have evolved a new genetic makeup that facilitated its spread. It may be a matter of perception, or more likely, there were enough small patches in enough places that it reached a critical mass, where it could become cancerous.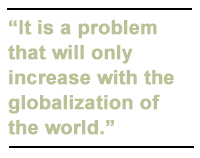 Herb Robert ranks near the top of Reichard's list of worst invaders. "What separates the bad from the very bad is the ability to invade undisturbed natural areas. I have seen pristine habitat where Stinky Bob literally took over in only a couple of years," she says. Others include ivy, reed canary grass, Japanese knotweed, traveler's joy, and purple loosestrife. One well-known invasive, Himalayan blackberry, is slightly less problematic because it only invades disturbed habitat. This does not mean that Reichard doesn't spend hours pulling it out of her backyard, but blackberry probably will not invade a national park, as has herb Robert.
People have begun to fight back though. On a cool, foggy Saturday, Earth Day 2003, more than 200 volunteers gathered at Seward Park. Ecologists and historians consider the forest on the peninsula to be one of only two relic stands of old growth in Seattle. The dense woods support the largest tree in Seattle, a 23-foot-circumference Douglas fir, extensive stands of salal, and towering alders and bigleaf maples.
Despite these magnificent forests, Seward also suffers from invasives. Creeping buttercup and herb Robert spread in the shade. Purple loosestrife grows along the shorelines. Traveler's joy (Clematis vitalba) climbs up the tallest trees. Ivy grows nearly everywhere, often battling Himalayan blackberry for supremacy.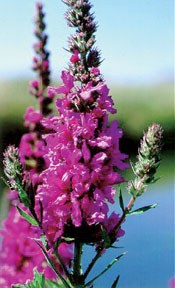 ---

Purple Loosestrife - One of the 10 Worst Invaders in the Pacific Northwest. Photo courtesy the Nature Conservancy.

---
The Earth Day crews had come to battle these invaders, particularly ivy. Clad in Gore-Tex and Carhartts, ratty jackets and torn jeans, young and old, black and white, they spread across Seward carrying rakes, pruning shears, and pulaskis. Their main method: tromp into a patch, grab the nearest plant, yank, wrap into a ball. Repeat. They emerged from the park at the end of the day dirty, scratched and sweaty. They had removed an estimated two acres of ivy.

The Earth Day event was organized by EarthCorps, a non-profit organization that employs 18 to 24-year-olds from around the world on habitat restoration in parks and green spaces in King County. They have also worked with volunteers at Frink Park and Madrona Woods, along the Duwamish River, in the Mountains-to-Sounds Greenway, and at Evans Creek/Cold Creek, near the Sammamish River. "I am always amazed to see how these volunteer events make an impact on people's lives. It's hard to make people understand the problems of invasives until they get out there and start to rip up plants," says Liz Stenning, '94, a project coordinator at EarthCorps.

"People are the key to invasives because it is as much a social issue as a biological one," adds Reichard. It is not a problem that can be solved simply by pulling out plants or through government regulation. "People need to realize that plants that grow in their own garden can spread easily. They need to ask nurseries to stop selling certain plants and ecologists need to better understand the mechanisms of invasion and to find alternatives for these popular plants. It is a long road but I am pleased with how far we have progressed."

—David Williams is a Seattle free-lancer currently working on a book on the natural history of the Puget sound region.

Go To: Page 1 | Page 2 | Page 3

Sidebar: The 10 Worst Invaders in the Pacifc Northwest