Trish Bostrom, '72, was named to the Husky Hall of Fame in 1987 to honor her four years as a top player on the UW women's tennis team. She also had an eight-year career as a professional tennis player which included the women's doubles competition at Wimbledon. Now a Seattle attorney, Bostrom served as president of the UW Alumni Association in 2000-01 and has also served two terms on the Tyee Board and as president of the Big "W" Club.
What should be the role of sports at the UW?
It's an important role, a key role at the University. It creates leaders. You learn discipline, how to set goals and other leadership qualities. When you combine academics and athletics, you have all the elements to create leaders for the community.
Has the UW's reputation been hurt by recent sports scandals?
Unfortunately, I would have to say yes. I would have liked to see the football situation reach an outcome quicker than it did. Will the UW survive and become stronger? Yes, I believe that the UW is one of the top universities in the U.S. The University will survive this and the athletic department will become even stronger. On the other hand, what about the reputation of the NCAA? Who is watching them? Who is holding them accountable?
Does a winning or losing program affect the UW's ability to attract faculty or students?
I'd say in the long run it does have an effect. A winning program brings in donor dollars. It allows our athletic program to develop and grow—look at our new capital facilities and our scholarships. That allows us to recruit better athletes. Better athletes become better alumni who give back to their university. So, it is a circle of support.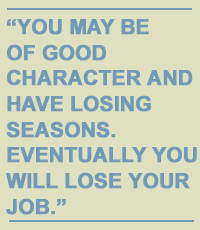 Why do you think university sports programs have so many problems following NCAA rules?
There are many reasons. The NCAA rules are sometimes not clear. And the NCAA may not be training athletic departments enough about the rules. On the other side, college programs have become farm teams for the pros. There is so much pressure on coaches to win, on athletic directors to have a winning program. There many be overzealous alumni who want to win. They may push over the line.
Should a coach's or player's character play a prominent role in his or her job? Does character matter?
Character is critical. You are training young people. You are definitely a role model. Unfortunately, you may be of good character and have losing seasons. Eventually you will lose your job. Take Bob Bender (the former UW men's basketball coach). He has great character. Barbara Hedges was extremely loyal. She gave him an extra season to turn the program around, even though she was getting great pressure to make a change. But eventually a person with great character must produce a winning record. Can they live by the rules and have a winning season? Yes, I believe they can.
Why put so many resources into what is effectively a training campus for pro sports? Is it worth it, given the scandals that keep occurring?
Yes, it is worth it. It is not just a training ground for pro sports; it is also a training ground for leaders for our community. Look at people like Carver Gayton or Norm Dicks. I'm not embarrassed to be an alumna. I'm sad for what happened. But the UW is a tremendous institution—one of the top in the country. It is a greater institution than any problem in the athletic department. When this is over, we will have a stronger University and a stronger athletic department. Adversity brings strength.
Go To: Intro | William P. Geberding | Greg Lewis | Kate O'Neill
Marv Harshman | Trish Bostrom | Norman Rose