The UW's men's basketball coach from 1971 to 1985, Marv Harshman guided his teams to 246 victories, compiling a winning percentage of .628. His UW career included three NCAA tournament appearances and Pac-10 championships in 1984 and 1985. Prior to coming to the UW, Harshman was head coach at Pacific Lutheran University and Washington State.
What should be the role of sports at the UW?
I don't think the bottom line should be money. You can call me old school, and I don't begrudge guys making a lot of money, but I always felt teaching was part of the job. When I coached at Washington State, I was part of the PE faculty. You had the athletes in your classes. You got to know them better. The head coach should be like a professor—not that they have to write a book or two, but be in that category, be a teacher. They even should have tenure.
Has the UW's reputation been hurt by recent sports scandals?
Definitely, especially in recruiting. That's going to hurt you for at least three years. In my own opinion, it could also hurt giving to the athletic program.
Does a winning or losing program affect the UW's ability to attract faculty or students?
I don't know about faculty but I think it does with students.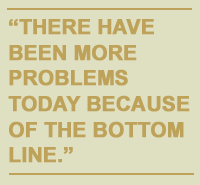 Why do you think university sports programs have so many problems following NCAA rules?
It's a little difficult to follow because the rules can change. And there have been more problems today because of the bottom line. If you don't go to the NCAA tournament in basketball, you are out in a few years. If you don't go to a bowl game in football, you are facing the same situation.
Does character matter? Would a university want a coach of good character who doesn't win?
If you had good character, it used to be that you had a longer chance for being successful. I don't think you have that anymore.
Are the punishments for rules violators too strict or too lax?
They often punish the players and the coaches a number of years after those who committed the infractions are gone. Yes, the school is responsible, but it's not really fair to the kids if they came after the rules were broken.
Why put so many resources into what is effectively a training campus for pro sports? Is it worth it, given the scandals that keep occurring?
For a young person, they get a lot of value out of it. They get a sense of discipline. Sure, you may lose a few people to bad influences, but for most athletes, sports brings out the best in people.
Go To: Intro | William P. Geberding | Greg Lewis | Kate O'Neill
Marv Harshman | Trish Bostrom | Norman Rose