An All-American running back on legendary Husky teams coached by Don James, Greg Lewis, '94, was the 1990 Pac-10 Offensive Player of the Year and finished seventh in that year's Heisman Trophy voting. He went on to an NFL career with the Denver Broncos before returning to the UW as the alumni relations manager for intercollegiate athletics.
What should be the role of sports at the UW?
It is an outlet for students who spend enormous amounts of time studying and focusing on academics. It also gives the University family a source of pride in the school that helps build camaraderie and lifelong affiliation to the school. This in turn helps with alumni involvement and giving.
Has the UW's reputation been hurt by recent sports scandals?
Yes it has. As a former student-athlete, I can say that our school does a great job in adhering to and informing staff of the rules. It is unfortunate that individuals can take it upon themselves and ignore the rules and hurt everyone.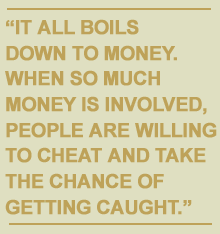 Why do you think university sports programs have so many problems following NCAA rules?
It all boils down to money. When so much money is involved, people are willing to cheat and take the chance of getting caught. Also, when there is so much money involved, egos tend to get large. When the big egos get involved, people think they can operate above the law.
Should a coach's or player's character play a prominent role in his or her job? Does character matter? Would a university want a coach of good character who doesn't win?
Yes, character should and does matter. I do not, however, believe a coach would retain his or her job, nor should he or she, only because of high character. Winning is part of being a coach, so a coach must win. Because universities are institutions of higher learning, I believe all employees should be involved with grooming and setting a good example for young people. So my thought is, you need to win and be of high character to be a college coach.
Are the punishments for rules violators too strict or too lax?
I believe the person should suffer more than the school, however it is the responsibility of the school to govern its employees. I do believe that it is impossible for a school or its administrators to catch everything. As long as the school hands out appropriate punishment to the offenders after doing a good job of teaching the rules, I believe they have done all they can do.
Go To: Intro | William P. Geberding | Greg Lewis | Kate O'Neill
Marv Harshman | Trish Bostrom | Norman Rose