Before the Neuheisel situation broke earlier this summer, Gilbertson did talk with new San Francisco 49ers Coach Dennis Erickson—a longtime friend—about joining the 49ers as an assistant. "I didn't want to leave because I thought we had a shot," Gilbertson explained. "The timing wasn't right. I wanted to be here."
Gilbertson said he has learned from his previous head coaching stints-he guided Idaho from 1986-88, taking the team to two Big Sky Conference titles. "I am probably a little tougher on players than I was in those days," he says.
Toughness is a welcome word these days. While Neuheisel's teams were known for their flashy offense and ability to come back from early deficits, tough, physical play was something that seemed to be missing.
"I would hope our team looks like a team that is dying to win, flying around the field, knocking the hell out of everybody that moves and plays as hard as they can play," Gilbertson said.
Besides toughness, Gilbertson brings stability to a program that has had a wild ride the past four seasons. During that time, Husky fans have seen Neuheisel penalized for recruiting violations, the miraculous 2000 season that ended with an 11-1 record and Rose Bowl victory, the tragic injury and death of safety Curtis Williams, the season-ending collapse in 2001 and last year's erratic performance that yielded a disappointing 7-6 record.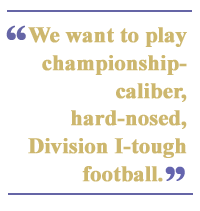 And that was before Neuheisel was found to have broken NCAA rules by betting more than $6,400 in two NCAA basketball pools, then not being forthcoming when questioned by NCAA officials.
"Gilbertson brings the stability the program needs," says Hugh Millen, a former Husky quarterback from 1984-85 who works as a local sports radio commentator. "He feels strongly about the team and has a sense of pride in the UW. He is a man of integrity."
"We are so lucky to have someone like Keith on staff," Hedges added. She pointed out that he had no problems with NCAA rule compliance during his stints at Idaho and Cal.
Gilbertson's coaching career began at Idaho State way back in 1971, when he served three years as a graduate assistant. He had similar stints at Western Washington and with the Huskies before landing the offensive coordinator's job at Utah State in 1977. He spent the 1982 season as Idaho's offensive coordinator and then was hired as an assistant for the USFL's Los Angeles Express. He returned to Idaho in 1985 as offensive coordinator and was named the Vandals' head coach in 1986.
He guided Idaho to Big Sky Conference titles in 1987 and 1988. The 1988 season was his proudest, as he led the Vandals to an 11-2 record, the best mark in school history. The team advanced to the NCAA Division I-AA semifinals and he was named the Big Sky Conference coach of the year.
After that season, he rejoined the Huskies and stayed until he got the Cal job in 1992. After he was fired in Berkeley, he spent three seasons as an assistant with the Seattle Seahawks before rejoining the UW in 1999.
His coaching career has carried him to seven bowl games and many stops for him, his third wife, Barbara, and their three children. "I really kind of never wanted to be anything else in my life," said Gilbertson, whose dad, Keith, is a longtime Snohomish high school coach.
Although Athletic Director Barbara Hedges never considered any other candidates to replace Neuheisel, she still had to wait six weeks to officially appoint Gilbertson because Neuheisel exercised his right to appeal his dismissal. His appeal was denied and Neuheisel's termination became effective July 25.
Now, the deposed coach is thought to be considering a lawsuit against the UW and possibly even the NCAA for their "rush to judgment" that led to his stunning termination, according to his lawyers. Neuheisel's lawyers further declared that Washington fired him without cause, and thus owe him the remainder of his $3.6 million contract. That sum includes a $1.5 million loan that was to be forgiven had Neuheisel remained with the UW for the duration of his contract. Hedges says the gambling and untruthful statements gave her cause to fire Neuheisel, and that Neuheisel is not due anything.
Go To: Page 1 | Page 2 | Page 3
Sidebars: The Gilbertson File | The Neuhiesel File