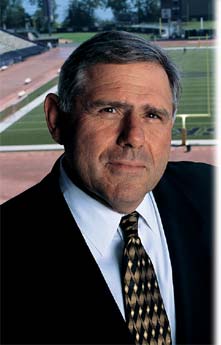 By Jon Marmor
When Keith Gilbertson was named the 24th head football coach in University of Washington history on July 29, it brought a desperately needed sense of relief to the Huskies after the gut-wrenching end of Rick Neuheisel's roller coaster four-year tenure.
Gilbertson, the Huskies' offensive coordinator for the past three seasons, became the top dawg after Neuheisel was fired June 12 for participating in a gambling pool on the NCAA basketball tournament and for not being completely truthful when questioned about it.
A Snohomish native who has been a coach for more than thirty years, Gilbertson was in his third tour of duty with the Huskies when he was appointed the Husky head coach. First hired as a graduate assistant under Don James in 1976, he returned as an assistant coach and offensive coordinator under James from 1989-1991, and came back in 1999 to join Neuheisel's staff as an assistant and offensive coordinator.
Besides his obvious UW connection, Gilbertson also brings head coaching experience, having guided Idaho for three years and California from 1992-95. That made him a natural for the position. And the 55-year-old Gilbertson couldn't have been happier.
"For a guy who grew up in the state, who grew up watching Jim Owens' teams sitting in a $1 seat in the end zone, this has been quite a journey for me," Gilbertson said.
While thrilled to become the Huskies' head coach, Gilbertson, who received a four-year contract worth $870,000 a year, acknowledged the sticky situation he had been in during the past month and a half while Neuheisel was losing his job. "I enjoyed Rick Neuheisel and being on his staff," Gilbertson said. "This situation has been hard on everyone-the team, the fans, Barbara (Hedges), Rick Neuheisel and his family. He was a friend of mine, and he will remain a friend."
Though he took over the team just 32 days before the season opener on the road against defending national champion Ohio State, Gilbertson has a very clear outlook for the Huskies. "We want to play championship-caliber, hard-nosed, Division I-tough football," he said. "We want our people to enjoy it and their experience on this campus, earn a great degree, be better people when they leave than when they came-and we want to do it by the rules. That's really what I know."
The Huskies and their fans are thrilled to have someone as experienced, skilled and proven as Gilbertson as their new leader coming off such a trying time. Don James and his wife, Carol, were in attendance at the news conference announcing Gilbertson's hiring.
"He's like a son," James said, his eyes tearing up. "He knows football. He's not a politician, he's a football coach. They got a real solid football man."
Recognized as one of the finest offensive minds in college football today, Gilbertson was the Huskies' offensive coordinator in 1991 when they won the national championship behind an offense that simply dominated opponents. That offense led the Pac-10 in total offense, rushing offense and scoring offense, relying on a balanced attack.
Despite his impressive resume—which includes three years as coach of the Los Angeles Express in the USFL and two years as an assistant with the Seattle Seahawks—Gilbertson said he didn't think he would ever get a chance to be a head coach again. His last head coaching position was with Cal from 1992-95. Although he led the Bears to a 9-4 season and their last bowl appearance in 1993, he was fired after the '95 season with a 20-26 record in Berkeley. (His overall coaching record is 48-37.)
Go To: Page 1 | Page 2 | Page 3
Sidebars: The Gilbertson File | The Neuhiesel File