EXTRAS
Belding Scribner
1921 - 2003
Belding Scribner, a UW medicine professor who revolutionized long-term kidney dialysis and saved millions of lives, died June 19. Scribner's body was found in the water near the doctor's houseboat on Portage Bay; officials concluded that he lost his balance on his dock and drowned. He was 82.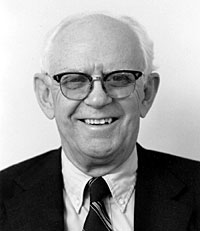 Scribner, head of the UW nephrology unit from 1958-1982, shared the prestigious 2002 Albert Lasker Award for clinical research with Dr. Willem J. Kolf. Kolf won the award for inventing the dialysis machine and Scribner won for his 1960 design of the "Scribner Shunt," a device that could be permanently installed in a patient's arm, making long-term kidney dialysis possible.
Before Scribner's invention, kidney dialysis was a process that could be completed only five to seven times through a painful operation. Then, damage to arteries, veins and tissue would make future treatments impossible.
Their work "changed kidney failure from a fatal to a treatable disease, prolonging the useful lives of millions of people," the citation for the Lasker award said.
Scribner was haunted by a Spokane patient who had made a startling recovery through the early form of dialysis, but died soon after doctors could no longer find undamaged arteries or veins to treat him. "I literally woke up in the middle of the night with the idea of how we could save these people," Scribner said.
A chance encounter in a stairwell with a UW surgeon introduced him to the idea of using Teflon as a material for the permanent implant. A U-shaped tube was sewn between an artery and a vein in the arm. An opening in the tube then provided a space where the dialysis machine could be plugged when in use. The material was later changed to silicone but the shunt "flipped the disease from 90 percent fatal to 90 percent survivable," the citation said.
Scribner, who retired in 1990, created the first community dialysis unit, the Seattle Artificial Kidney Center, at Seattle's Swedish Hospital and was an advocate of non-profit dialysis centers.
"Although Belding Scribner is internationally renowned for his innovative clinical research, his motivation came from his role as a physician caring for patients," said Paul Ramsey, vice president for medical affairs and dean of the UW School of Medicine. "Countless people are alive today because of his pioneering innovation."
Born and raised in Chicago, Scribner attended medical school at Stanford and came to the UW in 1951. In 1969, he won the Gairdner Foundation Award, which honors individuals "whose work or contribution constitutes tangible achievement in the field of medical science." He also was named to the Washington State Centennial Hall of Honor.
Scribner is survived by his wife Ethel, seven children, and six grandchildren. Memorial donations can be sent to the University of Washington Scribner Dialysis Fund, Box 358220, Seattle, WA 98195.
-Jesse Froehling