COMING ONLINE
Paul G. Allen Center for Computer Science and Engineering
The UW Department of Computer Science and Engineering finally has a new home worthy of its reputation as a leader in 21st century computer science. On paper, the $72 million Paul G. Allen Center for Computer Science and Engineering will serve 77 faculty and staff, 450 undergraduates and 275 graduate students. In reality it will transform the nature of education in the department and the University, says CSE Professor Ed Lazowska.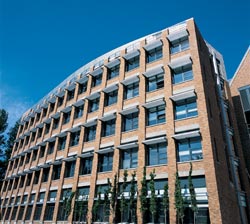 ---

The exterior of the Allen Center includes sun shades of brushed metal.

---
The building is named in honor of Microsoft co-founder Paul G. Allen, who donated more than $10 million toward construction of the building. Other significant contributors were the Bill and Melinda Gates Foundation and the Microsoft Corp. In addition, dozens of alumni and business people also made major donations, bringing the private support of the project to about $42 million.
The six-story, 160,000-square-foot building rises on the site of the old Electrical Engineering Building, just north of the Sylvan Grove and the historic UW Columns. Its brick façade and scale matches the look and feel of central campus, says lead architect George Shaw of LNM Architects. While it does not explicitly echo Collegiate Gothic architecture, "it is contextual in a way that responds to the character of the campus," he says. "At the same time it is supportive and responsive to the modern research that goes on inside it."
Natural light pours into the new building, which includes a six-story atrium that links it to the 1999 Electrical Engineering Building. To soften direct sunshine, each window has a sun shade of brushed metal. "We did a computerized analysis of the sun's angles before placing the sun shades," Shaw explains. The shades add a horizontal rhythm to the massive structure, and although they are functional, Shaw feels they are "compatible with other historic ornamentation" found on the campus.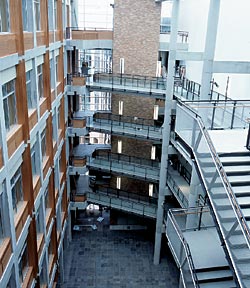 ---

A skylight allows the sun to illuminate the Allen Center's six-story atrium as construction workers put their finishing touches on the space.

---
Lazowska says the cliché of a single computer scientist "hacking code" at a computer is hopelessly out of date. The new building will enhance a much more collaborative way of teaching computer science and engaging in computer research, he says. In addition to new computer lab space, there are offices, seminar rooms and work rooms that will enhance interaction between faculty, staff, graduate students, undergraduates and visiting scholars.
"The physical proximity of the electrical engineering faculty will make a huge difference in both programs," he says. The new facility will also help recruit and retain faculty in an extremely competitive field.
Go To:
Return from Exile: Page 1 | Page 2
Coming Online | Cutting Edge Medicine | Fun and Fitness