RETURN FROM EXILE
William H. Gates Hall
---

Specially designed green-tinted glass provides visual interest and allows the building to blend nicely with the trees and grass surrounding it.

---
Gates' extraordinary legal career is matched only by his service to more than 50 boards, commissions and community service organizations. A lifelong advocate of education, he has served as a University of Washington Regent since 1997 and was honored with the law school's Distinguished Alumnus Award in 1991.
In addition to its new and improved location, Gates Hall gives the law school a much-needed boost in other areas. For starters, the gleaming $74.8 million brick-and-glass building is 55 percent larger than Condon Hall, the school's former concrete fortress-like home; it has fully wired and wireless support throughout the 196,000-square-foot facility; a basement library featuring comfortable, roomy aisles and nearly a quarter more shelving space for its 530,000 volumes, periodicals and briefs; and many more amenities, all the way down to two showers to encourage bicycling to school.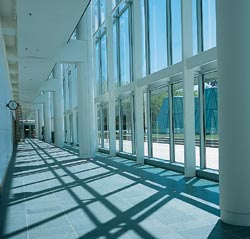 ---

Specially designed green-tinted glass provides visual interest and allows the building to blend nicely with the trees and grass surrounding it.

---
Other highlights include the two-level Marian Gould Gallagher Law Library, the backbone of the school's 104-year heritage. The centerpiece around which the rest of the building was designed, the library supports the information and research needs of the school and the local legal community.
It's a sign of hard times. While four buildings open this fall, three had no state funding and the fourth had only $10 million in state funds. William H. Gates Hall was built with private donations and bonds backed by Metropolitan Tract revenues. The UWMC Surgery Pavilion was built with patient fee revenue and the IMA Addition was financed through student activity fees. The Paul G. Allen Center for Computer Science and Engineering does have $10 million in state funding, but the rest comes from UW local funds and private donations.
The Magnuson/Jackson Moot Courtroom features semi-circle tiered seating for nearly 200 people. A sweeping two-story glass galleria extends the length of the building, providing a bright and inviting gathering space. A raised outdoor terrace is highlighted by four monumental 18-foot skylights, flooding the library with natural light.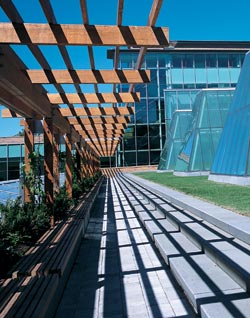 ---

A garden-like outdoor terrace overlooking the building's signature skylights and campus green offers students and faculty a place to gather and enjoy nature.

---
A modern building that still fits in with the Collegiate Gothic style of the rest of campus, Gates Hall has an L shape that faces campus "as an expression of openness," says Dan Jardine, '82, one of the local architects on the project. "We also wanted to emphasize the transparency of the building by using a lot of glass, so there is a sense of life, movement and intimacy."
"It will be very exciting to be a part of the campus again," says Penny Hazelton, law librarian and professor of law. "We are anxious to have closer ties with everyone on campus and be a bigger part of things. We have been looking forward to this day for a long time."
Go To:
Return from Exile: Page 1 | Page 2
Coming Online | Cutting Edge Medicine | Fun and Fitness