On this photo tour of four new campus facilities opening this fall, we take an in-depth look at the $75 million law school building, William H. Gates Hall, which was completed prior to our deadlines. In December Columns will explore the impact of the new Paul G. Allen Center for Computer Science and Engineering on the University, the region and the world of computers.

RETURN FROM EXILE
William H. Gates Hall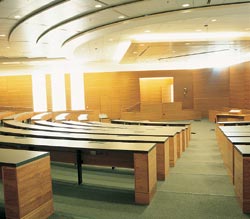 ---

The Magnuson/Jackson Moot Courtroom features semi-circle tiered seating for 200 people.

---
For the past 30 years, the University of Washington School of Law has educated thousands of legal scholars, lawyers and judges, served as an invaluable resource for the Puget Sound region's legal community—yet felt very isolated from the rest of the UW campus due to its home in Condon Hall, three blocks away on Campus Parkway N.E.
"The biggest issue facing our law school was the separation from campus," Law Dean W.H. Knight Jr. explains. "We were not really involved in campus. There is no discipline that does not have an interface with the law. Our location was a problem."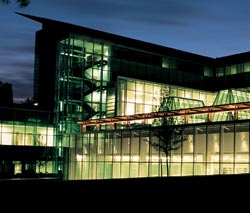 ---

Glass walls and skylights allow William Gates Hall to look dazzling at night when the lights are on.

---
That problem has been solved, thanks to the opening of William H. Gates Hall, the law school's new home. Located on the site of a former parking lot south of the Burke Museum, Gates Hall allows the law school to interact with campus in a way it hasn't since 1974. That's when the school moved to a new building on Campus Parkway after being on the quad since 1933.
"A law school should be a centerpiece of a crown of jewels at a university," Knight adds, "and it should be central to the mission of the university. Being back on campus will allow us to interface with the rest of campus.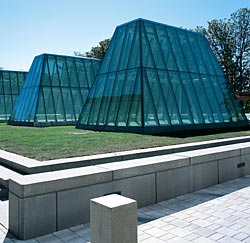 ---

Four 18-foot-high skylights create architectural interest and allow natural light to pour into the school's law library in the floors below.

---
For instance, classes in disciplines ranging from business to philosophy will be taught in Gates Hall. Students and faculty from other departments who want to use the law library can easily drop by. And meetings with UW legal scholars and faculty will be much easier due to Gates Hall's proximity to the rest of campus.
Gates Hall is named in honor of William H. Gates Sr., '49, a longtime partner in the Seattle firm of Preston Gates & Ellis. Gates practiced law for 48 years before leaving the firm to become co-chair and CEO of the Bill & Melinda Gates Foundation. Microsoft co-founder Bill Gates gave $12 million for the construction of the new building to honor his father.
Go To:
Return from Exile: Page 1 | Page 2
Coming Online | Cutting Edge Medicine | Fun and Fitness