ALUMNOTES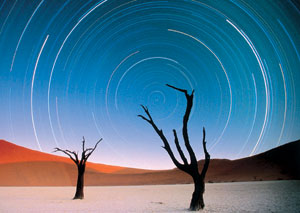 ---

This time-lapse photo of the evening sky is in Art Wolfe's new book, Edge of the Earth—Corner of the Sky. Photo courtesy Art Wolfe.

---
Paul N. Vance, '38
St. Helens, Ore., and his wife, Frances, celebrated their 63rd wedding anniversary on Feb. 10 and Paul's 88th birthday on Feb. 18. He is in his 53rd year with the American Legion and 54th year in the Society of American Foresters.
Roy Stier, '40
Santa Barbara, Calif., is the author of the popular Son of Bunyan teen trilogy: Son of Bunyan & the Swamp Angel, Son of Bunyan & the Sacred Moonstone and Son of Bunyan & the Lost Tribe.
Tod "Robert" Johnson, '48, '50
Jacksonville, Fla., spent 14 years as a writer of industrial films for Boeing, NASA and the U.S. Air Force. This year, the Fitchburg (Mass.) Memorial Society printed A Kiss for Mary Ames, his tribute to his great-grandmother and others who moved to Seattle in 1913-14. He has published more than 350 pieces.
George M. Martin, '49, '53
Seattle, was appointed to the Science Advisory Board of the Alliance for Aging Research. He is professor of pathology emeritus and director emeritus of the UW's Alzheimer's Disease Research Ctr. His research focused on genetic approaches to the study of aging and age-related diseases.
Ruth Allyn, '51
Seattle, has lived at the Ida Culver Retirement Home since 1999. She still keeps up with many UW activities-especially sports.
Martin Paup, '52
Seattle, was listed in Who's Who in America for his accomplishments in the field of commercial real estate investing.
Attention, Class of 1953
Your 50th reunion will be held during Homecoming weekend on Friday, Oct. 24 at the Center for Urban Horticulture, 3501 N.E. 41st Street, Seattle. A reception will be held at 1:30 p.m., followed by a lecture on the changes on campus over the past 50 years. At 3 p.m., there is a campus bus tour, followed by a social hour at 5:30 p.m. and dinner at 7 p.m. For more information, please visit UWalum.com or call the UWAA at 206-543-0540 or 1-800-AUW-ALUM.
Nancy L. Peterson, '53
Redwood City, Calif., received her law degree in 1982 from Lincoln Law School in San Francisco. That same year, she passed the California bar exam and was admitted to practice.
JoAnne E. Tallman, '53
Anacortes, purchased lifetime UWAA memberships for seven of her nieces and nephews, all of whom still live in Washington.
Charles I. Johnson, '56
Burien, holds a job with Washington State Ferries working in the engine room.
Paul Green, '58
Eugene, Ore., has published his work, The Song of Eugene. He is an independent critic and scholar in comparative literature.
David Swinehart, '58, '66
Kokomo, Ind., was named an IEST Fellow by the Inst. of Environmental Sciences and Technology at its annual technical meeting in Phoenix. He was honored for his service to the science and technology of contamination control.
You must be a member of the UW Alumni Association to be listed in the Alumnotes section. To join, call (206) 543-0540 or 1-800-AUW-ALUM, or visit UWalum.com on the Web.
Mary Louise Jamison, '60
Redding, Calif., bought a motor home and plans to travel now that her roommate has retired. She still plays golf, piano and banjo.
Rita R. Colwell, '61
Bethesda, Md., was elected to the American Philosophical Society in April. She is the first woman director of the Natl. Science Foundation.
Gary R. Ritner, '62
Bellevue, is a self-employed investment banker who enjoys golf, dancing and aerobics.
Terry French, '64
Chicago, is a portfolio manager specializing in high-tech stocks.
Martin "Dick" Heiz, '64
Edmonds, retired in March after 37 years in computing with Boeing. An active member of the Civil Air Patrol, he has attended almost every Husky football home game since 1960. He and his wife, Gail, plan to do some touring, camping and hiking.
Bonnie C. Birch, '65
Seattle, worked in computer science and programming from 1965-99. Since then, she has played the accordion and is pursuing a music career.
Irene R. McEwen, '65, '73
Oklahoma City, was honored with a Univ. of Oklahoma George Lynn Cross Research Professorship.
Richard "Oly" Olsen, '65
Prosser, was elected chairman of the board of Treetop, Inc., the world's largest producer of apple juice. He and his brother, Larry, '68, run Olsen Brothers, producing more than 2,000 acres of apples, wine grapes and hops.
Margaret Lytle Lemberg, '66, '69
Seattle, is studying for a master's in clinical psychology at Antioch Univ. in Seattle.
Donald K. McClure, '66
Newberg, Ore., retired from the full-time practice of pathology and moved to the Willamette Valley in 2002 to develop a vineyard and winery, Ayres Vineyard. He still practices pathology part-time and welcomes all UW alumni to visit the vineyard.
Alfredo Arreguin, '67, '69
Seattle, has an exhibition of his paintings titled "Patterns of Dreams and Nature" on display at the Natl. Hispanic Cultural Ctr. in Albuquerque, N.M., through Sept. 28.
Colleen S. Kennedy, '67, '71, '76
Tampa, Fla., is the new dean of the College of Education at the Univ. of South Florida. She previously taught at the Univ. of Utah and the Univ. of Illinois. Her research focuses on how technology is used in K-12 education.
William L. Ingram, '68
Colorado Springs, Colo., conducts psychiatric evaluations for Social Security disability. He also performs evaluations for courts and attorneys.
Christine Rahn, '70
Olympia, spent 35 years as a nurse before returning to school to earn a B.A. in interdisciplinary arts and sciences from UW Tacoma in 2001. She also had a short story published in Intensive Care: More Poetry and Prose by Nurses in May by Univ. of Iowa Publishing.
Annetta Droppert Van Andel, '70
Lynden, graduated with a doctoral degree in adult education from Natl.-Louis Univ. in Chicago. She and her husband, Don, volunteer as premarriage and marriage enrichment mentors.
Mikkel Anderson, '71, '74
Aurora, Colo., is a founding member of Intl. Risk Group, LLC, of Littleton, Colo. His non-profit work includes Guide Dogs for the Blind and Ducks Unlimited.

Tucson, Ariz., has served as president of the Marana Education Assoc. for the past three years. She also is on the Arizona Advisory Council and the Governor's Education Task Force.
Dorcas C. Szeto, '72
Monterey Park, Calif., retired in September 2002 after 15 years as associate director and chair of the Hugh and Hazel Darling Library at Azusa Pacific Univ. She is currently associate librarian for special projects at the Darling Library and consultant to the Education and Culture Foundation in California. Her daughter, Melissa, '97, married Alan Matsuda, '97, on Feb. 1. The couple is living happily in California, but is thinking about relocating to Hawaii in the near future.
Charles Draper, '74
Seattle, is the co-owner of Salmon Bay Marina & Draper Associates. For both moorage and brokerage info, check out salmonbaymarina.com.
Rebecca Manring, '74, '95
Bloomington, Ind., is an assistant professor in India Studies and Religious Studies at Indiana Univ. Her book, Fabricating Tradition: Advaita Acarya and the Genesis of the Gaudiya Vaisnava Movement, is under contract with Columbia Univ. Press. On May 14, she married Tim Bagwell, a member of the Indiana Univ.'s professional residential programs and services staff.
Art Wolfe, '75
Seattle, published his book Edge of the Earth—Corner of the Sky published in August. The book, his 55th, is his first landscape photography book since his award-winning Light on the Land came out more than a decade ago. Robert Redford and John H. Adams, president of the Natural Resources Defense Council, wrote the forewords and Art Davidson contributed essays.
Jeff Laband, '76
Seattle, has been executive director of NW Student Exchange and the Ctr. for Intl. Career Development since 1995. In November 2002, he and his wife, Iris, welcomed their first child, Annika Robin, who has already indicated her intent to attend the UW, they write.
Thomas Colton Ruthford, '76
Arlington, is a bond trader who has returned to the UW for post-grad philosophy.
Edmund Joyce, '77
St. John, V.I., left the Pacific NW to become editor of the St. John Tradewinds, a weekly newspaper serving the U.S. Virgin Islands. "At last," he writes, "a life along the Caribbean Sea with a journalism position-the best of both worlds!"
David Hackett, '79
Bothell, is general director of the Presbyterian Frontier Fellowship. Since joining the staff in 1993, he has worked in many countries including China, Cambodia, Thailand, India and Ethiopia. He and his wife, Sandy, have three daughters.
Joan E. Tierney, '79, '82
Seattle, graduated from Seattle Univ. School of Law in 2001 and was admitted to practice both as a member of the Washington State Bar Assoc. and the U.S. Dist. Court Western Dist. of Washington. She now works as associate director of career services at Seattle Univ. School of Law.
You must be a member of the UW Alumni Association to be listed in the Alumnotes section. To join, call (206) 543-0540 or 1-800-AUW-ALUM, or visit UWalum.com on the Web.
Scott Mantz, '81
Seattle, co-founded The Care to Help Project, a small non-profit group that brings clean water sources to Vietnam's ethnic minority hill tribes. In November, he and his partner, Yen Ngo, will travel to Vietnam to visit the villages where they have completed water projects and to look at other villages where new water projects will be built.
Jack A. Cowan, '82
Seattle, received the Chevalier de Mérite National, or Knighthood of National Merit, in recognition of his work for the French Republic as both honorary French Consul in Seattle and executive director of the French American Chamber of Commerce of the Pacific NW. He is the first Washington state resident to be awarded this medal, which is France's second highest honor.
Zenkosi Zulu, '82
Seattle, retired in 2000 from King County Jail, where she worked as a personal recognizance screener for many years. She is now a caregiver and usher at the Seattle Center.
Chuck Caldwell, '83
Seattle, owns and operates the Community Shopper, a direct-mail coupon book that is published for several communities in the Seattle area. He and his wife, Debra, have two children, Meghan, 9, and Parker, 5.
Victoria Likes, '83
Seattle, is a contributing writer for the Seattle Times, covering the chronicles of an unemployed telecom worker.
John Hedgcock, '84, '86
Monterey, Calif., was promoted to professor of applied linguistics at the Monterey Inst. of Intl. Studies.
James E. Dahl, '85
Cary, Ill., was promoted to managing director of Heathrow Scientific, a manufacturer of laboratory products. He and his wife, Tracy, have two daughters, Riley and Emma.
Amy Sommers, '86
Seattle, is a partner in the law firm of Garvey Schubert Barer, practicing in cross-border transactions with an emphasis on China-related work. She and her husband, Ken, have two sons, Jack, 7, and Ryan, 2.
Lisa Daugaard, '87
Seattle, received the Champion of Justice Award from the Washington Assoc. of Criminal Defense Lawyers at its annual conference in June. She is assistant deputy director of the Seattle-King County Defender Assoc. and has led a variety of efforts to reduce driver license prosecutions and impoundment of cars driven by individuals with suspended licenses.
Reitha S. Weeks, '87
Seattle, is director of biological sciences at MediQuest Therapeutics.
Catherine Croke-Muth, '88
Boca Raton, Fla., retired in August 2001 after 12 years with the Boca Raton Police Dept. In May 2002, she and her husband, Robert, welcomed their second son, Michael Thomas, into the world.
Todd Stephen Kester, '88
Seattle, is a locomotive engineer for Burlington Northern Santa Fe Railway and a local chairperson for United Transportation Union Local No. 845.
Allen R. Sandico, '88
Seattle, will pursue a master's degree in public affairs at Seattle Univ.'s Inst. of Public Service this fall. He also chairs his own non-profit foundation, Philanthropy One Project, which benefits local and national programs supporting amateur sports, higher education, historical heritage preservation, homeless and hunger relief, and public education.
You must be a member of the UW Alumni Association to be listed in the Alumnotes section. To join, call (206) 543-0540 or 1-800-AUW-ALUM, or visit UWalum.com on the Web.
Bonnieclare Erling, '90
Normandy Park, is founder and manager of F2F Consulting, a client relationship consulting firm that helps businesses track client satisfaction, build client loyalty and increase their understanding of their clients' needs.
Carol S. Ivory, '90
Pullman, took over as chair of the Dept. of Fine Arts at Washington State Univ. on Aug. 16.
John G. Dean IV, '92
Bothell, has been selected for the U.S. Army Comptrollership Program. He will attend Syracuse Univ. and graduate with his M.B.A. and a master's of public affairs from the Maxwell School in August 2004.
Nicole Meckel, '92
Kirkland, and her husband, Schuyler Bradley, '92, are thrilled to announce the birth of their son, Eric Meckel Bradley, on Jan. 26.
Catherine Austin, '97
Seattle, and her husband, Geoff, '98, announce the birth of their son, Gordon Randal, on Nov. 21, 2002.
Steven N. Cremer, '98
Seattle, is a zookeeper at Woodland Park Zoo.
Marsha Olson, '98
Durham, N.C., earned certification as a Professional in Human Resources. She currently works for Nordstrom.
Jamie Cobb, '00
Seattle, works at Ernst & Young.
Krista Nichols, '00
Bellevue, moved back to Bellevue in December following her husband Jason's graduation from UNLV. She interned as a metro reporter for the Las Vegas Sun and wrote for the Henderson Home News, and now writes sports and business features for the Kent Reporter, Auburn Reporter and Renton Reporter.
Arce D. Doble Jr., '02
Port Hueneme, Calif., graduated from the Basic Civil Engineer Corps Officer School, where he received instruction in engineering management, network analysis, financial management and the Navy's organization.
Michael Green, '02
Seattle, has been working at Black Pearl, a Chinese restaurant in Shoreline, since graduating in December. He has also been practicing Falun Gong meditation for an hour each morning at Green Lake and spends time trying to raise awareness about the persecution of Falun Gong practitioners in China.
Nam-Son Ngo-Viet, '02
Brossaro, Quebec, advises the government of Vietnam on the development of Thu Thiem-a new town center of Ho Chi Minh City. He also works on the design and development of several large commercial developments in Montreal and Calgary.
You must be a member of the UW Alumni Association to be listed in the Alumnotes section. To join, call (206) 543-0540 or 1-800-AUW-ALUM, or visit UWalum.com on the Web.
---
Submit a Class Note
Tell us what major events have happened in your life: a new job, marriage, children, retirement, advanced degrees, you name it.

Submit an Obituary
Please let us know if a UW alumnus has died. Be sure to include date of death, place of death and age along with the UW class year (if known).

Update Your Records
Moving soon or know someone else who has? Let us know so that we can keep Columns coming to you.

Contact Information
Columns Magazine
1415 N.E. 45th Street
Seattle, WA 98105
Phone: (206) 543-0540
Fax: (206) 685-0611.
E-Mail: columns@uw.edu