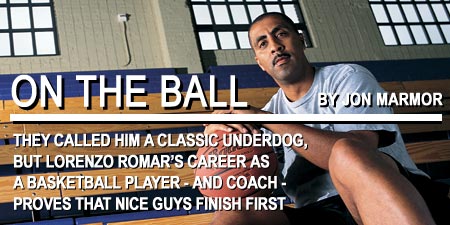 The shootaround was over, and the Husky basketball team had showered, changed and was off to relax before a big game against perennial national powerhouse UCLA that night at Hec Edmundson Pavilion. But walking past the practice gym a while later, Husky player Stan Walker, '80, could have sworn he heard something going on inside.
Funny, he thought. The gym was supposed to be empty. Then he looked inside—and shook his head.
"Lorenzo," he yelled, "what are you doing? We have a game tonight! If coach finds you, he'll kill you. You are supposed to be resting."
Lorenzo Romar, the star point guard of that 1979-80 University of Washington basketball team, was indeed inside the gym, all by himself. Shooting jump shots. Working on his moves. Practicing layups. Yes, he was the first player at practice that day, as always. And he was the last to leave. As always. Typical Romar; he just couldn't get enough. He was always dropping into the IMA for pickup games in between classes, on weekends, in the evenings. During basketball season, it seemed like he was always on the court.
You can find the affable, dedicated-to-a-fault Romar back on the UW campus these days, but not to play. He's back as the new UW men's basketball coach, charged with turning around a program that plummeted to the ranks of the has-beens of the Pac-10 after tasting national success as recent as five years ago.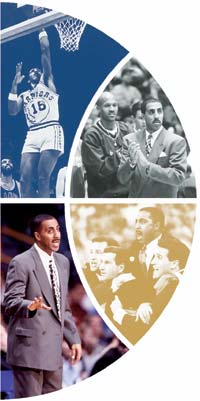 ---

Clockwise from top: Lorenzo Romar played three years with the NBA's Gold State Warriors. His first head coaching job at Pepperdine. Romar (top) celebrates as UCLA wins 1995 NCAA title. Romar's second head coaching job at St. Louis University.
Photos (clockwise from top): Courtesy Golden State Warriors; Courtesy Pepperdine University; Courtesy UCLA; Courtesy St. Louis University.

---
The story line couldn't be sweeter-former UW basketball star comes back to coach at his alma mater (although he didn't graduate-he finished his degree a decade later at the University of Cincinnati). His credentials are impeccable-star player at the UW for two years, a five-year NBA career, seven years playing and coaching with Athletes in Action, followed by an even more eye-opening coaching career. He was an assistant at UCLA from 1992-96, and recruited many of the stars on the Bruin team that won the 1995 national championship. Then he had head coaching stints at Pepperdine (1996-99) and St. Louis University (1999-2001), where he righted two struggling programs.
Here, he takes over a program that under former coach Bob Bender lost 58 games the past three seasons, saw team chemistry become a cruel joke and watched players' academic work deteriorate. Moreover, UW players like Dan Dickau (a recent NBA first-round draft choice) and Senque Carey transferred to other schools while top local high school players like Curtis Borchardt and Jason Terry spurned the UW to go out of state.
"If anyone can turn around Washington, it's Lorenzo," says Jim Harrick, the head coach at the University of Georgia and the man who hired Romar as an assistant at UCLA in the early 1990s. "He is the classic underdog who succeeded all the way."
Perhaps the only thing bigger than Romar's passion for sports—basketball in particular—is the list of obstacles he has overcome in landing what he called his dream job.
Money was tight when he and his younger brother grew up in Compton, Calif., a lower-middle class suburb a few minutes south of Los Angeles. Their father, a welder, and their mom, a manufacturing plant supervisor, sacrificed to make sure their sons could attend Catholic school. "My parents worked all the time," Romar, 43, recalls. "They never, ever missed a day. We grew up in the inner city, we had food on the table, a place to stay. We had the basics."