From the President
Our Way to Keep Moving Along
Last May 17, lung cancer claimed the life of Evans School Dean Marc Lindenberg. In his too-brief time here, Marc had a tremendous impact on this campus-and on many of us personally.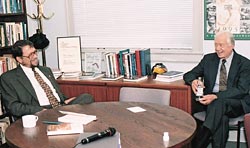 ---

The late Evans School Dean Marc Lindenberg meets meets with former President Jimmy Carter during Carter's 2000 visit to UW. Photo by Mary Levin.

---
Marc arrived in 1998 to head the Graduate School of Public Affairs. In short order, the school became the Daniel J. Evans School of Public Affairs. It acquired an international focus, a position of leadership in that sphere, a spirit of progress, and, not least, an enlarged endowment. Marc was the center of this transformation-teaching, writing, imagining, inspiring and leading.
Across the University, Marc became a catalyst in advancing international education and global citizenship. He drew directly on the experience and convictions that had fueled his own career, which spanned both active public service in international organizations like CARE and teaching and scholarship in universities. He called on us to increase our students' experiences abroad, and also to ensure that those who study only at home are better prepared for life in a global society. He prodded us to collaborate, to focus outward on the larger world, to commit to goals beyond our own academic programs. He was uniquely able to bring people together no matter how difficult the challenge or contested the terrain.
Marc continued to teach and to spin out ideas well into his illness. When it became sadly clear that he would not recover, his colleagues worked to bring one of his ideas to fruition in time for him to celebrate and be celebrated. On May 3, at a luncheon in his honor, we announced the new Marc Lindenberg Center for Humanitarian Action, International Development, and Global Citizenship, based at the Evans School. Marc's 40-minute talk at that affair, delivered at a personal cost we can only imagine, was typically upbeat, inspirational and visionary-and typically modest and straightforward. One last time, without a trace of self-importance or inflated rhetoric, he showed us how this university could make a difference in the world. The Lindenberg Center will be part of Marc's legacy to the University of Washington, carrying on the work he began.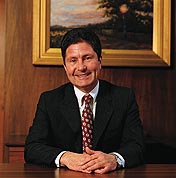 ---

UW President Richard L. McCormick. Photo by Mary Levin.

---
Like the many students, here and elsewhere, who learned from him and admired him, the center will be a legacy also to the larger world, in which Marc's life was so deeply enmeshed. Though I never saw him in Rwanda, Bosnia or Nicaragua, I can imagine him there because I saw him here. He was a moral man, who aimed straightforwardly to do what was right. He was astonishingly direct in making simple observations and from them deriving visions and values where others shied away. He was a caring person who etched upon each of us memories of purposefulness and examples of humanity we will never forget.
One of the cruel ironies of Marc's death was its timing. Only eight months earlier, Sept. 11 had dramatically magnified the importance of his message and his efforts. This campus has a history of distinguished international programs, but we were shocked into the knowledge of how much more there was to do. If ever we needed a Marc Lindenberg at the University of Washington, it is now.
But he has set us on the right path. Marc asked to see me the day before he died. I sat with him in his upstairs bedroom, full of bright sunshine, overlooking Lake Washington. Acutely aware that every minute I was with him was a minute his family was not, I expected a short conversation. But Marc had a lot to say. He wanted to talk about some international programs involving the Evans School jointly with other UW schools and colleges. He had many suggestions about how to launch the initiatives right away, how to pay for them, and how to ensure that they enjoyed some early successes. After a while he stopped for a minute and said, with a little smile, "Think of it as our way to keep moving along."

Richard L. McCormick, President