Both Sides Now: Alumni President Sees UW from Inside and Outside
Gary Oertli, '70, '72, is a walking advertisement for the relevance of the University. He earned bachelor's and master's degrees in business education here, plus a certificate in executive management from the business school. He has attended every home football game for 30 years and, after a successful career in academic administration, has returned as director of the University's new Office of International Development and Alumni Relations.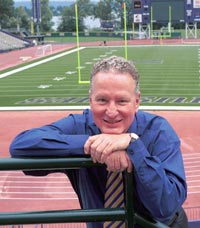 ---

UWAA President Gary Oertli, '70, '72. Photo by Mary Levin.

---
This fall he also begins duties as president of the UW Alumni Association, which puts him in prime position to spread a concept that he deeply believes in: staying connected really does make a difference.
"It's an incredible experience and opportunity to give back to the university that has made such an impact on the lives of so many people, including myself," Oertli says of his new role. His goals as president of the association for 2002-03 are to "work hard and play hard," through the UWAA's "strong volunteer contribution to the university," Oertli says.
Besides the nearly 400 events the association will put on this year, at which alumni are invited to play hard, the executive board and association staff will work hard at implementing the new strategic plan approved by the board last spring. Oertli has high praise for the plan, which maps the UWAA's operations through the next five years. "It is the best strategic plan that I have ever been involved with," he says, noting that it incorporates a business vision for the association, strong accountability, financial stability, diversity, raising scholarship funds, building a new alumni house and much more.
Oertli should know a good plan when he sees one. His success as a faculty member and administrator for 19 years at Edmonds Community College and as president of Shoreline Community College for five years taught him how to get things done. Among his many other contributions, he was a member of the boards of the Puget Sound Center for Teaching, Learning and Technology, the Tyee Club, the Husky Marching Band Foundation, and served on many local chambers of commerce and rotaries.
Oertli says he is impressed with his alma mater. "I have been totally amazed, even though I have been in public education my whole career, to learn of the cutting-edge research and the world-wide transformational impact of the University," Oertli says. "We have so many alumni who have been very successful in their professions. It is awe inspiring to understand how this university is making an impact on our region and the whole world."
In his position as director of international development and alumni relations, Oertli raises funds for international awareness efforts for students, such as study abroad and curriculum transformation. He also develops programs and events for international alumni, especially in Asia, and helps raise funds from international friends, corporations and alumni.
"It is certainly more of a global world," Oertli says. "The University clearly wants to make sure its students are prepared to live and work in an increasingly international world."
Oertli has a passion for supporting diversity in its broadest sense. "It's important that all students have an opportunity to come to this great university, not just students who can afford it. We've got to keep an open-door policy for diverse students-ethnic students, economically disadvantaged students, single-parent students, sexual minority students-all students. It's important to a university to have diverse opinions, and that's always been important to me."
As UWAA president, Oertli wants to increase scholarship dollars, in part to help those diverse students attend the University. "Then we need to get them involved with the association and stay connected to them so they can always be a part of the university," he adds.
Another of Oertli's goals is increasing the number of young alumni involved with the UWAA. The association recently conducted a survey of alumni 30 years and younger, providing a lot of information that will help in that effort. "We have a potload of ideas and approaches for young alumni," Oertli says. "We want to deliver the things they're interested in, such as career planning, job finding and job-changing skills."
The UWAA is well placed to accomplish its ambitious goals, Oertli says. "The organization is on the radar screen of the university and the community. It is becoming highly respected and is seen as a vital part of the university." He looks forward to working with the association's new executive director and its "superb board of directors, who are diverse in their makeup, as well as in their expertise."
At a summer barbecue for the UWAA's past presidents, Oertli says, he was touched by the passion and commitment these people have for the University. "The group was very empowering and humbling," he says. "It made me feel it was going to be an honor and a privilege to serve as president of the alumni association."
The more he matures, Oertli adds, the more he appreciates the importance of being involved with organizations that make a difference in the quality of life in our community. "Through its many events and activities," Oertli says, "the alumni association really is helping the alumni, helping the university and helping the community."