Larry Dalton can see the future, a 21st century dominated by speed-of-light technology where radar warns of auto collisions 20 seconds before they happen, sensor systems detect an impending earthquake, micro-chips dial 911 in cases of emergency, and personal computers function as home command centers.
The technology derives from photonics-translating computer, radar, telephone and data network signals into optical format and sending them through fiber-optic or wireless telecommunications systems. Dalton, a UW chemistry professor, is recognized as a world leader in applying this groundbreaking science.
He is also director and lead scientist for the UW's Center for Materials and Devices for Information Technology Research, one of six new science and technology centers funded by the National Science Foundation (NSF). An $18.3 million grant, received Aug. 1, instantly put the UW at the international forefront in the research, development and implementation of photonics-related technology.
Dalton estimates the NSF award, combined with grants from the private sector and federal agencies, such as the National Reconnaissance Office, the Ballistic Missile Defense Administration and DARPA (Defense Advanced Research Projects Agency), could ultimately reach $100 million over the next decade.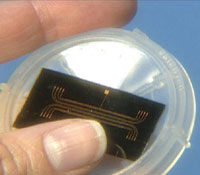 ---

Opto-chips convert electric signlas to light signals. Photo by Miquel Khoury, courtesy Microvision

---
"We are entering an age where we have even higher needs for information processing and delivery," Dalton says from his UW office on the second floor of Bagley Hall. "This technology is as fast as you can go. It can be a technical revolution just as electronics produced a revolution in the last half of the 20th century. Many have speculated that the 21st century will see a paradigm shift. The century of photonics would allow optical computers to go to the speed of light in terms of moving photons rather than electrons."
Dalton has come full-circle from his first consultant job: transforming equipment in a Palo Alto, Calif., company from vacuum tube technology to semi-conductor technology. Because current hardware applications are based on electronics, Dalton and his teams of researchers, which includes a dozen faculty members and more than 50 graduate and postdoctoral students, must initially traverse on an intermediate stage called opto-electronics.
By combining electronics (basic units of electricity) with photonics (basic units of light), opto-electronics exploits the best of both worlds, developing materials that allow, Dalton says, "electrons and photons talk to each other."
The NSF award covers a much broader scope than photonics. Dalton, winner of the 1996 Richard C. Tolman Medal from the American Chemical Society and an author of more than 450 scientific publications and journals, will lead a group to develop state-of-the-art electronic processing, including new technology for fiber optics, Internet information transmission and memory chips.