Extras
MARC LINDENBERG
1945-2002
Marc Lindenberg, dean of the UW's Daniel Evans School of Public Affairs and an influential scholar and practitioner in humanitarian relief and international development, died May 17 of lung cancer. He was 56.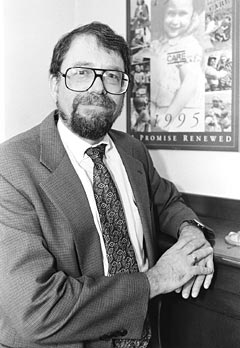 ---

Marc Lindenberg. Photo by Kathy Sauber.

---
A Chicago native, Lindenberg spent his life alternating between academia and humanitarian relief agencies.
Before becoming dean of the Evans School in 1998, he was director of CARE USA, where from 1992-97 he oversaw a $400 million relief and development program in 36 countries.
Lindenberg, who held academic posts at Harvard, the University of Oregon and the UW in the 1970s, maintained contact with world figures like United Nations Secretary General Kofi Annan and former President Jimmy Carter. A former director of the Central American Institute of Business Administration in Nicaragua, Lindenberg frequently spent one year working in a war-torn country, and the next year teaching at a university.
During his tenure with the Evans School, he made international humanitarian projects his priority. Among his initiatives was a master's degree program that required a stint in the Peace Corps. He also wanted students to learn multiple languages and pushed them to travel to broaden their horizons.
"He was the epitome of a global citizen," said former Costa Rican President Oscar Arias Sanchez, a Nobel Peace Prize laureate.
A renowned researcher and author, Lindenberg was honored two weeks before his death when the UW announced the establishment of the Marc Lindenberg Center for Humanitarian Action, International Development and Global Citizenship. The center will create new international exchanges and internships, certificate programs in global crisis intervention and other projects to intensify global involvement and study opportunities.
"We have lost a remarkable human being, a brilliant leader, a compassionate friend," UW President Richard L. McCormick said. "When he came to the University of Washington, he brought a new way for a university to engage world problems, and it affected and influenced all of us" (see "Our Way to Keep Moving Along").
Lindenberg, who served on the boards of Oxfam America, the Desmond Tutu Peace Foundation, the Washington Red Cross, and many others, was a marathon runner and outdoorsman who climbed Mount Kilimanjaro in Africa. Two years ago, he proudly hoisted the Evans School banner atop Mount Rainier.
Lindenberg is survived by his wife, Cathy, their son, Robert, their daughter, Anni, and his mother, Ruth Ellen. —Jon Marmor